According to the Alliance of Artist Communities, a nonprofit supporting the residency industry, there currently are more than 1,500 artist residencies worldwide, catering to a wide range of populations, needs, and desires. Writers can choose a program focused by discipline or gender or social issue, or travel most anywhere in the world to work among their peers. But before the Deaf Artist Residency program (DAR) at Minnesota's Anderson Center at Tower View, there were no residencies dedicated to creating space for Deaf artists to work alongside one another.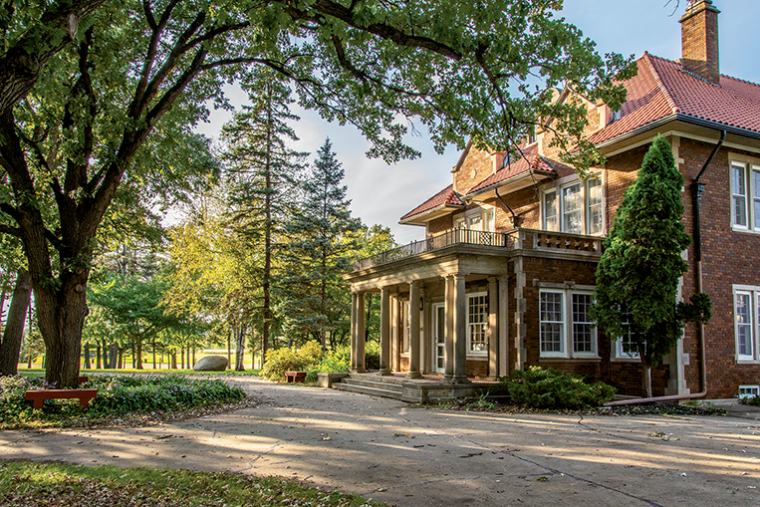 Since 2014 the Anderson Center has offered such monthlong residencies in alternating years to small groups of Deaf artists, including poets, fiction writers, and nonfiction writers, whose native or adoptive language is American Sign Language (ASL). (Many in the disability community use "Deaf" to connote the distinct cultural group of people who share ASL as a primary language, whereas "deaf" refers to the audiological condition.) Located on the outskirts of Red Wing, Minnesota, the Anderson Center's grounds include a sculpture garden, printing press, glassblowing studio, kiln, and public art gallery. The center also offers residencies open to anyone—I myself was a resident in 2014—and rents studio spaces used by local artists year-round. Stephanie Rogers, the center's director, sees DAR as a key element of the organization's overarching mission to support artists in a way that enriches society at large—and as an opportunity to educate the hearing world about Deaf art and culture. "The long-term goal [of the program] is to create networks that support substantial development of the Deaf arts as a distinct cultural area within the larger context of American culture," says Rogers. 
But creating space for Deaf artists means more than just being compliant with the Americans With Disabilities Act or even "deaf-friendly." ASL and Deaf culture are vastly different from English and the hearing world, and the worldview of Deaf artists reflects this. Pragmatically it can be difficult for nonprofit organizations to afford accommodations like ASL interpreters, and the presence of a nonartist interloper can disrupt the natural flow of a conversation. If a deaf artist opts to participate in a residency without accommodations, that person must rely on communication via speechreading and gestures and answer frequent requests of other well-meaning residents who wish to learn specific signs—in short, the burden of communication rests on the deaf person. 
"The feeling of isolation and otherness are almost always further compounded in this micro-environment or micro-community [of hearing-centric residencies]," says Deaf visual artist and the DAR coordinator, Cynthia Weitzel, "and this disrupts the creative process." Although schools for the deaf sometimes offer teaching artist-in-residence positions, and the Siena Art Institute in Italy runs a "deaf-friendly" residency, not since the late 1970s, when the Deaf artists' colony Spectrum had a short life in Austin, Texas, has there been a true residency opportunity for Deaf artists. 
Fortunately Weitzel is a woman of action unafraid to get her hands dirty, including in the most literal sense—some of Weitzel's most striking paintings are abstract expressionist works she creates with the paint cast off her fingers as she signs, a dynamic process she calls "ASL action painting." Trained in the fine arts, she had a twenty-five-year career in the nonprofit sector, retiring to return to her studio practice. She rented space at the center, where she found herself uniquely positioned to fill the dearth of opportunities for Deaf artists. 
"While working in and out of the studio and getting to know fellow artists through the residency, I realized that as a Deaf artist I was missing so much in the way of opportunities and benefits gained through residencies," Weitzel says. "Then one day, the Anderson Center's founder and former director and I were chatting when we both brought up the idea at the same time—what if? What if we partnered to create a residency option that was fully accessible by being culturally specific, accepting Deaf artists whose native or adoptive language was ASL? Would they come?" In 2013 the center successfully applied for funding through the National Endowment for the Arts and began offering the residency the following year. The program has supported seventeen visual artists, writers, and scholars so far and is expecting an additional five or six for the 2020 season. 
Alumni of the program speak effusively of the residency and the freedom of communication it offers. "It is quite extraordinary how [our] shared understanding and experiences about communication form a deep, natural bond," says Brenda Brueggemann, a hard-of-hearing writer who worked on a literary biography of Mabel Hubbard Bell, the deaf wife of Alexander Graham Bell, while at the residency. "Because mainstreaming has been so dominant now in educating deaf people, we don't often get this kind of immersed creative and critical time together." This togetherness increased creativity while in residence, says scholar Leah Zarchy, because residents could bounce ideas off one another. "This made it feel like I was a part of something bigger than just me going somewhere new to work for a bit." Novelist Raymond Luczak's conversations with his cohort helped him reenvision the Deaf-centric short story collection he was writing while in residence. The opportunity, Luczak says, was "manna from heaven."
"The common language experience is something that so many people take for granted. Not so for us," explains poet Lilah Katcher. Former resident Adrean Clark sees DAR as "one step forward to more consistent creative opportunities" and a "safe space to think and speak in ASL." 
"The center is committed to ensuring the success of this key program," says Rogers. "We are looking at other ways to build toward that larger vision of increased networks and support structures for Deaf artists and people, who are often marginalized and misunderstood in the broader culture." 
Sara Nović is a Deaf writer and the author of Girl at War and America Is Immigrants, both from Random House.