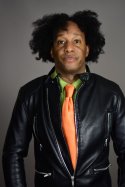 Publications and Prizes
Journals:
Diverse Voices Quarterly
,
Milk Sugar
,
Poetry Super Highway
,
RiverLit
,
Rufous Salon
,
Steel Toe Review
,
The Fine Line
Prizes Won:
The Tenth National Black Writers' Conference "Poetry Writing Award" & The Poetry Super Highway's featured: "Poet of the Week" 2012 & 2013. Fame was the "Keynote Speaker" at the "International Symposium on Cultural Diversity in the USA". "Song of Love Songwriters Benefit" (winner) March/April 2014
Personal Favorites
What I'm Reading Now:
The Vintage Book of African American Poetry
by
,
,
I'm Black When I'm Singing, I'm Blue When I Ain't
by
,
,
Reviews, Recordings, and Interviews
work_excerpt:
(Makings Of You) Peach Cobbler: Fruit scented aroma invaded my nasal passage. Images enhanced juicy dreams, awakened to cinnamon sticks dancing with nutmeg. Hint of sweet perfume made this black boy blush. Sight of sticky syrup--this I craved so much. Eyes watered at that flaky crust, missing the warmth in my grandma's touch.
Last updated: Sep 13, 2018