PUBLISHING GENIUS
Founded: 2006
Location: Atlanta, Georgia
Publishes: Poetry collections, short story collections, novels: "There has also been some work that doesn't fit the mold, like a DVD of films by Stephanie Barber and a book of comics by John Dermot Woods," says founding editor Adam Robinson.
Accepts: Complete manuscripts, excerpts, and queries during the submission period, one month a year (usually in June)
Contact: adam@publishinggenius.com; publishinggenius.com

MELISSA BRODER, the author of Scarecrone, published in February by Publishing Genius: I met Adam Robinson of Publishing Genius standing outside a bathroom. We talked for hours and didn't move beyond the bathroom entrance: That's how good the conversation was. We met as artists first—as poet and poet, rather than poet and publisher. I gained an enormous respect for Adam's mind that night. I thought he was brilliant, and also fun. We were at the AWP conference in Denver, and I bought his book of poems. On the plane home, I was relieved to discover that I liked Adam's work as much as I liked him as a person.
Adam and I became artistic supporters of each other, and friends. He read at my New York City reading series, Polestar. He published my work in his online journal, Everyday Genius. I don't remember who broached the subject first, but when the time came for me to publish my second book, Meat Heart, I decided to change publishers and go with Adam. I remember being at a chapbook festival and one of us saying, "Should we do it?" and the other one saying, "I don't know, should we?" And then I remember being on a train and receiving an e-mail from Adam that said, "We should do it. Let's do it."
The experience of publishing Meat Heart with Publishing Genius was fun and inspiring. Adam and I edited the whole book together via Gchat over a period of many days, and the work was interjected with jokes and friendly gossip. The mind I had been impressed by outside the bathroom did not disappoint. Also, Publishing Genius makes a gorgeous book. Meat Heart did well, and we were both happy.
When it came time to publish my third book, Scarecrone, I had offers from a few different indie presses but it wasn't really a contest. I just knew that the process of birthing a book with Adam would be fun. This time we were old pros and had our system down. I knew Adam's quirks and trusted his time line. Also, after having published two books with indie presses, I was more patient and tolerant of the humanity of the indie press.
Indie publishing is often only one or two women or men behind the curtain of X or Y Press. There is always room for something to go wrong, and something usually will. These brave (and crazy) women and men have to balance their own financial security, families, and creative lives with putting a book of poetry into the world in 2014. You have to be a little crazy to do that. I feel grateful for Adam Robinson and Publishing Genius for believing in my work enough to stay that crazy.

ADAM ROBINSON, the founding editor of Publishing Genius: Melissa Broder first appeared on my radar in 2009, through her reading series, Polestar. I was looking for a place in New York City where I could organize an event for Publishing Genius, which publishes six books a year. As everyone should do when soliciting something in the writing world, I did my research, and discovered that Melissa had written a book called When You Say One Thing But Mean Your Mother. With a title like that, I had to check it out. I loved it. Loving the writing is the most important thing for me as a publisher (and as a reader).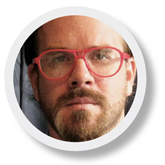 Then I met Melissa at AWP, at a party hosted by HTMLGIANT. There were hundreds of people crammed into a small bar, and as I squeezed past her down a tight hallway, we introduced ourselves. I told her I was a big fan of her work—but that she'd never returned my e-mail about Polestar. After that we kept in touch. I continued following her poetry, and she ended up hosting lots of Publishing Genius writers at her series after all.
Somewhere along the way, she sent the manuscript for Meat Heart. I accepted it, we signed a contract, and we were off and editing. It was inspiring to work with her—we'd e-mail and Gchat for hours, clarifying the poems and structuring the book. I found that she said things I always thought, but her approach was different and unique. Sometimes I didn't get what she was doing, and that reminded me of Gertrude Stein's comment to her publisher, Bennett Cerf: "Well, I've always told you, Bennett, you're a very nice boy but you're rather stupid." I give Melissa the benefit of the doubt because she deserves it.
Melissa sent her next book, Scarecrone, over the transom during Publishing Genius's open-submission period. Given our relationship by this point, she could have simply asked if I was interested. Of course I was. Publishing her wasn't just enlivening: Meat Heart had done very well, going into several printings. But Melissa went the traditional route, and I was excited when I saw it in the Submittable list. I accepted it and we repeated the process. Melissa understands the ins and outs of publishing as well as she understands the angles and nooks of poetry, and I consider myself lucky to publish her.

New and Forthcoming From Publishing Genius
Mike Young's poetry collection, Sprezzatura (October 2014)
Craig Griffin's cookbook, Eat, Knucklehead (November 2014)
Madeline ffitch's debut story collection, Valparaiso Round the Horn (December 2014)


COPPER CANYON PRESS
Founded: 1972
Location: Port Townsend, Washington
Publishes: Poetry collections and prose books about poetry
Accepts: Manuscripts during reading periods only (currently closed)
Contact: coppercanyonpress.org
JERICHO BROWN, the author of The New Testament, published in September by Copper Canyon Press: Part of the drive we have as artists is to make an actual, hopefully lasting, impact—even if that impact is only on the self. And we seek sources outside ourselves—colleagues, prizes, presses—to help us make that impact, to validate that an impact was indeed made, or to lie to us about what our writing actually manages to make happen in the world, in a heart. None of these are options of which to be ashamed.
In 2012, I left a teaching institution for a research-focused university without a contract for my second book. I did this with the knowledge that being published by a trade house would make a difference to a tenure committee at that research-focused university. (Both of my current poet colleagues are published by such houses, and I thought my doing the same might be an expectation.) When those publishers didn't respond, or responded with rejection, I feared losing my job, my one chance to finally live near the man I loved while doing what I love. 
The gift of rejection is that it allowed me to pay a kind of attention that had nothing to do with prestige. I sent The New Testament to two independent presses because of the work they put into making their books happen like events. Both accepted the book, but Michael Wiegers is the one who called me on the day of Barack Obama's second inauguration. Even then, I wasn't sure what to do, but a conversation with Copper Canyon publicist Kelly Forsythe is what really convinced me. Kelly is a force of nature who believes her job is to let people know that poetry is a palpable energy. I've heard so many poets say that; when meeting someone new, it's hard to admit that they are doing what they love to do. I chose Copper Canyon because they admit it for me in a way that encourages me to admit it for myself.
MICHAEL WIEGERS, the executive editor of Copper Canyon Press: When I first read Jericho Brown's manuscript I had little doubt we should publish it. Yet I believe the best publishing decisions aren't made in isolation. The act of publishing and editorial acquisition is an expansion beyond the self, an inclusion of others. Copper Canyon Press is guided by an ethos that values inclusion, that values the reinforcement—and perpetuation—of the sacred space inhabited every time a reader makes engagement with a writer. We are a mission-driven nonprofit publisher, not a "privasher." We don't just make books, we advocate for the art they contain. The act of reading—and the investment it requires—creates worlds beyond our walls.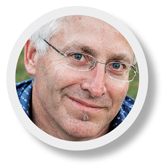 And with Jericho Brown, as long as one has a pulse and a breath and the ability to read, how could one not want to publish a book like The New Testament? Formally insistent and engrossing, it is so smart, and loving, and tender, and alive. I read it and immediately shared it with my colleagues here at the press: the first act of publishing. As with many of the manuscripts we receive—even those we don't publish—we became passionately engaged. The acquisition of Jericho's book then became the result of an entire team that believes in the mission of connecting poetry with readers.
Last year Copper Canyon Press launched an electronic submissions/acquisitions program in the belief that we could transform the interaction between publisher and writer and readers. We wanted to celebrate reading at the same time we honor writers. Jericho's book was the first acquired under this new system. Every poet who submitted a manuscript had the opportunity to select two Copper Canyon books from the catalogue. Thus editors here were reading original works while submitters were reading those poets who preceded them. Thousands of poems were being read, and in the imaginations of writers and readers, worlds were being created; this art we love was being further enlivened.
New and Forthcoming From Copper Canyon Press
Erin Belieu's poetry collection Slant Six (November 2014)
Malachi Black's debut poetry collection, Storm Toward Morning (November 2014).
Kevin Larimer is the editor in chief of Poets & Writers Inc.
Photo Credits Jones: Erin Pihlaja; Obenauf: Eliza Wood-Obenauf; Ortiz: Sandy Lee; Sampsell: Andrew Monko; Dennigan: Katie Brunero; Edwards: Lynn Xu; Gale: Mark E. Cull; Clouther: Ericka Clouther; Abel Kovitz: Char Beck; Luce: Russell O. Bush; Meyers: Daniel Brock; Rowland: Diana Pappas; McNeely: Jude Griffin; L. Giron: Don Rijonis; Stielstra: Christopher Jobson; V. Giron: Jacob Knabb; Broder: Brandon Finney; Robinson: Amy McDaniel; Brown: John Lucas; Wiegers: Miriam Berkley