Once upon a time, on a day of many firsts, a writer who had lived nearly four decades on a rather wounded, uncertain planet met the writer she admired most, a writer who had lived almost exactly seven decades on that same battered earth.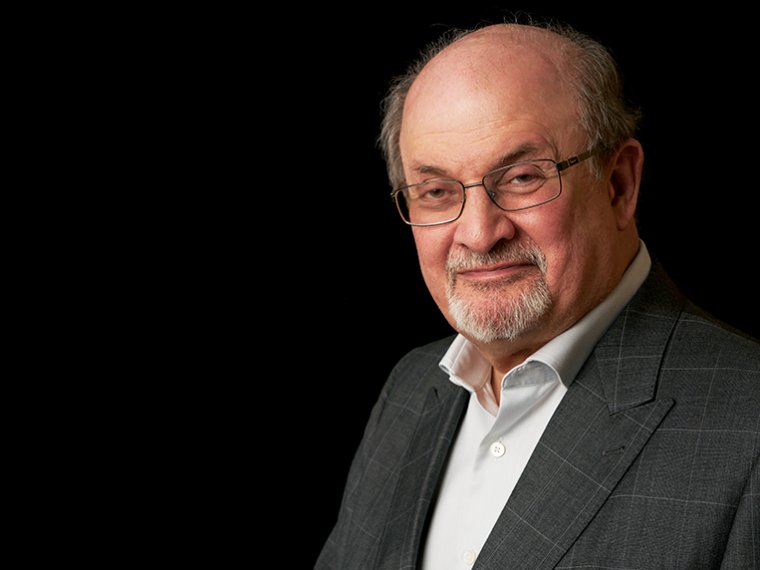 It was the first hot day of the year, a week before the official start of summer (high of ninety-seven degrees in Manhattan, "record-breaking heat advisory," every news outlet declared), and the first interview Salman Rushdie was giving for his new novel, The Golden House, published this month by Random House. It was also the first time I properly sat down with the author who has had more influence on me than any other living writer. The Golden House is his eighteenth book—his thirteenth novel, which has somehow been more quietly announced than one might expect—but I devoured it in a sitting and a half, my favorite Rushdie novel in years. 
If F. Scott Fitzgerald, Homer, Euripides, and Shakespeare collaborated on a contemporary fall-of-an-empire epic set in New York City, the result would be The Golden House. Like Rome at its collapse, the America of Rushdie's new novel—not unlike our own America—is bursting at the seams. Rushdie anchors us to a filmmaker narrator as he navigates a life in the city to which only the wealthiest have access, and ultimately intersects with its newest inhabitants, the mysterious Golden family—Nero Golden and his three adult sons—as well as a classic New York villain who embarks upon a boorish presidential campaign. Meanwhile, themes of race and ethnicity, gender and sexuality, immigrants and natives, outsiders and insiders, ambition and power, money and more money form the dizzying backdrop for this wildly satiric and yet piercingly real world of The Golden House. Rushdie isn't just writing a New York parable though; this is very much a return to literary realism, but it's largely a hyperreal reality of our own world, one that even his most celebrated madcap fabulism couldn't top.
And so I found myself at his agent's office: a maze of book-lined rooms belonging to the both renowned and notorious Andrew Wylie, just two blocks and yet worlds away from Trump Tower. One of Wylie's assistants escorted me to a cozy (cramped) conference room with an ancient air conditioner trying to blast away the day's sins of pollution and humidity. I was a bit nervous and excited and overheated and then overchilled; I put on and then took off my jacket, over and over, and this continued until, a few minutes later, in walked Rushdie. 
He was shaking his head at the weather, armed with a perspiring iced coffee and wearing an expensive-looking gray suit with a pale blue dress shirt, mustering a New York mumble-apology as a greeting. He was a combination of flustered, amused, anxious, and exhausted, but he rather quickly turned charmingly enthusiastic about doing press, something one might imagine is cumbersome at best for a man with a literary career that spans more than four decades. He smiled gently through much of our interview but also at another first: his entry into a new decade. Salman Rushdie was just days away from turning seventy years old.
This was not my first encounter with him. I had seen him speak many times in my life—braved many metal detectors and a police presence at various times all around the world to hear him—but he and I also both moved to New York around the same time, two decades ago, and I'd occasionally seen him around town. One time, in my early twenties, at a fancy downtown party I'd drunkenly snuck into, I blurted to the astoundingly accessible New Yorker, "I love your work, but I'm from the country that tried to kill you, sorry!" (He didn't say a thing but maybe laughed, and I did not remind him of this during our interview.) 
In 2015 I met him at the PEN Literary Gala, for which I served as a table host and where fellow table hosts who were Bard colleagues of mine became known as parts of the "PEN Six" for boycotting the event, which rather controversially honored Charlie Hebdo, among others. I had not been a fan of their decision, as I felt very devoted to PEN, so I went on with my table host duties. But a few times on Twitter I'd been critical of Rushdie's attitude toward those boycotting (Rushdie was a former PEN president and not shy about this anger at those walking away from the gala), so when I got to the event, several photographers kept nudging me to take a photo with him. I finally ended up shaking hands with Rushdie and introducing myself awkwardly as cameras snapped away. "I know who you are," he said, and we exchanged niceties and I walked off staring into my champagne flute and eyeing the metal detectors and hordes of security at the Museum of Natural History, thinking to myself, "Well, if we all die tonight, at least I can die knowing Salman Rushdie is not that mad at me." 
Because long before I encountered him in person, I had been his fan. My work has long been compared to his, and that's no coincidence. I first read The Satanic Verses just a few years after its publication in 1988 (I was ten). My Iranian family—Muslims who had fled during the Iranian Revolution—had been impressed by Rushdie's bold confrontation of some dark aspects of Islam more than his literary prowess. In 1989, after a riot protesting the book in Pakistan, Iran's Ayatollah Khomeini issued a still-in-place fatwa ordering the author's death, and my aunt bought us a hardcover, noting it would be worth something one day. There had been so much on the news about it that I became obsessed with it—this was yet another instance in which my worlds of America and Iran collided. I was already dreaming of being a writer one day, and for the first time I learned that you might have to risk your life for art. 
You could say that Salman Rushdie has changed the course of my life in many ways.
So on that blisteringly hot June day I was nervous to meet this hero of mine in this context. But what I found remarkable in the couple of hours we had together was not just that the titan of letters is full of sterling insights on everything from novel-writing to identity to social media to magical realism to modernism to New York—but that there is also something breathtakingly down-to-earth about Rushdie, who often seems both surprised and delighted by any praise, who seems as insecure as every writer I know (including me), and who feels as unsure of the state of our world as we all do.
Here you are now at your thirteenth novel. Or should I assume you are on to number fourteen now?
I'm not actually. I have no idea what's next. I have a completely empty head. Which is not a good feeling actually. [Laughter.] I always feel happier when I've got a project to work on. This book took a lot out of me. 
I was extra excited to read it, and I feel like this is one of your best books. I've been thinking a lot about your first book, Grimus, actually….
Nobody really liked it when it came out…except Ursula LeGuin. She's been my loyal critic from the very beginning.
I think it's a great first novel.
You do? Well, thank you. I'm not so sure myself. [Laughter.] After it came out and after its really quite poor reception, I did a lot of rethinking about what I think is wrong about it, never mind what other people said. And that process of rethinking is what led me eventually to Midnight's Children. It was partially a way of rejecting what I was trying to do in my first novel, that I found my way. So in my head that's a book I rejected in order to discover my path. I think it's a book in which the author has not found his voice yet. I think it's kind of erratic. There are passages that I think are really embarrassing. So I don't look at it very often.
But it's from there that you started this lifelong project of bringing in mythology and history from meta perspectives.
Well, yes, that's been there from the beginning, I think. I presume you know Farid ud-Din Attar and The Conference of the Birds.
Yes, of course.
That was a text I'd really always liked. And so the book started there. I started to see how you might make some contemporary fiction out of that idea. That part of the book I'm okay about.
I used that book and the Shahnameh in my second novel, The Last Illusion, and it was you who taught me to how to do that.
Oh!
Taking in myth and mashing it up with contemporary New York and the American psyche and Muslim identity, balancing all that….
Oh, good. Well, the thing I always felt about the great stories, the myths, is how much they concentrated into a very small space. I remember much later, when I was writing The Ground Beneath Her Feet, where the Orpheus story is quite central to that—I mean, you could tell the story of Orpheus and Eurydice in under a hundred words, and yet there's so much in there that if you start unpacking it you can write a six-hundred-page novel. I think that's what the great myths do: They give you these incredibly concentrated pieces of meaning that you can unpack almost like Mary Poppins's bag; endless stuff comes out of it. So I've quite often gone back there. Not so much in this book, but, for instance, in the novel before. I really tried to revisit those stories. Not just One Thousand and One Nights but stories of that sort. I'd written these two books for younger readers out of that same kind of sensibility, but if you read those stories they are not written for younger readers. I mean, One Thousand and One Nights is an adult book. It's not a children's book.
Definitely. But I sometimes think we of the East can handle more adult subject matter, just like we can handle darker humor a bit better.
Maybe. Growing up in India, with this kind of story material as the first fictional air that you breathe, was really a gift—and not just One Thousand and One Nights, but the animal fables and of course The Mahabharata and The Rubaiyat and all these grand narratives. It gave me a way of thinking that I've never entirely set aside. Although I've always slightly resisted the kind of magical realist tag because I believe that belongs properly to that group of South American writers, and it should be kept for them.
Yes, I feel that way too. What about the term fabulism? 
Well, I think magical realism, fabulism, French surrealism, it's kind of all the same thing. And then if you look at the history of literature, it's all over the place all the time—I mean Kafka's a magical realist and so is Gogol. The point is it's a kind of writing that's always been around. But then sometimes you don't want to do it. With this book, I really didn't want to do it. So I just think of it as one of the available ways of telling a story, and what you do depends on the story you want to tell.
I think a lot of people forget that fabulism is mainstream world literature—and that the domestic or psychological realism we have in the United States is the anomaly. As an Iranian, I used to find Cheever, Salter, Yates, and others so exotic. For me, they were the other.
Yes. Certainly, I mean, Cheever is quite exotic. [Laughter.] The thing about realism in its great heyday is that it depended on there being an agreement between writer and reader about the nature of reality. And so that when Trollope or George Eliot are writing, they can expect their reader to have, broadly speaking, the same worldview as themselves. They would agree about what the world was like. When you have that agreement, then you can build a realist novel on that. But we now live in a time when that consensus has very much broken down. We don't have an agreement about the nature of reality. I mean, reality is now an argument. And sometimes it becomes a violent argument. So I don't think you can write realism in the way that people used to because of this problem about consensus, about there not being a consensus about what is real. I mean, look what's happening in this country. There are narratives about America now that have almost no meeting point. One man's truth is another man's lie. When you live in this kind of moment, you have to be aware of that. And so my view is that realism is very broad church—on one end of it you've got Raymond Carver, and on the other end you've got James Joyce. I mean, Ulysses is a completely realistic novel—it's just that high modernism did something else with realism.
(Photo: Tony Gale)