This week in GalleyCrush, we are pleased to share an exclusive first look at James Hannaham's Pilot Impostor, which is forthcoming from Soft Skull Press on November 2, 2021. Below, view the bright and bold cover designed by Michael Salu, read the first sentences from the book, and discover more details. Editor's Note: This book's publication date has been postponed to November 30, 2021.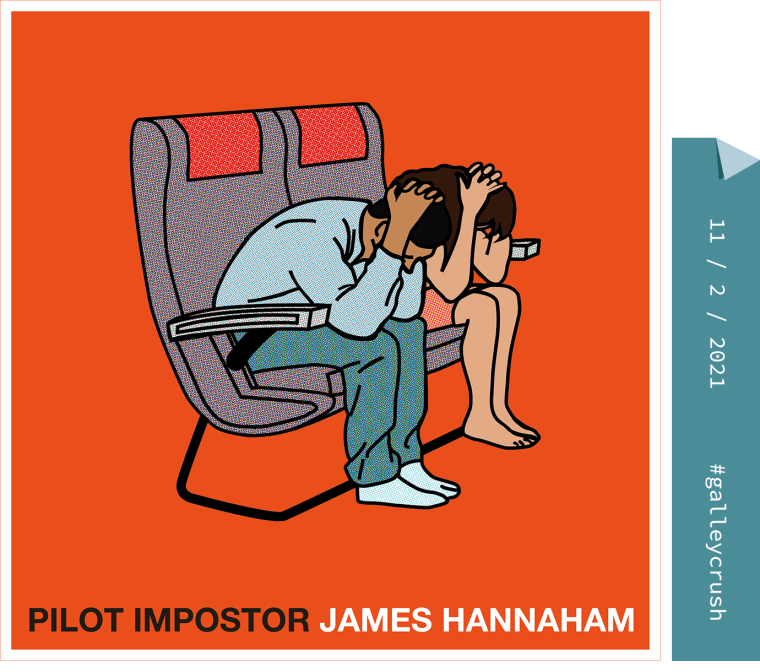 Perfect pitch: "From visual artist and PEN/Faulkner Award–winning author of Delicious Foods, a startling, shape-shifting book of prose and images, which draws on an unexpected pair of inspirations—the poetry of Fernando Pessoa and the history of air disasters—to investigate con men, identity politics, failures of leadership, the privilege of ineptitude, the slave trade, and the nature of consciousness."
First lines: "Sometimes I feel like a commercial jet pilot, sitting here with my eyes focused on my lighted display, the artificial horizon indicating my attitude, fingers at the ready. I have so many systems to monitor as I work; each aspect of the writing might as well be a knob or a dial on the console of an airplane. So many souls depend on my ability, so many people put their trust in me without having met me—or at least I imagine that they do. Like you (though you may have met me). The risk of losing altitude and the difficulty of maintaining attitude remains constantly in mind."
Book buzz: "Micro-essays, flash fictions, prose poems: However you choose to label James Hannaham's rebuses of posture and imposture, self and anti-self, they are endlessly inventive, thought-provoking, and delightful. Mixing text and image, playfulness and profundity, Pilot Impostor updates the flight manual of shape-shifting twentieth-century masters—Calvino, Borges, Perec—and most of all Fernando Pessoa, poetic champion of identity theft. 'So too in my soul do aircraft vanish'—well now, that's the type of pilot we've been looking for!" —Campbell McGrath
Book notes: Hardcover, fiction, 208 pages.
Cover credit: Michael Salu, House of Thought.
Author bio: James Hannaham is a writer and visual artist. His novel Delicious Foods won the PEN/Faulkner Award for Fiction, the Hurston/Wright Legacy Award, and was a New York Times Notable Book of 2015. His criticism, essays, and profiles have appeared in the New York Times Magazine, Spin, Out, 4Columns, Travel + Leisure, and BuzzFeed. He received a 2015 Pushcart Prize for a piece that appeared in Gigantic. He cofounded the performance group Elevator Repair Service and worked with them from 1992 to 2002. He has exhibited text-based visual art at Open Source Gallery, 490 Atlantic, Kimberley-Klark, and The Center for Emerging Visual Artists, and won Best in Show at Main Street Arts' Biblio Spectaculum. Pilot Impostor will be followed by Re-Entry, or What Happened to Carlotta, a novel, in 2022.