Considering the number of steps it takes for writers to turn their work into a published book, it's no wonder that the literary world is partitioned into so many components: workshops for writers to hone their craft, literary magazines for emerging writers to share their first pieces, and both indie and mainstream presses for new and established authors to publish their books. Catapult, a new literary venture launched in September and led by a team of industry veterans—with significant financial backing—offers all of the above.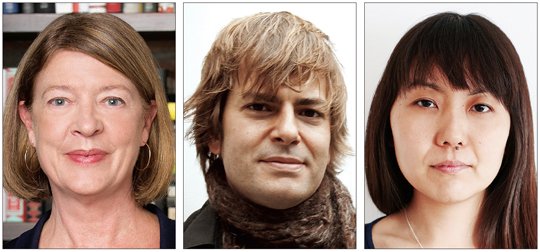 "Catapult conceptually mirrors the ecosystem in which writers and creatives exist right now," says Andy Hunter, Catapult's publisher and the cofounder of the popular website and digital publisher Electric Literature. The new operation, headquartered in New York City with a satellite office in Portland, Oregon, evolved out of the independent press Black Balloon Publishing, which was established in 2010 by Elizabeth Koch and Leigh Newman. Koch—Catapult CEO and daughter of billionaire conservative industrialist Charles Koch—provided the seed funding for the company, which is operating on a budget in the high six figures. "Since the inception of Black Balloon, part of the vision was always to create a mechanism for writers to find one another, support one another, and share their work," says Koch. "Both Catapult and Black Balloon sprang from a deep-seated belief that a well-told story can be an accidental training ground for empathy, for expanding our minds and developing personally."
Koch enlisted Hunter, who then recruited industry veteran Pat Strachan to take the role of editor in chief. Strachan has worked as an editor at the New Yorker; Farrar, Straus and Giroux; and Little, Brown, and is known for acquiring Marilynne Robinson's debut novel, Housekeeping, as well as books by Tom Wolfe, Lydia Davis, and Seamus Heaney. Meanwhile, Newman has been named the company's editor-at-large.
Catapult's editorial focus will be broader than that of Black Balloon (which will continue to publish more experimental books as an imprint of Catapult), with twelve titles published in both print and e-book format each year. Strachan says Catapult is seeking "American and international fiction and narrative nonfiction that is alive, insightful, illuminating, stirring, and surprising by way of unique voices—whether emerging or established—who honor the craft of writing." The press will open its doors to unagented submissions every April and October, and released its first titles this fall: Padgett Powell's short story collection Cries for Help, Various, in September; and Gavin McCrea's debut novel, Mrs. Engels, in October.
The company's website (catapult.co), meanwhile, publishes original short fiction and nonfiction that complements the press's editorial focus. Web editor in chief Yuka Igarashi and associate web editor Mensah Demary say they are more concerned with a compelling story than genre distinctions. "We're thinking about stories very widely," says Igarashi, the former managing editor of Granta. "Hopefully that includes graphic pieces and stories told in multimedia." Catapult also publishes pieces with original art by its in-house illustrator, Tallulah Pomeroy; recent works have included Nao-cola Yamazaki's story in translation about amoebas, "False Geneology," and Joy Williams's story about a daughter visiting a nursing home, "Cats and Dogs." Submissions for the website are open year-round, and contributors are paid for their work.
The Catapult website also hosts a Community section, which allows writers to self-publish stories and comment on one another's work. Readers can promote pieces they like, and the web editors will choose their favorite pieces, which will then be published on the curated site; those writers selected will be compensated for their work. With this type of community engagement, Hunter hopes the site will eventually attract a million unique visitors a month (by comparison, Electric Literature attracts three million unique visitors a year)—an audience that will help build and sustain a readership for Catapult's books.
In addition to its publishing platforms, Catapult offers a robust series of writing classes in New York City. The program offers six-week workshops (limited to six students each), as well as daylong publishing and writing boot camps, taught by both established and emerging writers such as Mary Gaitskill and Julia Pierpont. While the Catapult team doesn't have plans to host courses outside of New York City, it will offer online courses starting in 2016.
With such a comprehensive array of publishing and educational efforts, Hunter believes the new endeavor could eventually become its own publishing ecosystem. In other words, beginning writers might take a Catapult class to learn craft and find readers, then publish a piece on the community site, and then be chosen for the curated site. And finally, Hunter hopes, some Catapult writers might even publish a book through the press. "Nothing that we do hasn't been done before," Hunter says, "but we're the only ones who are doing all of it together in exactly this way." Koch agrees. "This multiarmed structure—that's our Catapult. It's our flywheel, generating its own growth and momentum as it blurs traditional boundaries—between student and teacher, established author and up-and-comer, publisher and audience."                 
Jonathan Vatner is a fiction writer in Brooklyn, New York. He is the staff writer for Hue, the magazine of the Fashion Institute of Technology.
Correction
An earlier version of this article incorrectly stated that many staff members of Black Balloon Publishing have joined the Catapult staff. No former Black Balloon staff members currently work at Catapult.