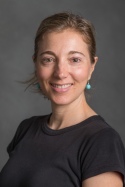 Publications and Prizes
Books:
Cracker Sonnets
(
Brick Road Poetry Press
,
2016
)
,
Creeks of the Upper South
,
Everything in the Universe
Chapbooks:
Farm
(
Finishing Line Press
,
2010
)
,
Rhinestones in the Bed, or Cracker Crumbs
(
Dancing Girl Press
,
2014
)
,
The Garden Will Give You A Fat Lip
(
Pavement Saw Press
,
2012
)
,
There Are No New Ways to Kill A Man
Prizes Won:
2014 Tennessee Arts Commission Fellowship, 2015 Fellowship, and 2012 Fellowship Kenyon Review Writers Workshop, 2012 Pavement Saw Press Chapbook Contest, Emerging Nonfiction Writer, Awarded at the Southern Women Writers Conference
Reviews, Recordings, and Interviews
work_excerpt:
Lifting a forkful of cricket mushroom risotto, I eyeball (precisely the right verb) these wide-eyed, if unseeing, creatures. Years of startling at insects condition me to react with alarm, but seeing them stilled, pacific, and out of context with surprise reconditions that automatic response. I examine a cricket's lens the way I once looked at a buckeye fallen from the tree in front of my grandparents' farmhouse. I look long, the way I paused in midstride on a running trail to hold a doe's gaze. I study its ridged tegmen, or modified forewings, the way I examined the back of a bookshelf after my mother taught me to discern cherry wood from mahogany. In my mouth, the cricket breaks apart like a mushroom cap pearled with rice or an artichoke heart, a corn chip softened by salsa. But it is only akin to these things, being an experience unto itself. I fill with wonder such that I have not experienced since my tongue first encountered another. The mystery under scrutiny is part of this dish's savor.
Last updated: Apr 23, 2017