Jamia Wilson is many things: an activist, a feminist, a writer, an editor, a bridge. What connects her many roles is a love of connection with the world, a connection with people and their ideas. She sees what a good future can look like and has been working toward creating this through her love of books, writing, editing, and fostering a new generation of readers and thinkers.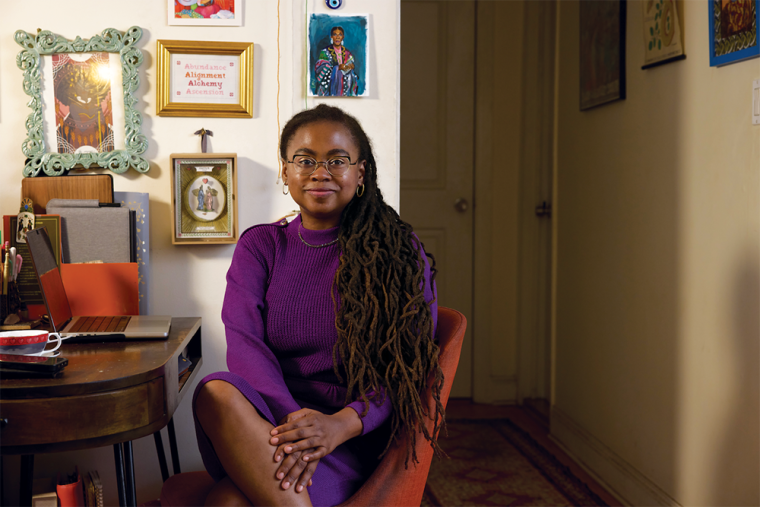 Wilson's publishing career started at Feminist Press, where she was the executive director and publisher for nearly four years, and continues at Random House, where she was named executive editor and vice president in 2021, but her love of storytelling began decades earlier when she was growing up in front of floor-to-ceiling bookshelves at her parents' home in Columbia, South Carolina. Having two professors as parents—they both taught at South Carolina State University in Orangeburg as well as at King Saud University in Riyadh, Saudi Arabia, among other academic institutions—gave her endless opportunities to witness people taking the written word seriously, and at an early age Wilson was taught to value books. "I was given that education young about how you should treat a precious object in your parents' home," she says. "I was taught to respect books."
The respect extended to her career as a writer. Wilson, the author of eight books for young readers, recalls that when she published her first children's book, Young, Gifted and Black: Meet 52 Black Heroes From Past and Present (Wide Eyed Editions, 2018), her mother gave her the first book she had made as a kid—her mother had saved it for all those years. "It was a book that I made with ribbons and staples and paper clips when I was about five," Wilson says. "It was about what you would expect: unicorns, dragons, Black mermaids. I was traveling across borders and across galaxies. But I just remember thinking, 'Wow, that is precious to me that she kept this, that she believed in this. It's not something frivolous, but something meaningful that I had a sense of purpose at that age, and she believed it.'"
That sense of purpose led her to American University, where she received a BA in communications, and to New York University, where she earned her master's degree in humanities and social thought. She has been vice president of programs at the Women's Media Center; a storyteller for TED Conferences; the executive director of Women, Action, and the Media, a nonprofit organization devoted to gender justice in media; a staff writer for Rookie, an online magazine for teenagers; and myriad other roles at the intersection of media and activism.
With a list at Random House that includes 2023 PEN Open Book Award winner Hafizah Augustus Geter's The Black Period: On Personhood, Race, and Origin, Victor Ray's On Critical Race Theory: Why It Matters & Why You Should Care, and the forthcoming memoir Lovely One by Supreme Court Justice Ketanji Brown Jackson, Wilson holds many roles that coalesce into mission-driven, forward-thinking storytelling that honors the past. We recently spoke about her winding journey into publishing, how feminism and activism should play a part in how we think about books, and what an author's audience means to editors.
It's rare that a love of the written word is nurtured and encouraged from such a young age. At what stage were you like, "This is really where I want to be" on a professional level?
I came into publishing in a roundabout way, through a circuitous route, through a lot of different things, but it was always there, this need to find the page as a place not only to express oneself, but also to connect with others or connect with other points of view, to engage, to find meaning. I feel grateful for that and have always leaned into it when I saw an opportunity that would allow more of it, more opportunities to read, more opportunities to be curious, more opportunities to amplify voices the world needs to hear.
I'm fascinated by those circuitous journeys into publishing. I would love to hear about yours.
I came to publishing when I arrived at Feminist Press. When I look back I think, "I was very adjacent to publishing and book publishing," because I was working at the intersection of online media, broadcast media, print, and activism for a long time, and I was working sometimes on books for those initiatives, on the books of thought leaders in those initiatives, sometimes contributing to anthologies. But it really became clear to me one day when Jennifer Baumgardner, who is now the CEO of Dottir Press—she has her own imprint and is also the former executive director of Feminist Press—invited me into the Feminist Press office. We'd had a long relationship in the feminist movement, and she was someone who I'd also read growing up and really looked up to.
As an editor, she'd been at Ms. magazine and had written books that helped grow my thinking around feminism. She invited me in and asked, "What are you doing right now? What are you thinking about in your future? What do you want to do?" I was telling her about an idea that a friend and I were thinking up that was about creating our own media and book-type projects. I was also talking with her about wanting to do more with Feminist Press, because I had done some panels with them and written some contributions for them. She said, "Well, one of the reasons I'm inviting you in is that I'm about to leave and there's going to be this opening, and the board of directors is going to choose who the next director is. But I was wondering if you had considered putting your hat in the ring."
That question was so powerful because I remember thinking, "Oh, this would be a dream job." I'd had this idea that if you hadn't come into publishing traditionally—and I hadn't started out as an editorial assistant in a traditional house—that maybe it'd be hard. But she believed in me and said, "No guarantees, but I think there's a lot you have to say, there's a lot you've done, your experience writing for Rookie, your perspectives on those things." Rookie had books, and I'd also been participating in the book process as an author, and I worked with the TED Books team. She said, "I think you should go for it." That catapulted me into delights I could never have dreamed of and doors opening. But it was really that conversation that sparked it.
At Feminist Press what did day one look like for you?
Feminist Press was an amazing place to be. Every day was an adventure. The small press environment: Everybody knows all the books because there is a smaller curated list. Everyone on the team knows every facet of what's going on with any book, even if it's not a book they're directly editing. We're all working on every book in some way. That was exciting, just to be all in, all the time. To get an intimate look at the publishing process at a close-knit, mission-driven press with a lot of history in a way that was very, very intergenerational. We would have editorial meetings that were done in a feminist style that would have the Feminist Press apprentices—which is what we called the interns—the staff, sometimes the founder [Florence Howe, who was in her nineties], and board members, and we would talk about those submissions as a group.
The spirit behind it was that we were a very mission-driven list and a tight community, and we knew everyone was going to have their hands on each and every book, so we should have all the voices in on the shaping of the position of the book. That was a very special experience. Being a part of that and being able to taste all the delights of all parts of publishing, that even if your job wasn't necessarily marketing or publicity or foreign rights, you would get a taste of that because of the small accessible nature of the press. There was always just a passion for publishing as a craft. There were things that we would do for people who wanted to dive in and trade ideas and expertise. Lauren Hook [then senior editor, now editorial director], an amazing person, would do a grammar club, where people could come and study the Chicago Manual of Style together in a fun way, for example.
That tickles the very nerdy wordy part of me! I love that.
It was so great. I mean, that's just one taste. My office there, I think about that office a lot because every book Feminist Press had ever done was on the shelves. They had one copy of each. To be able to be hugged by those books every day. I would think about that as something new was coming in: "How does this sit in conversation with the other books on the list over the past almost fifty years?" [That kind of] publishing offers so much value for everyone to experience and to learn [from] the spirit of it, but also the collaborative nature with other presses; we were part of a radical publishing collective. We had a sales conference with other small publishers, and that spirit of camaraderie, but also the trading of ideas and resources, is very special.
How are you bringing yourself from Feminist Press to Random House? You have such an activist mind and a unique way of looking at books. How are you bringing that ethos into this new role?
Thank you for asking that question. I've really enjoyed being at Random House. It's been an amazing experience. I am excited to be a part of a list I've always read. My parents loved Random House books. We had so many of them. I went home recently, and I saw a ton of Random House style guides from before I was born, books from the seventies. It was amazing to think, "Oh, I wonder if my now-deceased mom would've ever thought that I would end up working here. I wonder what she would think about this," and knowing that she loved it. I found in one of her journals that she had wanted to write a book and that her dream publisher was Random House.
That is very meaningful to me. I felt like I was meant to find it. When I did decide to go to Random House, one of the things that intrigued me the most, in addition to the resources and the ability to support the authors I work with, is the impact of this storied list that has shaped how generations think. I thought about it as a profound opportunity to grow myself as an editor and as a publishing human. I also thought about what it would mean to be a part of creating more expansive publishing on my own list and growing and expanding what it is that I think I could contribute as an editor. Because of the clarion call of what Random House is and how it started, there was something about it that really appealed to me, because I've always been someone who's done a lot of different things, a multihyphenate.
Yes! Tell me more about the multi-hyphenate.
There was always a through-line, but you had to connect it like a hybrid mix, like a hybrid memoir and a hybrid book. I'm a hybrid human. For me, to be in a generalist space where I can be interested in a lot of things with that thread—that's still the heart and the vision and the soul of the kinds of books I set out to publish. I just knew that this would be the right next step. For me, although I was so in love with Feminist Press and remain in love with Feminist Press, I also felt like, "There's something happening in publishing right now." This was the summer of 2020 when these conversations were happening. I thought, "There's a shifting happening."
Although I loved where I was, there was this opportunity, and what would it mean if I stepped into something else? Who else gets to ascend because of my moving? That was important to me to think about, because there are so many amazing people who have a vision and want to move up in this industry as well. All those things are in my mind. I also thought about the opportunity to be mentored by [former senior vice president and editor in chief of Random House] Robin Desser, who I was then reporting to, and [executive vice president and publisher] Andy Ward and [vice president and editorial director of nonfiction] Ben Greenberg, just to be able to learn how to make really impactful books from the people I had been looking up to for so long, and to take the spirit that has always been at Feminist Press to Random House and to shape and build a list.
Can you talk more about that work of shaping and building a list?
What is the thread that ties the books I like together? I think for me it is books that inspire empathy, books that ignite connections between people, books that move people to action—that [can mean] a lot of different kinds of books but also amplifying voices that need to be heard, expanding the conversation, books that speak to justice, to liberation, to freedom, to healing, to transformation. I feel proud that in almost two years' time I have a feminist theologian, Meggan Watterson, on the same list with the Lucas Brothers, who are comedians and writers and filmmakers, on the same list as Tressie McMillan Cottom, who is a sociologist and a professor. I love that. But you can see the thread. To be able to have voices like those together on one list is a dream come true for me.
I remember most of those projects came over the transom here at Little, Brown, too. I remember how awe-inspiring they were. You touched on this a little bit already, but I'd love to get even more specific. When you open that document from an agent, what is that special thing you feel?
When I first look at a submission, the voice is extremely important to me. If I am drawn to the voice, it makes me curious, it makes me want more, it inspires feeling within me. It stirs something up, and that could be a wide range of things.
Then I think about the core audience for this book. Who would read this book and feel like they see themselves in these pages or see themselves grow or see themselves learn or see themselves challenged by this? That's important to me. Then also, what new ground could this book break? Having come from an indie [press], I'm interested in that. A lot of times in my memos or notes, I'll say, "This is the first time in this space that we've seen a woman of color specifically address this in this way," or "The first time we've seen a trans voice in this space addressing this."
Those are the key questions I ask: "Why now? Why us? Why are we the right publisher to publish it? What impact can we make? What's new and what's now and what's next about it?" Those are some of the questions I like to engage. What are the interesting insights this provides that need to be developed? What are the insights that have been said in a new way that can be said only by this author? And where would it sit on our list?
With all of that, is the author bio important to you?
That's an interesting question. I'm a curious person by nature, so I like to know—more is more, for me. I like it when I know a lot about an author because if I'm intrigued by the voice on the page or the subject matter, I am going to start Googling. I am going to start trying to find more writing by this human, because I want to know more. I say more is more, that I like the author bio, because I'd like to know the mind and the heart behind this, but also who are the communities they're bringing with them when they write and who will they be speaking to? Who will they be bringing forth? That might even be their ancestors, departed or still here. I'm very curious about that.
I feel like I've seen that done in different ways. I had one submission I loved, one I loved and lost, but it went to someone great in our group—it came with a video, and it had an author bio, but the video was the author talking about their book like they were my friend. I remember thinking, "Oh, they're creative, they are thinking in a different way, and I'm getting a sense of their voice and where it can go that's even deeper than what I see on the page. I think I could be a good editor in developing that." There are humans behind each and every submission we receive. I like knowing the most that I can know in a submission, because it helps to give you a fuller picture. That's why the meeting is so important too.
What else can be important to you in a submission query? Do comps matter to you, or prestige in awards or education?
For me it goes back to the question of audience. It's helpful to envisage what the audience might look like. Sometimes I'll see in the author something that might be important to know but wasn't one of the things they thought added to the prestige and the bio; it's something I happen to know about that person that I think is cool or important or adds nuance. For me it's very specific, but also really comes back to voice, too. I'm really drawn to voice-driven writing, and it helps to know if someone has reach.
But I also think it helps to know where [the writer is] no matter what, because that informs the strategy needed to get that voice out in the world. I think about that often and don't want people to be discouraged, because sometimes I'll have friends who will say, "Oh, I don't have X number of followers on X social media outlet or something like that." My thought is more: Refine those pages, get those pages really good, get really good at talking about your strengths. Because if you have a book that is going to inspire people to want to acquire it, they will strategize with you on how to build that audience. They will strategize with you on who might be the audiences who would love your books.
I mean, that's one of the things about the mighty comp we always talk about, like "Readers who like this book, might like this book." We see this in all our curated lives, but I just want to drive home to people that I really care about the writing. I really care about the voice. I really care about the meaning. Yes, tell me about your audience. That is great. I want to hear about the grassroots strategies that people have because that's something I came in with from Feminist Press and those are valuable. Sometimes I'll know something about someone who I know from the community and I'll say, "Hey, why wasn't this in here? This is meaningful. You do X number of talks at schools a year. You have access to an amazing community network with this program that you're in." More is more. I want more of those conversations happening too.