For the life of me, I can't remember when I met Nat Sobel for the first time. I know it must have been around September 2001, when I developed a crush on one of his assistants. (We married two years ago, and she left the job back in 2004.) Despite my hazy memory of that time—chalk it up to a disorienting mix of national trauma and new love—my first impression of Sobel couldn't be clearer: an old-school bookman, a throwback to the glory days of publishing, a guy who you half expected to have a copy of the Racing Form tucked inside his blazer. I've since found that impression to be accurate, but only to a point. When you spend any amount of time with Sobel, talking about books and publishing, which now have been his lifeblood for almost fifty years, you are confronted with an obvious contradiction: He is also one of the most forward-thinking agents in the industry.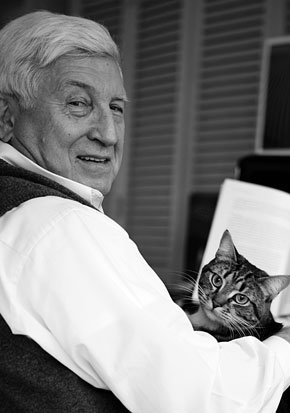 Sobel grew up in New York City and has been immersed in the book business since his days at City College, when he clerked in a stationery shop and paperback bookstore. After college he went to France and spent a year reading all the world literature he hadn't gotten around to in school. The reading served him well: In 1960, after he'd done a brief stint at Dell Publishing, Barney Rosset offered him a job as the assistant sales manager at Grove Press. Over the next ten years, Sobel rose to become Grove's vice president and marketing director and played a central role in the company's well-chronicled success during that period. In 1970, he struck out on his own, founding an eponymous agency that began as a consulting firm for independent publishers and became a full-service literary agency when his wife, Judith Weber, joined it in 1977.
Today Sobel Weber Associates is one of the top boutique agencies in New York City. The firm's clients include heavyweights James Ellroy, Richard Russo, and the late F. X. Toole; rising stars Julianna Baggott, Courtney Eldridge, Tom Franklin, and Aaron Gwyn; genre writers Tim Dorsey, Harry Harrison, Elmer Kelton, Joseph Wambaugh, and the late Robert Jordan; and a raft of best-selling nonfiction and cookbook authors.
This interview took place in the couple's elegant Gramercy Park townhouse—it was once the home of the artist George Bellows—which doubles as the agency's offices. During most of our conversation, one of Sobel's cats sprawled in my lap. Afterward, Sobel led me up several flights of stairs, lined with framed drawings by his friend and client Ralph Steadman, to show me his loft office at the top of the house. It is an airy space that overlooks the living room and is adorned with three huge paintings by Steadman, family photographs, bookcases full of literary magazines, and a lucky photo of Gandhi that, Sobel notes with satisfaction, "I've had in every office I ever worked in."
My sense is that you grew up in New York City. Is that right?
That's right. I was working on my own from the time I was eighteen years old. I went to City College and had to support myself. I had a dream of going to Europe to write after I graduated from college, and I did go to France and lived for a year on my savings. But I didn't write. I read. I spent a whole year reading.
What were you reading?
I had been a lit major, and I went with a suitcase full of the books I had wanted to read but hadn't had time to get to. I found an English-language bookshop in Paris that was happy to buy all of the books I read and give me other books in exchange. That was how I was able to extend my library into a year's worth of reading. I read about sixteen hours a day, seven days a week. That's when I really learned about world literature—from that year in Paris—but I didn't get much writing done. Toward the end of the year, the guys from the bookstore where I'd worked in college wrote and offered me an opportunity to come back and run most of the store in the evening and become a kind of partner. I went back and worked there until a job opened at Dell Publishing, where I worked for about a year as a salesman. Then Barney Rosset offered me a job as the assistant sales manager of Grove Press. I was all of twenty-four years old. Eventually I became the sales manager and the marketing director, all in my twenties. But keep in mind that at Grove at that time, Barney was only in his thirties. So you get an idea of the age range. We were a pretty young bunch of guys—this included Richard Seaver, Fred Jordan, a very talented group of guys—who didn't think anything of working long hours, because we enjoyed it. Even at the time, I knew I'd never get a job like that again.
Tell me how you met Barney.
It's a funny story. Barney came to the Dell sales conference. It was my first sales conference; I was sharing a room with another guy. I had been playing poker through most of my college years as a source of additional income. I heard there was a hospitality suite and there would be poker playing. So I wound up in the hospitality suite and there were five tables of salesmen all playing poker, and Barney, thinking that Dell was going to distribute Grove Press books, was one of them. Late in the evening there was only one table left—all of the winners. I was at that table, and so was Barney. I had the best hand in five-card draw I'd ever had. I can remember it all these many years later. It was the biggest pot of the night. There was a lot of money in that pot. And Barney turned out to have the best hand of all.
I stuck around, I'd been drinking, and as a result I passed out on the bed of the hospitality suite. The sales conference began promptly at eight o'clock the next morning. Barney was downstairs on the dais with Helen Meyer and the editor in chief of Dell. But I was asleep in the hospitality suite. When I finally woke up, with a very bad hangover, and went back to my room, showered, and went down to have some coffee and head into the sales conference, it was about ten o'clock in the morning. The hotel we were in was quite remote, and when I walked in, everybody wondered who the hell I was. They didn't know me. I hadn't been at Dell all that long. I could hear the people on the dais saying, "Who is he?" I thought I'd be fired. But I wasn't.
About two months later I got a phone call, and this guy on the other end of the line said, "Are you the guy who came two hours late to the Dell sales conference?" I said, "Yes, who's this?" Thinking it's a joke. He said, "My name's Barney Rosset, and I like your style, kid. How'd you like to come to work at Grove Press as the assistant sales manager?" I had the chutzpah to say, "How much are you paying?" He mentioned a price that was fifty dollars a week more than I was getting, and I was delighted to go. At that point I didn't like Dell anyway, and I knew enough about the Grove Press list to know that I wanted to go there. And I had a great time. Barney was a great pal, and I gave him a lot of arguments for many years, and then one night in a bar ten years later he fired me. But he said, "I'm going to keep you on the payroll for a year till you get yourself together." I decided then and there that I would never go to work for another publisher.
When you got to Grove, was Barney already fighting his censorship battles all over the country?
Yes. Lady Chatterley's Lover had been published. Tropic of Cancer was being published and there were some battles. The big battles came about a year after I got there, which was when the paperback of Tropic of Cancer came out and was available in a lot of smaller towns. There were a large number of lawsuits against the company that nearly put us out of business.
Were you involved in that in any direct way?
No. I was on the sales side of things. Among my duties was to go to the jobbers [distributors] once a week to pick up some money that was due so we could pay the payroll. That's how tight things were. But we did a lot of wonderful books and Barney, because he was interested in the editorial side more than the marketing side, gave me a lot of freedom. I hadn't worked in any big publishing house in a capacity in which I could make decisions, so I did a lot of things quite innovatively.
Like what?
I wanted to see all the orders that came in to the house, which caused a delay in the printing out of orders, but I wanted to have a hands-on approach to seeing the orders as they came in and get a feel for what was moving. A few years into the job, we had to fire everybody in the sales department and I had to travel the country. I didn't realize until later what a wonderful experience that was going to be for me. I had to travel to the West coast for three weeks twice a year. I had to travel to the South, the Southeast, the Northeast. I even had to train a couple of the editors to go out and sell our list. We were really just scraping by. Then, when we started to do a little better financially, with one best-seller after another, I was able to get on the phone and call a lot of these booksellers who I now knew personally and get them to get behind a particular book on the list that I thought had the most potential. We never had a large sales force, even when we were successful. But we did a lot of phone work and a lot of postcards and we got the independent booksellers behind us, and that worked very well. There were also times when we would take a gamble. We didn't do P&Ls [Profit and Loss projections] for acquisitions. We didn't have a budget. A lot of it was instinctive publishing.
I can remember a particularly episode with a book that turned out to be one of the most successful Grove ever published, a book called Games People Play. I thought it was a terrible title for a book on transactional analysis. We had three colored discs on the cover with lines going from one to the other, and I said to Barney, "With a title like that, and a jacket like that, people are going to think it's a game book." He totally ignored me. Just when the book was being published, I went to the West coast for one of my three-week trips. When I got back, I called Barney and said, "Look, I want us to do a big ad in the Times for Games People Play." Barney said, "Why? We only printed thirty-five hundred copies. I think we've gone back for twenty-five hundred more, and you want a big ad in the Times? We published his first book and it didn't do all that well." I said, "Well, I have to tell you, Barney, I think God is telling me something." He laughed and said, "What is God telling you, Nat?" I said, "Well, I went to the West coast and in L.A., in a restaurant, I saw a woman reading a copy of Games People Play. Then I took the shuttle flight from L.A. to San Francisco and there was someone on the plane reading Games People Play. I said to myself, 'If I see a third person reading this book, with the print order that we had, I'm going to come back....'" Of course I did see a third person in San Francisco reading Games People Play, which is why I came back and told him God was telling me we had to do a big ad. The American Psychiatric Association convention, at which we always exhibited our books, was coming up, and we decided to do an open letter to the shrinks who were attending the APA about Games People Play. Fred Jordan, who wrote a lot of our ad copy, did almost a full-page letter in the daily Times. We brought up hundreds of copies to sell to the shrinks at our little stand. We sold a lot of copies. And we were selling it to the right audience: young psychiatrists. Then the media got on to us and the book became a huge success, the biggest that Grove had ever had. I think we sold something like 600,000 copies in hardcover. Nobody wanted to buy the paperback rights because they thought for a hardcover of its kind we had pretty much covered the whole audience. So Grove had to publish the paperback itself, which then sold about two million copies. Grove was the kind of place where I could say to Barney, "God is telling me something." There was a wonderful level of collegiality in the company. Sometimes we would gang up on Barney because if one of us couldn't persuade him about something, then eventually all of us could.
Why were you eventually fired?
The company was getting involved in the film business. I didn't like most of the films we were buying up and distributing. It was also taking a lot of our resources, tying up Dick's attention as well as Fred Jordan's attention, and the book publishing side was beginning to suffer. The list was not as large, it wasn't as focused, and I was the big naysayer about it. I was calling Barney on it. I kept telling him we had to get out of the film business. I became a strong voice of opposition. Whereas he took my criticism on other matters for a long time, and in very good form, I might add, on this point he was adamant.
When he began to discover that I wasn't the only one who felt this way, especially when he asked Dick Seaver to fire me—Dick and Fred were senior to me—and neither one of them wanted to fire me, he was convinced that I had gotten everybody on my side on this matter. When he fired me, he said, "I have to restore control of the company. This is mine. Not yours." Only two years later, Barney came to me with a project for which I sold the paperback rights for so much money that my commission was greater than my last year's salary working for him.
So obviously there were no hard feelings.
Not at all. In fact, Barney celebrated his eighty-fifth birthday at my home in East Hampton, which made me very pleased. My best publishing experiences were the years working for him. I realize now what a great experience it was.