The waves of lockdowns and shelter-in-place orders imposed across the country to slow the spread of coronavirus infections are a potential shot to the heart of independent bookstores, which have thrived in recent years by turning their shops into community hubs featuring cafés, classes, and readings. But even as scores of indie bookstores have shut their doors to the public and laid off staff, many stores continue to serve their customers via online orders and curbside pickup programs, and for now at least readers seem to be responding by buying huge numbers of books.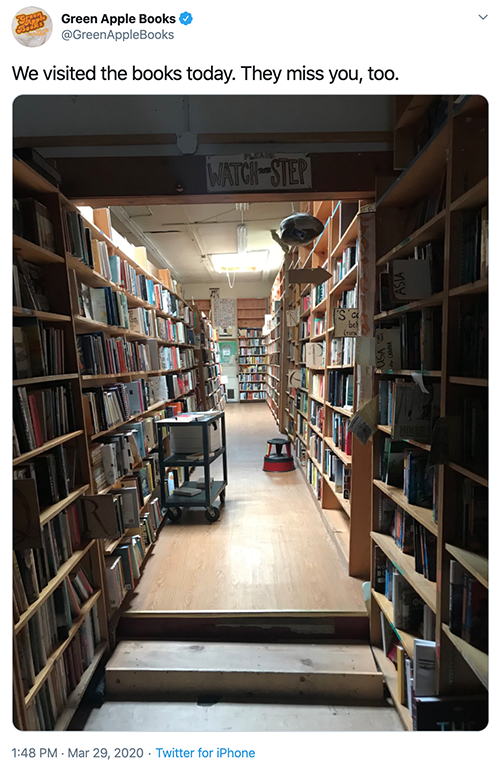 At Flyleaf Books in Chapel Hill, North Carolina, owner Jamie Fiocco closed her store on March 16 and switched to online sales, along with an elaborate system of curbside delivery. After North Carolina's Governor Roy Cooper announced a statewide stay-at-home order on March 27, however, Fiocco ended the curbside delivery program, choosing to handle all phone and online orders by mail.
For the moment, the system seems to be working. Sales at the store are in line with what they were a year ago, though the expense of having offered curbside pickup as well as below-cost shipping to her customers is eating into Fiocco's profits. She isn't sure how long she can hold out, despite having laid off seven of her fourteen employees.
"What I'm trying to do right now is make enough money to keep my [remaining] staff paid," she says. "At some point, I would not be surprised if we are asked to shut down by local or state government but we will keep going until then. We'll try to keep a trickle of revenue in, but we're really counting on government assistance to see us through to the end of this."
Flyleaf Books is far from alone in struggling to outlast the coronavirus outbreak. The legendary Strand Book Store, located in New York City, the epicenter of the pandemic, had to shutter all of its operations, including its website, on March 15, forcing it to temporarily lay off much of its staff. Powell's Books in Portland also shut down its five stores, but on March 27, CEO Emily Powell announced the store had one hundred staffers working full-time to keep up with online orders. At the Tattered Cover Book Store in Denver, the physical stores are closed, but a skeleton crew is still working to fulfill online orders. 
In San Francisco, Green Apple Books closed its three stores to the public on March 17 and furloughed all but nine of its forty employees, who have stayed on to handle online orders, according to co-owner Kevin Ryan. Sales from the website are ten times higher than normal, but, Ryan says, "all that web-order fulfillment is really low margin, and at first we were doing free freight which cost us three dollars for every book right off the top. Some books we even lost money on, so it's not a great solution."
The fallout from the virus isn't confined to indie bookstores. As of March 27, Barnes & Noble, the nation's largest remaining bookstore chain, had closed roughly 400 of its 627 locations, though its website has seen a huge boost in orders. James Daunt, the chain's newly installed CEO, says he has laid off all employees with less than six months seniority and furloughed many of the rest, though he has retained a few core employees at each location to help refurbish the stores while they're closed. (Read "Amid Pandemic, Barnes & Noble Pauses to Improve Its Stores.")
Whether individual bookstores can survive the extended closings depends not only on how long the social distancing orders are in effect in their area, but also on how strong their balance sheets were before the outbreak, how receptive their landlords will be to delayed or reduced rental payments, and how much they're able to rely on their websites to sell books during the closures, booksellers say. Booksellers are also counting on relief in the form of disaster grants and low-interest loans from the massive $2.2 trillion stimulus package passed by Congress, which includes $375 billion in aid for small businesses, along with $260 billion for unemployment insurance for laid off and furloughed workers.
In the meantime, a new digital bookstore, Bookshop.org, offers a way for readers to buy books online while supporting their local indie bookstore. Each time an affiliated bookstore directs a shopper to buy books from the site, the store gets a 25 percent commission on the sale. In addition, the site is putting 10 percent of all it sales revenue into a pool that will distributed twice annually to its 550 affiliated bookstores. As of March 30, that pool had grown to just under $180,000.
In the past two weeks, sales at Bookshop.org, which only opened for business in January, have jumped by more than 1,000 percent, says CEO Andy Hunter. "I think people are rallying around their local bookstores," he says. "They understand that indies are not only important parts of their communities but really important to literary culture and the culture around books in general."
Still, if the shutdowns last more than a few weeks, some bookstores will surely face a reckoning, says Fiocco, the ABA president. "I haven't heard of any permanent closings yet," she says. "There are sure to be some. I will say this, that it is as dire a situation as it could be. 
"I think there will be a lot of closings for stores that don't have the operating capital to continue," she adds. 
Fiocco hopes her own store can open for business as usual by June 1, though she knows the shutdown could last much longer. If the store does reopen in June, she is guardedly optimistic that she can survive.
"It depends on a lot of communications with publishers, with our landlord, and whatever governmental assistance we get," she says. "I feel like the will is there, but I think a lot of bookstores don't have that good will or landlords that understand the value of bookstores or have the ability to ride this out. I believe that we will be here. I don't see the path yet, but I feel like the players are all working together to make that happen."
In San Francisco, Kevin Ryan, Green Apple Book's co-owner, says he's heartened by the federal stimulus bill, which he hopes will allow the store to delay paying rent for a few months and help his staff weather the shutdown. "If all the money comes through like it sounds like it might and we're able to rehire them in mid April, I don't think they'll miss a paycheck, he says. 
Like Fiocco, Ryan believes Green Apple will eventually reopen, but he remains uncertain how robust business will be in the wake of the economic damage the pandemic is sure to leave behind. 
"We're a pretty healthy business," he says. "If we're closed, it means everybody's closed, and I just don't see that happening. One way or another we're going to open. The bigger question mark is what it's going to look like on the other side, with the massive unemployment and all that, if people are going to come back and buy books. That's a real question mark."
Michael Bourne is a contributing editor of Poets & Writers Magazine.