P&W-supported poet/activist Kelly Harris, founder of Poems & Pink Ribbons, a poetry workshop for breast cancer patients, survivors, and their loved ones, blogs about Daughters of Domestics, a poetry reading she initiated and participated in in New Orleans.
There's a special relationship in New Orleans between the community and its artists. Go to the French Quarter and watch artists infuse themselves into the daily lives of New Orleanians and tourists alike. Even if you're minding your own business, a singer, dancer, mime, trumpeter, tambourine player, or visual artist can suddenly make you take a detour from your day's plans.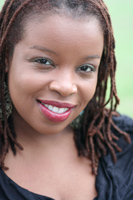 I have been fortunate to have organized several events in New Orleans that create unique intersections between poetry and non-traditional audiences. Most recently, Daughters of Domestics: Poets & Academics Respond to "The Help," featured Asali DeVan Ecclesiastes, Kysha Brown Robinson, and myself. The Help, both the book and film, have created much conversation in New Orleans. In fact, a 1982 documentary about black domestics in New Orleans titled Yes Ma'am showed for a limited run in September.
Xavier University of Louisiana, a historically black college known for graduating more African American pharmacists than any other university in the country, hosted the event. Daughters of Domestics attracted an audience of over one hundred people including Xavier University students and faculty, clergy, local writers, bookstore owners, and even nuns. 
Poems read by the featured poets underscored the struggle of Hattie McDaniel, the first African American actress to win an Academy Award, black women domestic labor, sexism, and Jim Crow. My final poem of the evening, "For All the Times in School I Left Mother's Occupation Blank," was dedicated to my mother who cleaned white people's homes in the late '80s and early '90s for extra income.
Following the poets, Dr. Kimberly Chandler, assistant professor of communications at Xavier, moderated a panel that included Professor Theresa Davis, Dr. Denese Shervington, and Dr. Brenda Edgerton-Webster. The three nationally respected African American scholars discussed the contradictions, complexities, and contentions of the film from the black female perspective. Dr. Davis began her comments by quoting Langston Hughes's poem "Note on Commercial Theatre." The panel provided a lively conversation that ended with a call to action.
Before the close of the event, Dr. Chandler turned the audience's attention to a black-and-white photo of a black woman, who was a domestic worker, on display in the auditorium. The photo was brought in by an audience member who wanted to bring his grandmother's spirit to the event. I believe she was there.
Later that evening, I received an e-mail from a woman thanking me for organizing the event and requesting a bibliography of all the authors and books that had been mentioned. Her call demonstrates the ways in which poetry can have a profound impact. She said, "I need those books on my shelf."
Photo: (top) Kelly Harris; (bottom, left to right) Kelly Harris and Asali DeVan Ecclesiastes. Credit: Jarvis DeBerry.
Support for Readings/Workshops events in New Orleans, is provided by an endowment established with generous contributions from the Poets & Writers Board of Directors and others. Additional support comes from the Friends of Poets & Writers.