Last night in New York City, Elizabeth McCracken was announced the winner of the tenth-annual Story Prize for her collection Thunderstruck (The Dial Press). The $20,000 prize is awarded for a short story collection published in the previous year.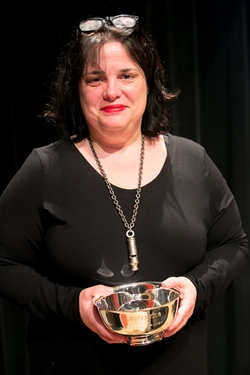 The finalists, who each receive $5,000, were Francesca Marciano for her collection The Other Language (Pantheon) and Lorrie Moore for her collection Bark (Knopf). In addition, Kyle Minor received the Story Prize Spotlight Award—a prize of $1,000 given for a collection that merits additional attention—for his second collection, Praying Drunk (Sarabande Books). During last night's event, the finalists read and discussed their work on stage with prize director Larry Dark.
A former public librarian who currently teaches at the University of Texas in Austin, McCracken has received literary grants and awards from numerous organizations including the Guggenheim Foundation, the American Academy of Arts and Letters, and the American Academy in Berlin. McCracken's previous books include the story collection Here's Your Hat What's Your Hurry, the novels The Giants House and Niagara Falls All Over Again, and the memoir An Exact Replica of a Figure of My Imagination. Thunderstruck is her first short story collection in two decades.
"When you read this book it's hard to believe it's her first collection in twenty years—these stories are funny, nuanced, and self-assured," said prize director Larry Dark. In her on-stage discussion with Dark, McCracken talked about her process, her return to the short story form, and the importance of humor in her writing. "The extent to which I believe that there is redemption in the world of sadness—it is by humor," she said. McCracken also discussed her use of sensual detail and the importance of creating "evidence that the world in the story existed."
Dark and Story Prize founder Julie Lindsey selected the three finalists from a record 129 submitted books, representing 85 different publishers. The winner was selected by three judges: Arsen Kashkashian, a book buyer and general manager of the Boulder Bookstore; Noreen Tomassi, director of the Center for Fiction in New York City; and author Laura van den Berg. "Each story in the collection reads like a masterwork, rich and confident and surprising, and together they form an electrifying whole," the judges said of McCracken's work. "She writes with such an open and compassionate heart that even the most damaged and lost of her characters thrum with life."
Established in 2004 to honor the short story, the Story Prize is the largest award given for a book of fiction in the United States. Previous winners include Mary Gordon, George Saunders, Steven Millhauser, and Tobias Wolff.