See writers who are published in this journal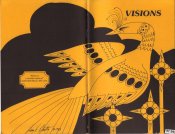 Accepts Unsolicited Submissions:
Accepts Simultaneous Submissions:
Editorial Focus
Visions International publishes well-crafted original poetry as well as translations from modern poets, everywhere. The editors favor poetry that is "not obscure yet avoids the trite"
Tips From the Editor
We're open to all poets from brand new to old hands. We now prefer e-mail submissions! Please, no perfect form without meaningful content; no questionable language used purely for shock value. Remember that "true poetry makes things happen" - Robert Graves.
Contact Information
Bradley Strahan, Editor/Publisher
Last updated: Feb 15, 2023