See writers who are published in this journal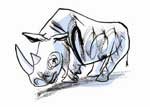 Accepts Unsolicited Submissions:
Accepts Simultaneous Submissions:
Editorial Focus
RHINO is a high-quality, perfect-bound annual journal with online content including poems, event updates, and monthly e-zine RHINO Reviews. It invites traditional or experimental work reflecting passion, originality, artistic conviction, and a love affair with language. The editors encourage emerging and established writers throughout the US and around the world. Submissions are read by multiple editors with eclectic tastes.
Tips From the Editor
Online submissions strongly preferred. We consider: Poetry (up to 5 poems or 5 pages); Translations of poetry; Flash fiction (500 words max). We do not consider: Work that has been previously published on any website or in any print publication; unsolicited reviews or interviews. We're an active contributor to the Chicago literary scene and coordinate several Chicago-area readings and workshops a year; we'd love to see you!
Last updated: Mar 16, 2023