See writers who are published in this journal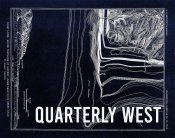 Genres Published:
Poetry, Fiction, Creative Nonfiction, Translation
Accepts Unsolicited Submissions:
Accepts Simultaneous Submissions:
Editorial Focus
Quarterly West looks for writing that is: Exciting. Challenging. Risky. Unpredictable. And Different. Different stomps in. Maybe it seeps in. Sometimes, and in our favorite works, different is always already there and it strikes flint and blazes. This is what we look for.
Tips From the Editor
Please submit electronically; we no longer read print submissions.
Quarterly West is open for regular submissions of poetry and prose from March 15th through March 31st. Our contests in poetry and prose run in the fall from October 1st through November 1st. We are open to submissions of new media, translations, and book reviews year round.
Contact Information
255 S. Central Campus Dr.
Last updated: Oct 13, 2022