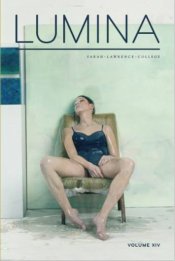 Genres Published:
Poetry, Fiction, Creative Nonfiction
Accepts Electronic Submissions:
Accepts Simultaneous Submissions:
Accepts Unsolicited Submissions:
Editorial Focus
LUMINA, established in 2000, is the annual print publication of the Sarah Lawrence College graduate writing program. Every year, Lumina is greeted by a new editorial staff; as a result we are not tied to any style or subject matter. Instead, we seek the new, exciting and rule-breaking work from writers both established and emerging.
Tips From the Editor
Writers may submit up to three poems no more than 60 lines, and up to two prose selections no longer than 5000 words. Go to www.luminajournal.com for detailed submission guidelines in each genre, and to submit your work. Please visit our blog and/or read a past issue before submitting.
Contact Information
Rachel Parsons, Editor-in-Chief
Last updated: Feb 17, 2017