See writers who are published in this journal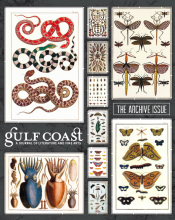 Genres Published:
Poetry, Fiction, Creative Nonfiction
Accepts Unsolicited Submissions:
Accepts Simultaneous Submissions:
Subscription Price:
One-Year for $26; Two-Year for $48
Editorial Focus
Gulf Coast publishes fiction, poetry, nonfiction, and critical art writing as well as reviews and interviews by both emerging and established writers. Each issue features two full-color art sections.
Tips From the Editor
Please include SASE and note we are unable to read entire manuscripts, novellas, of submissions of more than one story (roughly 7,000 words) at a time.
We read submissions for Online Exclusives from January 26th to December 20th and for the Print Edition from September 1st through March 1st.
Contact Information
Department of English, University of Houston
Last updated: Jun 22, 2022