See writers who are published in this journal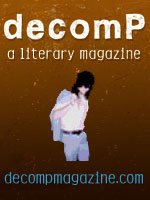 Genres Published:
Poetry, Fiction, Creative Nonfiction
Accepts Unsolicited Submissions:
Accepts Simultaneous Submissions:
Editorial Focus
Decomp (ISSN: 1947-0436) is an online literary magazine that is published monthly. It has existed since April 2004 and was originally called Decomposition Magazine. It publishes prose, poetry, art, and solicited book reviews. 
Tips From the Editor
Read our submission guidelines for details. No snail mail submissions.
Contact Information
Chris Patterson, Managing Editor
Last updated: Aug 05, 2022