See writers who are published in this journal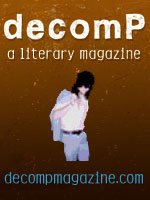 Genres Published:
Poetry, Fiction, Creative Nonfiction
Accepts Electronic Submissions:
Accepts Simultaneous Submissions:
Accepts Unsolicited Submissions:
Editorial Focus
Decomp (ISSN: 1947-0436) is an online literary magazine that is published monthly. We have existed since April 2004, and were originally called Decomposition Magazine. We publish prose, poetry, art, and solicited book reviews. Our e-mail address is decomp.magazine@gmail.com (no submissions to this address).
Tips From the Editor
Read our submission guidelines for details. No snail mail submissions.
Contact Information
Jason Jordan, Editor-in-Chief
Last updated: Oct 26, 2018