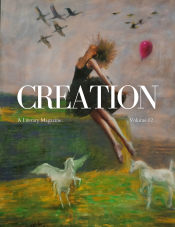 Genres Published:
Poetry, Fiction, Creative Nonfiction, Translation
Accepts Unsolicited Submissions:
Accepts Simultaneous Submissions:
Editorial Focus
Creation Magazine is an online literary and arts magazine that is published trianually. The journal three reading periods and publish three seasonal issues. During their Spring Issue, they publish prose, poetry, fiction, non-fiction and literary criticism that focuses on women's perspectives. Summer and Winter publications are their themed issues. Although this magazine has a focus on women's perspectives during their Spring Issue, everyone is encouraged to submit.
Our Winter Issue is now open for submissions.
Tips From the Editor
To submit your work, email submit@creationmag.org with your piece attached and include your name, title, and genre in the subject. Moreover, please include a short cover letter in the body of the email and how you heard of Creation Magazine.
The submission period is open for Volume 04: A Homesick Issue and closes on December 1st.
Last updated: Oct 11, 2023