See writers who are published in this journal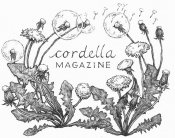 Genres Published:
Poetry, Fiction, Creative Nonfiction
Accepts Unsolicited Submissions:
Accepts Simultaneous Submissions:
Editorial Focus
Cordella Magazine is a biannual online magazine with an annual print edition, featuring the work of women-identified and nonbinary creatives, published by Cordella Press.
Tips From the Editor
Cordella seeks to record and share the creative voices of women from all walks of life, exploring the ways that our spirit and sense of self is engaged with our physical place and daily experiences. We honor the diversity of women's spirituality, and recognize that the edification of a woman's spiritual life brings healing to our earth, to our families and communities, and to ourselves.
Contact Information
Madeleine Barnes, Poetry Editor
Last updated: May 02, 2022