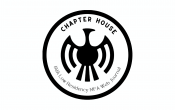 Genres Published:
Poetry, Fiction, Creative Nonfiction
Accepts Unsolicited Submissions:
Accepts Simultaneous Submissions:
Editorial Focus
Chapter House is an online literary journal promoting the ideals and vision of the Institute of American Indian Arts (IAIA) Low Residency MFA Program. It publishes either Winter/Summer or Fall/Spring.
While Chapter House is rooted in an Indigenous-centered program, the editors look to publish writers from a diverse range of backgrounds, experiences, styles, and aesthetics.
Contact Information
Adrian T. Quintanar, Managing Editor
Last updated: Nov 10, 2022