See writers who are published in this journal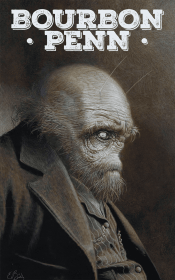 Accepts Unsolicited Submissions:
Accepts Simultaneous Submissions:
Editorial Focus
Bourbon Penn is a print and online magazine featuring stories of imagination and the odd.
Tips From the Editor
Send us highly imaginative stories with a healthy dose of the odd. Odd characters, odd experiences, odd realities. We want character. For us, stories live and die by their characters. We're looking for fully drawn characters who surprise us with their honesty, complexity, and contradictions. We want mysterious. We're looking for stories that grab the reader, make them ask, "what the hell is going on?" and then deliver on the tease. We want ideas and action. We love exploring big, philosophical ideas, but we revel in suspenseful plotting. If you're adept at blending these elements, we can't wait to read your work. 
Contact Information
Erik Secker, Editor/Publisher
Last updated: Oct 17, 2023