For the third installment in our weekly Winners on Winning series, we spoke with poet Dexter L. Booth, who was selected by Major Jackson as the winner of the 2012 Cave Canem Poetry Prize for his collection, Scratching the Ghost, which was published in 2013 by Graywolf Press. He teaches poetry and English composition at Arizona State University.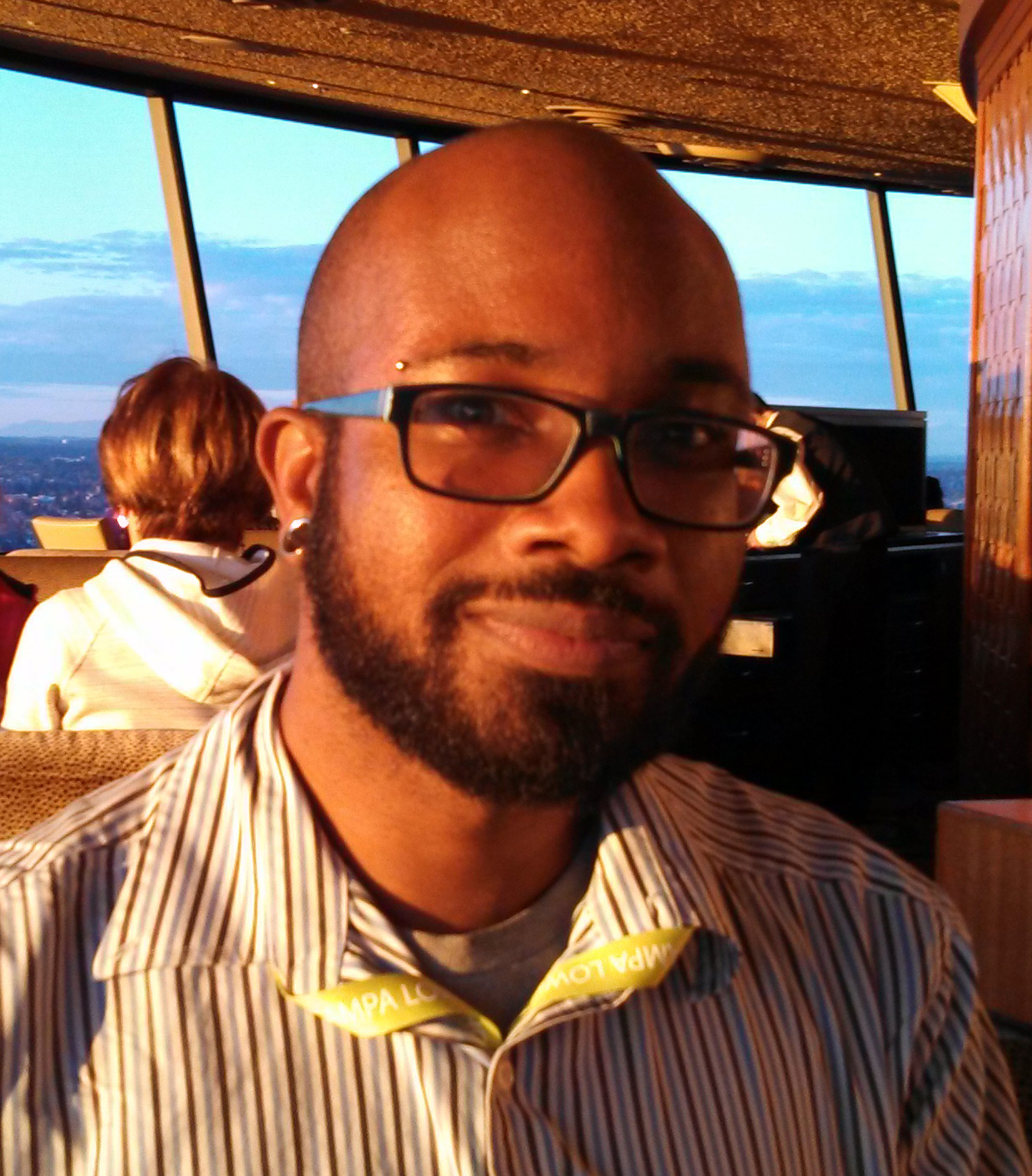 What kind of impact has winning the Cave Canem Poetry Prize had on your career?
A few months after I found out I was selected for the prize I was contacted by the University of Arizona's Poetry Center and the Pima Writers' Workshop. At this point the book didn't even have a cover image and wasn't real to me yet. I drove to Tucson to give a reading, lecture, and run a workshop that summer. It was the first time I had ever been invited to be a part of something like that. I met a bunch of great writers and made some connections in the academic community, some of which have led to friendships that I've come to deeply value.
When the book was released I flew to New York City and read at NYU and met Cornelius Eady. Because Cave Canem is based in New York I also had my first face-to-face meeting with Alison Meyers, the executive director of Cave Canem, and a few others I had been in touch with via email for over a year. I was introduced to a lot of Cave Canem fellows and they were all incredibly nice and extremely supportive.
Working with Graywolf Press has also been a humbling experience. They are so accommodating and flexible. I owe a lot of the publicity credit to them. Jeff Shotts is an amazing editor and he really cares about Graywolf's authors. Though I've made quite a few connections and have been given a number of opportunities, I'm not one to brag about the details. I am very fortunate and I think winning this prize has made my career.
Has winning this award, or previous awards, changed the way you approach your work?
When I first found out the book was going to be published I was both elated and petrified. I had been sending it out, but I didn't expect anything other than rejection; that's a part of the process, a type of battle scar. Suddenly my poems went from being read by teachers, friends, and fellow poets, to having a readership that extended outside of the people I knew. I was so used to writing in solitude and sharing with a chosen few, the thought of the poems packing their sacks and heading out into the world with just one another to rely on was mortifying. For about six months or so I couldn't write anything new. I had written a lot while sending out the manuscript but suddenly worry over the reception of the book became very crippling. After the buzz of congratulations died down a bit I made a concentrated effort to put it out of my mind. My work had already naturally evolved and I was writing poems that were longer and noticeably more demanding. I threw myself into those new poems as a way of ignoring the book. All of my poems are written out a desire to understand the world; the poems from the book are a part of my evolution as a writer, of course, but I don't see the publication of the book itself as having any direct impact on the way I write.
Have you ever entered a contest that you didn't win?
Richard Siken said that sending out your work and getting rejections is a form of participation in the literary community. Pretty early into my MFA I made it a habit to submit my work to various journals and contests. I received a lot of rejections. The first rejection is always rough on anyone, but you get used to it. I was the poetry editor for Hayden's Ferry Review for a year and I got to see the submission process from the inside. So many poems come through—many of them don't even make it to the editor, and though a lot of what does is strong work, it doesn't always meet the taste or aesthetic of the person who reads it. Contests work the same way.
What advice would you offer to writers thinking of submitting to writing contests?
Be patient and persistent. Rejection is just a part of what we do as artists. People often see the name of the judge for a contest and think their work is perfect and that there's no way they can't win, but in reality [a submission] has to go through a lot of hands before it reaches that judge. This can get expensive since there are so may contests out there, but I don't think submitting to everything is prudent. Do some research and pick a few contests to send to. Send your best work but know that every other person who submitted is doing the same. If you aren't selected, read the work that was and see what you can learn from it. Consider submissions to be an exercise in participation and don't think about winning or losing or being rejected. Once the poems are sent, take a walk. When you get back home start writing new poems. If the poems are turned down, take another walk, start another poem. Rinse. Repeat.
For more Winners on Winning, read the current issue of Poets & Writers Magazine, and check back here every Wednesday for a new installment.