Passengers get off a plane and are greeted by officials in hazmat suits. Gunmen roam through a shopping mall as people hide wherever they can find a safe area. Guests at a resort are stricken with a contagious and debilitating illness. While these alarming scenarios sound increasingly as if they've been torn from newspaper headlines, they are actually plot elements in Jonathan R. Miller's novels. Though his books are labeled literary thrillers, Miller is most concerned with developing his characters, who are biracial and struggle with issues of discrimination, identity, ideological rigidity, and belonging. Miller, who is biracial himself, was born in Illinois, raised in Los Alamos, New Mexico, and later moved to California. In a literary landscape where biracial characters are rarely at the fore, Miller is interested in exploring his own life experiences through his work. I talked with him about writing fiction based on real-life incidents and his efforts to inspire discussions on the biracial experience. For some perspective on promoting his books, I consulted P. J. Campbell, author and former events manager at John Wiley, and Penny Sansevieri, founder and CEO of the book-marketing firm Author Marketing Experts, Inc.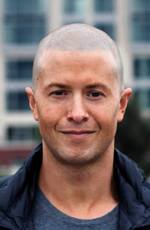 The Author's Approach
Jonathan R. Miller, forty-two, has always been interested in writing, but ended up teaching eighth grade in Oakland after attending Stanford University. Today, he is a technical writer and lives in the Bay Area with his wife and daughter. He has self-published five books, including his most recent novel, The Two Levels, which was released last year.
Reading Push (Knopf, 1996) by Sapphire spurred my desire to take writing more seriously and try to reach a wider audience. I first began writing poetry, but after being rejected by several graduate programs I turned to fiction. In the late 1990s I participated in several writing groups and a more experienced writer in one of them became my mentor. Looking back, I'm embarrassed at the quality of my work at the time, but somehow my mentor was very encouraging. With his support, I began completing my books rather than starting them and then putting them aside. About ten years ago, I approached traditional publishers. They all saw my books as special-interest or niche. The rejections didn't deter me; I believe most readers want a good story and will read about characters of any background if the story is irresistible. My goal has always been to build a broad readership despite the fact that some people may be unfamiliar with the issues I'm examining in my writing.
I spent a few years floundering because there was no inexpensive mechanism to self-publish. But with the advent of e-books, I decided to dive in. In hindsight I know I shouldn't have released my first book, because some of the writing was just plain bad. It was really closer to a draft; after it got some very negative feedback, I took it offline. Because self-publishing gives you instant access to readers, it's tempting to release your books too soon, before you've revised and polished them enough.
After my first book I also realized how many aspects of publishing—from design to marketing—authors have to handle after they've finished the writing. Even on my subsequent books I probably tried to do too much and didn't reach out to people with expertise in these areas. I've done all of my own covers, but for future books I hope to hire a designer. I have a day job, I'm married, and I'm a father, so I don't have much spare time.
I spent about twenty-five hundred dollars to hire a proofreader for my latest book, The Two Levels. For my previous books, I always read my own proofs and asked friends to read them; this time I wanted a professional's eye. I also hired a publicist. I had learned to do my own outreach, though as an introvert I didn't enjoy it. I didn't expect publicity to move the needle on sales; I wanted to boost readership for my books in order to attract a traditional publisher at some point. In fact, the publicist got me on three radio talk shows, and I got a spot on a local CBS news show. These appearances have in turn increased sales. I also pound the pavement and do a tremendous amount of my own publicity work. When I approach the media, I understand that I can't simply pitch the book: I try to write organically on topics related to the book that the particular outlet will find interesting or relevant to its coverage. Getting a mention is great, but I'm trying to cultivate relationships that can be mutually beneficial for the long term. I have published a few articles online and had one piece in Style magazine, which led to coverage in an Instagram promotion from the local ABC station about notable Bay Area residents.
I may work in tech, but I've just started using social media to promote my writing and I'm still learning the ropes. I created author profiles on Facebook, Twitter, and Goodreads, and on the latter took advantage of the book-giveaway-contest tool, which asks winners to post reviews of the book. Unfortunately, fewer than half of the people who received my book actually posted reviews.
My books don't neatly fit into traditional genres in which there is hard data about the readers. The reviews have gotten more positive over the years, and I know that I'm attracting more fans. I would love to be a full-time author but can't afford to do so without getting an advance from a publisher. Ideally, I would like to continue to self-publish certain books and work with a publisher on others. I would welcome the guidance that comes from working with an editor who can develop a book and also champion it through publication. Having a publisher's muscle in terms of marketing would also be helpful. While I accept that all authors—self-published or not—have to do the lion's share of promotion, determining which activities are worth the time and money is difficult.