Among the many new books published each season is a shelf full of notable anthologies, each one showcasing the work of writers united by genre, form, or theme. This installment of the Anthologist highlights two recently released titles: a collection of African American poetry and one of writing about the pandemic.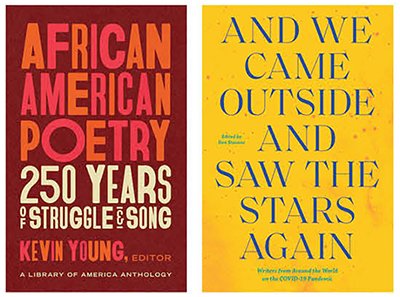 By turns incendiary and dazzling, African American Poetry: 250 Years of Struggle & Song (Library of America, October 2020) comprises more than nine hundred pages of verse by Black writers. Edited by Kevin Young, the landmark book spans the African American literary tradition, including selections by pioneering Black poets such as Phillis Wheatley and modern luminaries such as Claudia Rankine. The book will be published in coordination with Lift Every Voice, a public humanities initiative that will offer related programming. 

And We Came Outside and Saw the Stars Again: Writers From Around the World on the COVID-19 Pandemic (Restless Books, August 2020), edited by Ilan Stavans, offers a global portrait of the disparate and shared experiences of life amid a pandemic. Essayists Daniel Alarcón, Mario Vargas Llosa, Lynne Tillman, and others report from countries ranging from Peru to Uzbekistan, Palestine to Mauritius. A portion of the sales will support the Book Industry Charitable Foundation.