Today's installment of Ten Questions features Nguyễn Phan Quế Mai, whose new novel, Dust Child, is out today from Algonquin. This multigenerational saga takes readers through time, from the late 1960s to 2019. In the recent present, Phong is on a quest to locate his parents, which he hopes will clear a path for him move with his wife and children from Vietnam to the United States. Born in the war-torn nation to a Black U.S. soldier and a Vietnamese woman, Phong has lived as an outcast among his neighbors, derided by the epithet "dust of life" because of his mixed-race parentage. Meanwhile, a U.S. veteran returns to Vietnam, hoping to reconnect with the Vietnamese woman and child he'd fathered with her during the war—something his American wife knows nothing about. Readers also follow sisters Trang and Quỳnh in 1969 Saigon, where they are simultaneously thrilled by the exciting change of pace from their rural village and terrified as combat encroaches. Working at a bar among a clientele of U.S. military men, Trang finds herself falling for an American helicopter pilot who will have a lasting effect on her life. Publishers Weekly praises the novel's exploration of its protagonists' inner worlds, saying "Nguyễn is at her best when the characters directly address their need for absolution and acceptance, which Nguyễn stages in dramatic scenes and with a cinematic clarity." Born and raised in Vietnam, Nguyễn Phan Quế Mai is the author of twelve books of poetry, fiction, and nonfiction in Vietnamese and English, including the international bestseller The Mountains Sing (Algonquin, 2020), winner of the 2020 BookBrowse Best Debut Award, a 2021 International Book Award, the 2021 PEN Oakland/Josephine Miles Literary Award, and a 2020 fiction fellowship from the Lannan Foundation.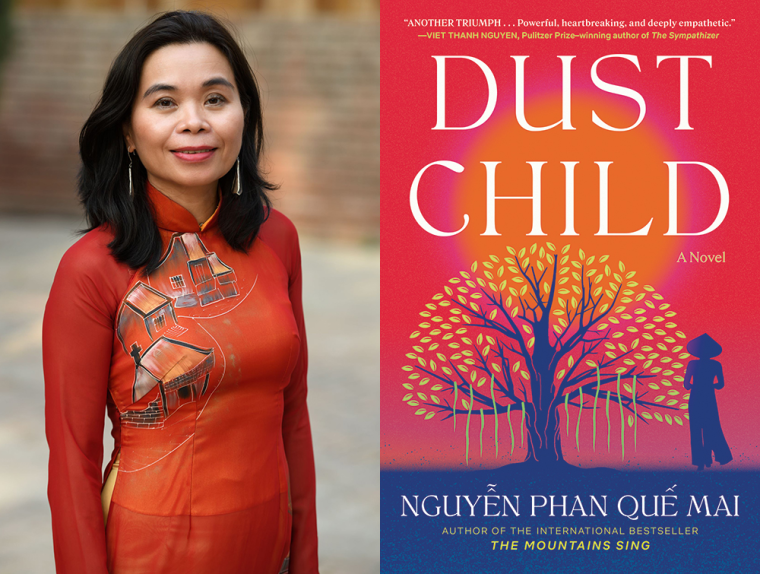 1. How long did it take you to write Dust Child? 
Seven years! I wrote it as part of my PhD thesis and then spent several years editing/polishing it. I wanted every sentence to deserve the reader's time.
2. What was the most challenging thing about writing the book? 
Writing in the points of view of people whose life experiences are very different than mine. One of my main characters, for example, is a traumatized American veteran, Dan, who was a helicopter pilot during the Việt Nam War. I am a Vietnamese woman who writes in English as her second language, so at first I thought it would be impossible. But I did careful research, and my real-life experiences helped: Since 2009, I have been translating literary works written by American writers who once fought in Việt Nam, facilitating literary exchanges between them and Vietnamese writers. On many occasions, I worked as a volunteer and accompanied American veterans during their visits to their former battlefields and translated for them. I cried with them and felt their pain. I wouldn't have been able to write my character Dan without these tears.
I think when you put your mind and heart into something and give it your best effort, nothing is impossible. In this case, the larger mission of my work—to heal, to reconcile, to bring people together—compelled me and gave me an incredible amount of energy.

3. Where, when, and how often do you write?
I used to write in the morning and read in the afternoon. But these days, I have learned that I need to be ready to write at any time, anywhere, as long as I have my laptop or my notebook. In a way, writing is home for me, so I look forward to returning home.

4. What are you reading right now? 
Books by the Vietnamese Zen Master Thích Nhất Hạnh, since they help me to stay calm and focused. I am about to embark on a busy book tour that will take me to seventeen cities in the United States as well as many cities in Canada, the United Kingdom, New Zealand, and Australia. From March 8, I will be traveling for an entire three months on my international book tour.
5. Which author or authors have been influential for you, in your writing of this book in particular or as a writer in general?
Writers who write in multiple languages and writers who bravely decolonize literature in English about their cultures are inspirational to me. I have learned from the Pulitzer Prize–winning novelist Viet Thanh Nguyen, for example, about asserting my position as a writer of color. And I believe that as a writer of color, I should not write to serve the majority; I should write to challenge the white readers' privileges and assumptions. I shouldn't translate myself to serve; I need to be authentic to my culture and invite readers to embrace the Vietnamese culture through my work.
6.  What is one thing that surprised you during the writing of Dust Child?
How the writing magic happened when I let go of expectations, of deadlines, of structures. I learned that when I trust my characters, they will take me to unexpected places that they are destined to go.

7. What is the earliest memory that you associate with the book?
I grew up in a small town in southern Việt Nam. Several children in my neighborhood were "Amerasians"—children born from relationships between American soldiers and Vietnamese women. They were bullied and looked down upon because they had been abandoned by their parents and considered remnants of the war. In this novel, I present Phong, my Black Amerasian character as someone who survives all odds and has the agency to bring joy and love to other people. He is not a victim and deserves respect.

8. If you could go back in time and talk to the earlier you, before you started Dust Child, what would you say?
The research materials you are going to get for this project are going to be tremendous. But don't panic, because you will grow a tree on a garden fertile thanks to your hard work. You will build the trunk and branches and leaves for your tree using your creative techniques and emotions. Your reader is generous, and their interaction [with the book] will make your tree grow and flower.

9. What forms of work, other than writing, did you have to do to complete this book?
This book is about searching and is a result of my years assisting people in uniting with their missing family members. I don't think I would have been able to write it without my real-life experiences, because they helped me to understand the vulnerabilities, complicated ethical issues, and complex emotions involved.
10. What's the best piece of writing advice you've ever received? 
"Start telling the stories that only you can tell, because there'll always be better writers than you and there'll always be smarter writers than you. There will always be people who are much better at doing this or doing that—but you are the only you." —Neil Gaiman