This week's installment of Ten Questions features Dani Shapiro, whose new novel, Signal Fires, is out today from Knopf. Traversing the period between 1970 and 2020, this drama follows the intersecting lives of two families in Avalon, a tony New York suburb, where affluence and good intentions turn out to be flimsy guardrails against tragedy and private suffering. A 1985 car accident upends the fortunes of the Wilf clan—prominent doctor Ben, wife Mimi, and two teenage children—as each family member's role in the crash and its aftermath becomes a dark secret that haunts them as they struggle to move forward. Fifteen years later, the Shenkmans have arrived in the neighborhood with their own difficulties, including how to guide their dreamy ten-year-old son, Waldo, who wanders Avalon at night tracking the stars on his iPad. When Waldo's path crosses with Ben and Mimi, who has been diagnosed with Alzheimer's disease, past events creep back to the surface for the couple and their now middle-aged children. "It turns out there are some things you can't outrun," Shapiro writes. Publishers Weekly calls Signal Fires "a beautiful exploration of the connections between two families and the reverberations from a teenager's lie." Dani Shapiro is the best-selling author of eleven books, including Inheritance: A Memoir of Genealogy, Paternity, and Love (2019) and the novel Family History (2003), both from Knopf. She is the host of the podcast Family Secrets and cofounder of the Sirenland Writers Conference.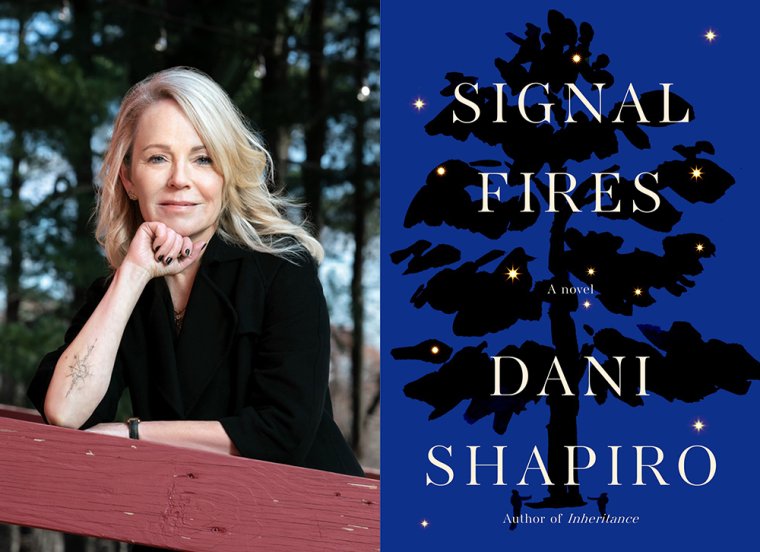 1. How long did it take you to write Signal Fires?
My answer to this question is more complicated than you might expect. I started Signal Fires nearly fifteen years ago. I wrote about one hundred pages and then realized I had written myself into a corner. I was committed to a particular structure, and I just couldn't let it go. Fixed ideas are always problematic when it comes to writing fiction. Anyway, during the pandemic I came back to the novel because I just couldn't let the characters go. They had grown in my imagination, and I was finally ready to commit to them in a new structure. So the answer is fifteen years—and one year.
2. What was the most challenging thing about writing the book?
Doubt—there were many moments when I questioned everything about the work—and then finding the courage to push through that resistance.
3. Where, when, and how often do you write?
That has evolved over the years. I used to write at a desk facing a wall, the idea being that the view out the window might be distracting. Now I've moved my desk so that it's surrounded by light and windows. What had I been thinking? Also: cafés. I love the bustle as long as I have my noise-canceling AirPods. And finally, on an old leather chair in the library of my house, surrounded by books, with a ratty pillow in my lap on which I rest my laptop. Not good for my posture, to be sure, but very cozy. As for when and how often, mornings are best. If I can get a start in the morning, before the rest of life intrudes, I'll usually end up having a decent writing day.
4. What are you reading right now?
I have a number of books going at once, which is not typical of my reading habits. Joshua Cohen's The Netanyahus, an early copy of Emma Cline's next novel, The Guest, Kiese Laymon's Long Division, and I've been dipping in and out of Joan Didion's essays in The White Album.
5. Which author or authors have been influential for you, in your writing of this book in particular or as a writer in general?
Virginia Woolf has been a huge influence, and there's actually a passage in Signal Fires that may make Woolf scholars think of her work. For this book in particular, I thank my friend Jennifer Egan in the acknowledgements, because all those years ago when I was miserable about having lost my way, Jenny suggested to me that I might consider upending the chronology. I knew she was right, though I didn't yet know how to do it. But that advice stayed with me. And of course the refracted narrative is something she does brilliantly.
6. What trait do you most value in your editor or agent?  
Honesty.
7. What is one thing that surprised you during the writing of Signal Fires?
There's a small bit of—I don't want to quite call it magical realism. But the way a particular character, a young boy named Waldo, thinks of time, death, and the cosmos stitches the book together in many ways. Each time it happened, it surprised me and scared me a bit as a writer, which I think is a good thing. You know, that question of: Can I pull this off?
8. What is the earliest memory that you associate with the book?
In around 2009 I came across an app called Star Walk. If apps can be poetic, it was the most poetic app I had ever encountered. It has the capacity to map the constellations at any point in time, in any place on earth. The app led me to the boy I imagined being obsessed with it, and the novel began there.
9. What forms of work, other than writing, did you have to do to complete this book?
Meditation. Yoga. Pandemic cooking. Research about astrophysics.
10. What's the best piece of writing advice you've ever heard?
John Gregory Dunne once said that there's no such thing as writer's block—only failure of nerve.