This week's installment of Ten Questions features Curtis Chin, whose memoir, Everything I Learned, I Learned in a Chinese Restaurant, is out today from Little, Brown. In this engaging and insightful debut, Chin looks back on his early life and young adulthood in the 1970s and 1980s as the Chinese American son of restaurateurs in Detroit. Opened by Chin's great-grandfather in 1940, Chung's Cantonese Cuisine fed generations of Motor City diners: "It was one of the rare places in the segregated city where everyone felt welcome." For Chin, the restaurant is more than a place of employment, where he and his family and their staff worked up to eighty hours a week: It serves as a second home, school, and social sphere, a microcosm in which the trials and tribulations of the outside world play out in distilled form or, at times, in stark opposition. In scenes at Chung's, as well as in his bustling house, in classrooms, and elsewhere, Chin charts his personal evolution in a Detroit marked by racial and economic tensions and within a large and loving, if frenetic, family that extends beyond blood ties to welcome friends and even a family of Vietnamese refugees. Chin grapples with being "a gay Asian kid trying to juggle multiple identities," his call to art and literature—"poetry saved me," he writes—and other milestones in "a well-led, and well-fed, life." Kirkus praises Everything I Learned, I Learned in a Chinese Restaurant: "Chin is a born storyteller with an easy manner, and this memoir should earn him many readers." A cofounder of the Asian American Writers' Workshop in New York City, Curtis Chin served as the nonprofit's first executive director. He wrote for network television and now writes and produces social-justice documentaries; his films have screened in more than a dozen countries. He has received awards from ABC/Disney Television, the New York Foundation for the Arts, the National Endowment for the Arts, and other institutions.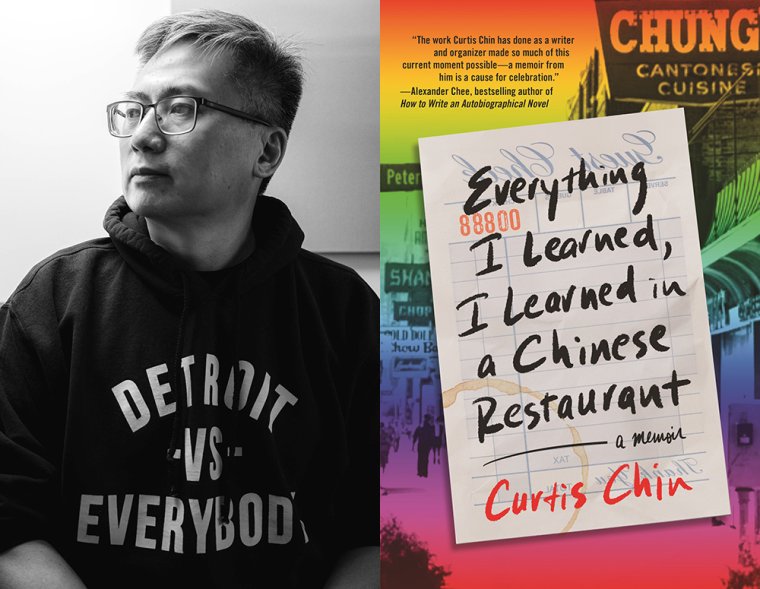 1. How long did it take you to write Everything I Learned, I Learned in a Chinese Restaurant?
I started writing a memoir about ten years ago, but those early drafts had a different focus and tone. While the setting and title stayed the same, it centered on my younger childhood. The stories were funnier: about my mean grandma who would boil our pets for dinner or my grandpa who ran the Chinese mafia. After COVID, the murder of George Floyd, and the rise in the reporting of anti-Asian hate crimes, I decided to get a little more serious. I shifted the age range to include stories about high school and college—when I was grappling with my racial identity at a predominantly white school—as well my coming out process and my shift from being a Republican (aka the Asian Alex P. Keaton) to being a political independent.  
2. What was the most challenging thing about writing the book? 
After deciding to write about my teen years and early twenties, I had to be more introspective about the challenges I was facing. My original goal in writing this memoir was not necessarily to delve into these heavier subjects, but in the end I think they make for a more satisfying story. I also think it makes the book more relevant to what's going on in the country these days.
3. Where, when, and how often do you write?
I don't have a set routine for writing. I really just go with the flow. As long as I am thinking and engaging with people, I feel like I am supporting my creative journey.
4. What are you reading right now?
As one of the cofounders of the Asian American Writers' Workshop, I have a lot of friends who write. That's a good thing and a bad thing. Right now I am catching up on the to-be-read pile from these friends, many of whom have come out with books in the past two years.
5. Which author or authors have been influential for you, in your writing of this book in particular or as a writer in general?
Well, my writer friends are obviously influential for a variety of reasons, but for writers who I don't personally know, I would have to say Frank O'Hara and Li Young Lee. My first genre was poetry, so they gave me the foundation of language. In terms of writing this memoir, I read a lot of coming-of-age books like Tara Westover's Educated; J. R. Moehringer's The Tender Bar; Saeed Jones's How We Fight For Our Lives; Phuc Tran's Sigh Gone: A Misfit's Memoir of Great Books, Punk Rock, and the Fight to Fit In; and more.
6. What is one thing that surprised you during the writing of Everything I Learned, I Learned in a Chinese Restaurant?
This may sound strange, but I was surprised by how much food played a role in the book. As a kid, I was the worst cook in our restaurant. Everyone else in my family was a master chef, so I was sort of banned from the kitchen. Instead I grew up working the dining room and interfacing with our customers, which is probably why I am such a social person. But the kitchen played a bigger role than I thought.
7. What is one thing that your agent or editor told you during the process of publishing this book that stuck with you?
"Stay calm." That stuck with me, though I don't know if that means I adhered to it. 
8. If you could go back in time and talk to the earlier you, before you started Everything I Learned, I Learned in a Chinese Restaurant what would you say?
I might have started the book earlier, when my dad was still alive. In writing the book I talked to my mom several times a week, just to confirm details and dates. It would have been nice to also get my dad's perspective on some of these past incidents. In some ways, that's why my mom features a little more prominently in the book than my dad.
9. What forms of work, other than writing, did you have to do to complete this book?
My day job is making social-justice documentaries, so I spent a lot of time filming, editing, and then promoting my films. Since I was on the road so much, the book was a great project to work on in the hotel room.
10. What's the best piece of writing advice you've ever received? 
Have fun. Make friends.