This week's installment of Ten Questions features Alise Alousi, whose debut poetry collection, What to Count, is out today from Wayne State University Press. In these thoughtful free-verse lyrics, prose poems, and forms like the ghazal, the personal and political are interwoven, with explorations of family life and friendship standing alongside interrogations of national histories and mythologies. "Deadline," for example, considers the Confederate anthem "Dixie" as an example of a white man's appropriation of African American culture, linking it to other forms of political and interpersonal violence. The sharpness of "Deadline" contrasts with softer verse that paints touching portraits of beloved places and people, as in "Sister," which recalls a childhood incident with the eponymous sibling whom the speaker realizes is "still tough, unnamable to this day." Set by turns in Iraq and Michigan, the poems explore the meaning of home and the psychic dissonance that can arise from diasporic identity: "Where do things happen when they happen on a train," the speaker of the collection's title poem wonders. Kazim Ali praises What to Count: "This is not poetry at any distance, but one feels inside a life, across the table from the poet, hearing news from a friend. There are an array of formal approaches here, as well as Alousi's commitment to her community and the care she has for it." Alise Alousi is a 2019 Kresge Literary Arts Fellow and has received awards from the Knight Foundation, Mesa Refuge, and other organizations. Her work has been widely anthologized, including in Inclined to Speak: An Anthology of Contemporary Arab American Poetry (University of Arkansas Press, 2008). She works at InsideOut Literary Arts and has been an active part of the literary arts community in Detroit for many years.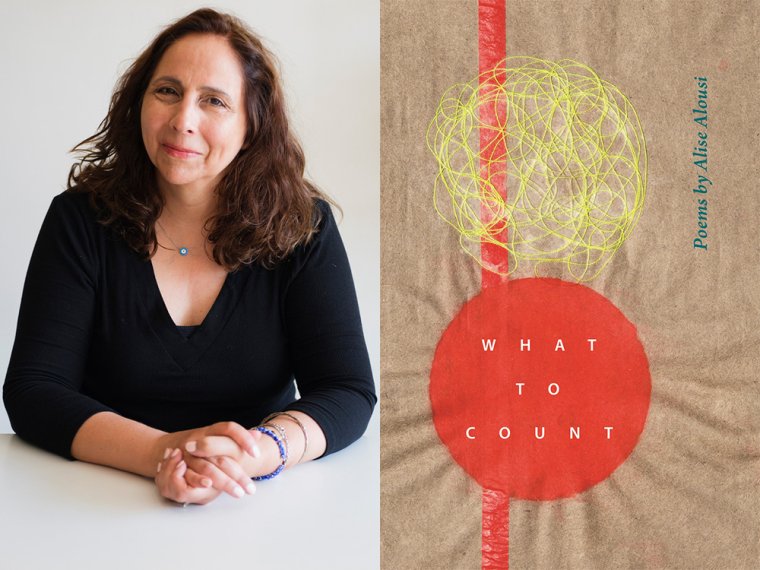 1. How long did it take you to write What to Count? 
The majority of the book came together over the last few years, but there are poems that I included that were written much earlier. I really want to say a lifetime, so let's go with that!
2. What was the most challenging thing about writing the book? 
The times when I had to put it aside. There were periods when work and family and life took over my days, in ways good and hard, and where I did not have a consistent connection to my own writing. My friend Dunya Mikhail once described poetry like a friend in a café waiting for her. Well, my friend Poetry was waiting there for me for a while; I am a happier, better person when I get to see her every day.

3. Where, when, and how often do you write?
I write five to six days a week, early in the morning before work and before anyone else is awake in my house. When I feel a poem begin to take shape, I steal time throughout the day and evening to look at it and make small edits. Like anything growing into itself, I love when a poem is getting there, when I can't stop coming back to it.
4. What are you reading right now? 
I am reading Noor Hindi's Dear God. Dear Bones. Dear Yellow. I am teaching a brilliant group of teen writers at the Arab American National Museum in Dearborn, Michigan, and this week we had a great conversation about Hindi's poem "The World's Loneliest Whale Sings the Loudest Song." So much to admire. Other books I have adored are the chapbook Flower Boi by Detroit writer MARS. It's a work of genius, and I can't wait to see what is next for them. My favorite novel of late was definitely Kelsey Ronan's Chevy in the Hole. And in nonfiction I recently finished Animal Joy by Nuar Alsadir. I want to go back and reread the beginning. Always a good sign!
5. What was your strategy for organizing the poems in this collection?
I think a first book, especially one that comes together over a longer period, can be harder to organize, and that was the case with What to Count. In having someone review an early version of the manuscript, the one piece of advice they had was to divide the book into sections. Once I figured out the three sections and that they could loosely thread the poems into one manuscript, that helped quite a bit.
6. How did you arrive at the title What to Count for this collection? 
The title comes from a much older poem in the book that I wrote during the economic sanctions against Iraq. I was involved in a Detroit area antisanctions group, and the poem speaks to trying to get people to pay attention to the staggering loss of life that took place as a result of items like medicine and equipment not being let into the country. The number of daily deaths grew while most of the world ignored what was happening, and that was deeply angering for me and for people who were paying attention. The last time I traveled to Iraq was during that period, and so the poem also holds that memory for me. The title also encompasses the way we move through life, especially as artists and creatives. I like that the title can be read as both heavy and childlike. The repetitive counting of things has been something I have done since I was a child, so there's the whisper of that voice too.

7. What is one thing that surprised you during the writing of What to Count?
I always appreciate the surprise of a poem coming together. Seeing the process of the manuscript coming together felt similar and was a surprise and kind of an epiphany. The other thing that has surprised me is how excited I am to work on the next manuscript. Whether that takes shape as a chapbook initially or a full-length manuscript, it feels like it will be a different process and book than the first one.
8. If you could go back in time and talk to the earlier you, before you started What to Count, what would you say?
Embrace your successes when they happen for you. Especially as women, we can have moments of regret or shame around periods when we are less productive or when things aren't happening as quickly. And then when the success comes, we can psyche ourselves out of owning it fully. I have experienced some of that, and I am working hard to plant myself in this moment. It helps to be surrounded by people who share in your happiness, which has definitely been the case for me. I am surrounded by the best community of writers in Detroit, truly. My husband and daughter have also cheered me on and supported me every step of the way.
9. What forms of work, other than writing, did you have to do to complete this book?  
I am not a fast writer or editor, so I was fortunate to be at Mesa Refuge for a residency for two weeks during the final editing, and that was really beneficial. I also was invested in the cover design for my book. I knew I wanted the work of a Detroit woman artist. When I saw the final design with the work of Megan Heeres's I saw the moon and the moon saw me, it made my heart sing. The moon comes up quite a bit in the book, as do circles and eyes, so there were many connection points. I also worked with artist and poet Koss on a book trailer, which I love. Thinking about the visuals was a fun part of the process for me.
10. What's the best piece of writing advice you've ever received?
I would say the best advice is always, Do the thing, as my colleague Peter Markus once said to me. You gotta just plant yourself in the chair and write. The advice I would give is: Find someone who is a good reader of your work. I met mine, Jen Garfield, at Martha's Vineyard Institute of Creative Writing, years ago. We don't live in the same part of the country and have never been in the same room together since, but we have maintained a regular practice of writing together, sending each other work for feedback, talking about where we are submitting work, etcetera. If someone gets your voice, who you are on the page, that's the best gift in the world. Find yourself a partner whose advice you truly trust.