For many writers groups and nonprofit literary organizations battered by the recession, help is on the way. The American Recovery and Reinvestment Act, which was signed into law by president Barack Obama in February, included fifty million dollars in arts funding that is being allocated by the National Endowment for the Arts (NEA). Whether the money arrives quickly enough and in sufficient quantity to save some smaller groups from crippling staff reductions remains to be seen, but the economic downturn has left the literary world grateful for whatever it can get.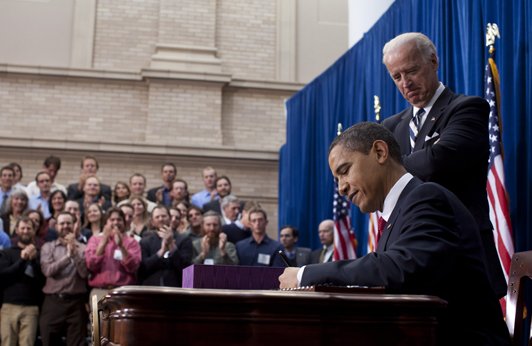 In March, the NEA distributed $19.8 million, or about 40 percent of the stimulus funds, to regional and state arts agencies, which will further divvy up the money through their re-granting programs. The remainder of the Recovery Act funds will be disbursed in early July, in increments of $25,000 or $50,000, in the form of direct grants to local arts agencies and nonprofit groups. Of the 2,429 groups that have applied for the grants, 103 are literary or writers organizations, says Victoria Hutter, the NEA's communications specialist. The NEA is currently reviewing the applications with an eye toward preserving arts-related jobs that would otherwise be cut because of budget shortfalls.
"The funds are intended to be timely, temporary, and targeted—timely in that we're meeting an immediate need; temporary in that this is bridge funding; and targeted in that organizations who've applied are making the case that these funds will have a specific purpose, preserving a specific job," Hutter says. "We're sure it's going to make a difference, though at the same time we're realistic about the kind of funding this represents for an arts organization. It's designed to help organizations over a hump, and tide them over until a time when, ideally, things get a little better or circumstances change."
The impact of the funding, for the literary organizations fortunate enough to receive it, will likely depend on the size of the individual group. For a larger organization with a staff of, say, ten or more, a grant of twenty-five thousand dollars or fifty thousand dollars would no doubt be beneficial, but it wouldn't provide the kind of safety net that group may need in order to survive. For a smaller organization stressed by decreasing individual and corporate donations, however, such a grant could prove determinative in the short—and even long—term.
"It might be transformative for some organizations, maybe even the difference between being able to carry on and not being able to carry on," says Tree Swenson, executive director of the Academy of American Poets, which applied for a direct grant to fund an awards coordinator position currently being held temporarily by an intern. (The Academy has a staff of a dozen, including two paid interns.) "So many literary organizations have very small budgets, and if you've got a very modest budget, twenty-five thousand dollars can make the difference between retaining someone who's barely able to earn a salary and that person's having to go get a job elsewhere," she says. "It could be a do-or-die situation for some organizations."
The NEA stimulus grant might not be quite do-or-die for the PEN/Faulkner Foundation, based in Washington, D.C., but it's uncomfortably close. The foundation, whose staff of three oversees a variety of educational programs as well as a prestigious annual literary award for fiction (given this year to Joseph O'Neill for his novel Netherland), will be forced to reduce its staff unless it gets the NEA grant for which it applied.
"We'd have to go from a staff of three to a staff of two, which would be, frankly, quite devastating for us," executive director Jessica Neely says. "It's a third of our staff, and each one of us is critical to the current functioning of our mission and programs. If we made a cut like that, it would mean a cut of a third of what we can do."
Neely praised the NEA for the ease and speed of the application process. "It was incredibly easy—probably the easiest federal grant for which I ever applied, and I've applied for a lot of grants," she says with a laugh. "They made it really user-friendly."
And for a federal agency, the NEA has moved with blinding speed, taking barely a month to allocate the first 40 percent of the stimulus funds. "We've been working very quickly on an accelerated timeline," Hutter says. "We're one of the first government agencies out of the gate in getting the recovery funds allocated. It's been pedal-to-the-metal to develop the systems and processes and actually get the money out the door."
Robert Lynch, president and CEO of Americans for the Arts, which helped lead the lobbying effort to get the arts funding included in the Recovery Act, agrees that the NEA has been expeditious. But he says he regrets that, in the interest of speed, the agency required groups to have received an NEA grant within the past four years.
"That limits the pool of eligible applicants, and there are a hundred thousand arts organizations out there, all of whom need help," Lynch says. (The NEA points out that the eligibility guidelines, which were suggested by the Office of Management and Budget, still leave about three thousand arts organizations eligible for Recovery Act grants. And groups that haven't received NEA funding in the past four years are still eligible for stimulus money through regional and state arts agency sub-granting programs.) "We had thought at one point that there could be as many as 10 percent of those that might go out of business in the recession. And the other 90 percent are all going to be affected, because every single one of the three main funding streams for the arts—50 percent earned income, 40 percent from private foundations, 10 percent from government—are being hurt. In the end, because the stimulus funds are available, I think we'll see fewer going out of business. But the need remains huge, far larger than the American public and the American decision-maker base recognize."
Still, a small amount of help is better than none, and many are hopeful that more will materialize in the Obama era. "Speaking for myself and not for my organization, I think we're moving now in a much more optimistic direction when it comes to things like having a robust and diverse set of funding priorities for the arts and culture," Neely says. "It's not easy, but I definitely feel we're on the right track with this administration."
Kevin Nance is a contributing editor of Poets & Writers Magazine.