It's still early morning as I make my way by taxi across Cape Town, traveling from our ship in the harbor to the Artscape Theatre Center on the Foreshore. It's a sharp, blue-sky day in late March. And so Table Mountain—named both for its shape (the top is two flat miles across) and the way in which moisture condenses and forms a "tablecloth" of cloudcover that drapes over the plateau, spilling down the sides, when the warm, southeasterly winds are forced up the steep cliffs and meet the cooler air above—is perfectly visible, towering postcard-beautiful three thousand feet above the city, which sits in a kind of geographic amphitheater below. It's a dramatic and perhaps fitting backdrop for a place that has seen the rise and fall of apartheid, a city whose history is inextricably bound to the equally dramatic and inspiring life of Nelson Mandela, a figure whose presence and influence is still deeply felt in this city less than a year now after his death on December 5, 2013.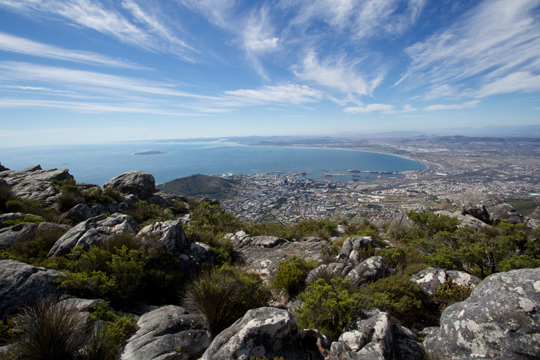 I am headed to Artscape to meet Michael Williams, a writer and the managing director of the Cape Town Opera, where he has worked since it was established in 1999. Today is the first day of rehearsal for Mandela Trilogy, a folk opera—part musical, part opera—that Williams wrote and will once again be directing. The show had its world premiere at Artscape in June 2010 as African Songbook: A Tribute to the Life of Nelson Mandela, conceived both as a celebration for Mandela's then upcoming ninety-second birthday and as a cultural highlight in conjunction with the 2010 World Cup Soccer Tournament taking place in South Africa.
Despite critical success and subsequent touring in Europe, though, Williams was never quite happy with Act One of the show. "It lacked a kind of dramatic push to it," he will explain to the company later that morning in the ballet studio of the Joseph Stone Theater, which the Cape Town Opera has rented for the coming weeks so the singers will have the opportunity to work with the new set once it's completed. Then everything will be torn down and sent via container ship to Munich, where the newly reimagined show will premier at the Deutsches Theater München three months later in June.
But for now it's still March, and upon my arrival to Artscape, as instructed, I make my way to the stage door and I'm led to a small waiting room on the fourth floor, near the offices of the opera company. I can hear Williams on the other side of a frosted glass door talking in animated tones, but I can't make out what is being said. In the waiting room is a handsome young man in his early twenties with sandy brown hair that's artfully disheveled, sporting a neat beard. He's wearing teal-colored skinny jeans and bucks, a white button-down shirt and a dark blazer. He's got what looks like a script in his hands.
From opposite sides of the room we assess one another with polite smiles and nods. He looks like he's here for an audition, and I wonder if he thinks I've come for the same part.
In reality I've come because the week before I'd heard Williams give a speech aboard the MV Explorer, the ship upon which I've been teaching as part of the Semester at Sea (SAS) program's Spring 2014 voyage around the world, serving as one of about 40 faculty members working with more than 550 students from nearly 250 colleges, universities, and international institutions. In early January, we set sail from California; four months later we are to disembark in the United Kingdom, via ports in Hawai'i, Japan, China, Hong Kong, Singapore, Vietnam, Myanmar, India, Mauritius, South Africa, Ghana, and Morocco. Think study abroad, but moving.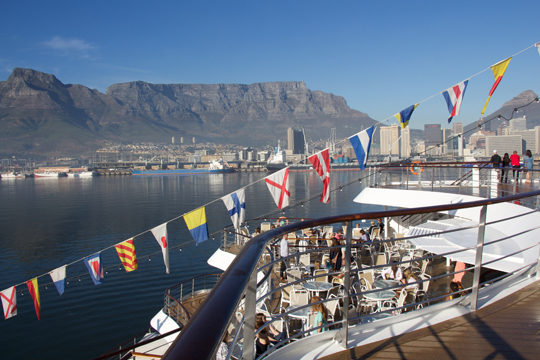 Williams is a faculty alum of the SAS program, and had embarked with his family in Mauritius as we bunkered for a twelve-hour refuel, half way through the two-week sail from India to South Africa. Prior to each port, the program brings on an interport lecturer whose role is to spend several days teaching the community about their home, country, and culture prior to arrival. In Williams's case, he also auditioned, casted, rehearsed, and performed a one-act play with some of our students—all in less than a week's time.
On his second night aboard, Williams gave a talk titled "South Africa After Mandela." In his introduction, he tried to capture what it was like to grow up in a country with institutionalized racism, a place where a black woman named Beauty lived in a single room behind his family's house and helped cook, clean, and raise him; a place where his father had to regularly post bail for black men who worked on his job sites who'd been arrested simply for not having their passbooks in their possession; a place where, in the 1970s, in Somerset-West, where Williams grew up, a 7:00 PM curfew was put in place for all for non-whites, in which black and "colored" people (the apartheid government's term for the Malay, many of whose relatives had been slaves brought to South Africa from parts of Indonesia by the Dutch East India Company, or anyone of mixed race) had to be off the streets and in their townships or they would be arrested on sight; a place where blacks and whites were not allowed to share schools, theaters, shops, or park benches. "I grew up in a land where racial segregation was law, where it was legislated, and carried the power and backing of the state," he told the assembled students and faculty. "No wonder, then, that I grew up as a racist."
These words were hard to hear. Yet I found Williams's honest portrayal of the institutionalization of distrust and the hate that apartheid had sown particularly moving, in no small part because he used it as an occasion to encourage our students to think in complicated ways about the intersection of race and identity, how the construct of race was so often used to divide ourselves from one another.
"Knowing that I was capable of being conditioned to view people of color as second-class citizens has forced upon me a keen sense and the vigiliance to acknowledge every racist thought that I might have. To dissect it, eradicate it," he said. "This constant process of ridding myself of this propoganda has been the tenure of my upbringing, and has really shaped my consciousness for the last twenty or thirty years."
Williams went on to urge the students to think of the exceptional costs that xenophobia—this fear of "the other"—had wrought across the globe during the twentieth century. "Think of World War II, think of Vietnam, think of Korea, think of the Rwandan genocide, think of the Armenian genocide," he urged. "The amount of people who have died in the last century is phenomenal. And all of the killing was done by human beings against other human beings of different colors, different cultures, faiths, ethnicities, or ideologies. Against the 'other.'"
But Williams perhaps pressed students the furthest when he asked them to consider the mass displacement and migrations taking place right now due to international conflicts, poverty, and the lack of opportunity from corrupt or failed governments. "The wretched of this earth are migrating from the poorer lands into the richer lands…and as this happens, the rich and the comfortable are trying to keep the great unwashed out. They are building borders, they are building walls, they're building fences. They are doing everything they can to stop people from coming—requiring expensive visas and passing stringent immigration laws. These are pass laws. This is influx control. This is," he said, pausing to let the word sink in, "apartheid."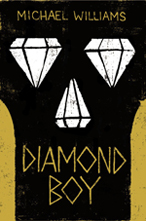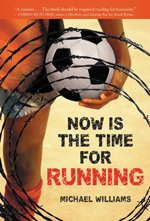 The violence associated with xenophobia is something that has influenced much of Williams's writing, particularly of late. In addition to his work at the Cape Town Opera, he is also the author of almost a dozen novels—most recently, two young adult novels, both of which were released in the U.S. by Little, Brown: Diamond Boy (2014) and Now Is the Time for Running (2009). Each centers, in part, on characters attempting to make the dangerous—and often fatal—journey from Zimbabwe into South Africa. The comparative social and economic success that followed Mandela's release from prison in 1990, and the subsequent end of apartheid, has drawn many refugees, from places like Rwanda, Somalia, and Zimbabwe, seeking better circumstances. "There's a great deal of hatred for the foreigner coming into our country from the black people who themselves were oppressed and victimized during the apartheid regime," Williams said during the Q&A aboard the ship, noting that what drives most of this hostility is the fear that the migrants will steal jobs. "It's resulted in a lot of serious violence; a lot of refugees were killed."
[Photos, from top]
Photo 1: View from the top of Table Mountain toward Robben Island.
Photo 2: View of Table Mountain from the MV Explorer.
Photo 3: Cape Town