In fact, it was a news story about the deadly wave of xenophobic attacks in South Africa in May 2008 that Williams cites as the source of inspiration for Now Is the Time for Running. As part of an author's note in the back of the novel, he writes, "I wanted to imagine what it must be like for two brothers to successfully make it to Johannesburg after a dangerous journey, only to face the hatred of the local people upon arrival."
Now Is the Time for Running is the story of teenage Deo and his older brother, Innocent, who flee their village in Zimbabwe after it is destroyed and their family is murdered by soldiers. "I stand in a village that is no longer the place where I live," Deo narrates, after the soldiers have left. "There is nothing left of that place. There is nothing left of our neighbors. Nothing left of babies playing in doorways. Nothing left of fires cooking food. Nothing left of the smiles and greetings of people who know you. Nothing left of Grandpa Longdrop's stories. Nothing left of the touch of my amai [mother]. I find her in the dust."
The brothers set out on a journey to South Africa, hoping that their crossing will bring them to a better life. But it is a dangerous and costly trek. And despite the book being a young adult novel, the issues it addresses—political corruption, HIV/AIDS, militia violence, child trafficking, displaced peoples, homelessness, and more—are weighty ones for any novel. Yet Williams infuses his work with such humanity, showing us the communities and patchwork families that are forged in crisis, that we feel the buoyancy of hope that keeps the characters struggling toward a better future. It is a future tempered by reality, yes, but it is a hopeful one nonetheless. For the humanity of these characters burns too bright to be extinguished.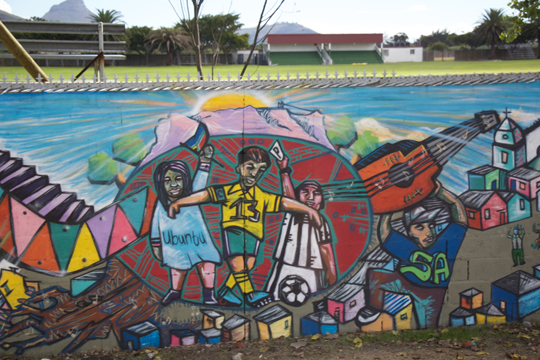 So it is with both awe and pleasure that I discovered midway through my reading of Diamond Boy that Williams's most recent novel not only shares many of the themes of his previous book, but its narrative quite literally intersects with the previous story. How Williams arrived at this narrative decision is perhaps the most inspiring part of the story.
In 2010, Williams received a letter from a seventh grader in New Hampshire named Madolyn Bouchard, who'd been impressed by Now Is the Time for Running—so much so that she'd tracked down his address in South Africa to mail him a letter written on red stationary, sealed in a red envelope. "It was three pages, typed," Williams tells me later, over lunch, mid-way through the first day of rehearsal. "In-depth analysis, including what she thought was wrong with the book, what she loved about the book."
"It was incredible!" his wife, Ettie, adds. We are sitting outside under a table with an umbrella, on the back patio of their modest home in the Pinelands neighborhood, less than a ten-minute drive from the Joseph Stone theater. The food is delicious: fish in a sweet Cape Malay curry sauce, sweet potato salad, fresh made bread, a spicy yellow curried chicken, and more. Dishes fill the small table. Coffee soon follows.   
Williams continues, recounting Madolyn's letter—in which she urged the author to write a second book—with both pride and pleasure. "She was wonderful. And I was so inspired because it was so articulate. I shared that letter with the publishers and they said, 'No, no. The book is too literary to have a sequel. We don't like sequels at Little, Brown.' I said, 'Excuse me, you're the publisher of Stephenie Meyer!'
"Different division," says Ettie, who works in publishing herself, correcting her husband warmly. The two have a wonderful, collaborative relationship, and throughout our conversation they often start and end one another's sentences.
Little, Brown asked Williams to consider a companion piece instead. "And I'd never heard this phrase—where the book is related, it's of the same universe, but not necessarily a prequel or a sequel," Williams says. "So I was intrigued by that. And then I thought about it and I read the book again and I came across Patson. And I thought, 'That's kind of odd, this character arrives, he disappears, you don't know what happens to him.' And then, at the same time, I stumbled upon the Marange diamond mines. And, bang!" He claps his hands together, grinning. "This notion of all the teenagers that would go to Harare and try to find their fortunes in Marange was just…the story just had to be told right then."

But at this moment in the story I'm still waiting for a lift to the theater. The young man sitting opposite me in the waiting room outside the Cape Town Opera is bouncing his leg in anticipation. And then Williams appears, striding into the room, smiling. He's wearing sandstone-colored slacks, a black and white print shirt open at the neck, his shirt sleeves rolled up as if he's already been hard at work this morning—which he most likely has. In addition to beginning rehearsals for Mandela Trilogy, he's got another production, Show Boat, opening in a little over a month here on the Opera stage at Artscape.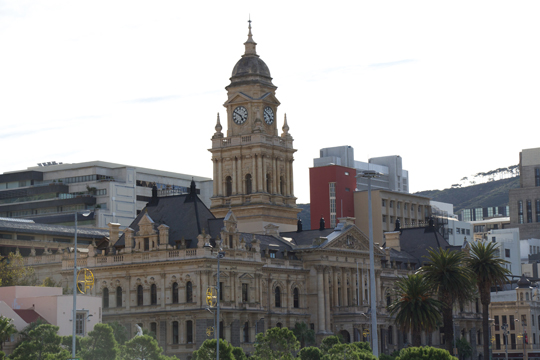 The young man and I both stand up as Williams enters. He calls my name, extending his hand to shake mine firmly. "You made it alright, eh?" I nod, a bit pleased to have been greeted first. That is, until he claps his hand on the young man's shoulder. "All set, Matthew?" It turns out that Matthew is the assistant director of the show, a recent graduate from Cape Town University, who Williams has taken on in a mentoring capacity. Matthew nods, though I can see there's some nervousness there. He's here for an audition, it turns out, just not the one I'd originally imagined. And having spent several days on the ship watching Williams work—a prolific writer, director, librettist, and novelist visiting classes as a guest speaker, giving evening lectures and stagecraft talks, staging a performance, and finalizing last minute details for this new production—I'm certain that the young apprentice is in for an immersive experience.
Matthew is to follow us in his own car to the Joseph Stone Theater, but Williams first wants to give me a quick tour of the beautiful Artscape complex, which hosts performances not only by the Cape Town Opera, but also the Cape Philharmonic Orchestra, the Cape Town City Ballet, and others. "It's a good space to work in," he says. Recent productions have ranged from Verdi's Otello, Mozart's Don Giovanni, and Puccini's Madama Butterfly on the Opera House stage, to original productions from famed South African playright John Kani and a reimagination of Macbeth set in the Great Lakes region of Central Africa on the Theater stage. There is also a black box theater for staged readings, one-man shows, and such. Passing one room, we see more than a dozen elementary school–aged children in animal costumes. "What are you?" Williams asks one girl, enthusiastically. "I'm a mouse!" she explains with equal enthusiasm.
What Williams also reveals to me during my tour is the complex history of the place. When it opened in 1971 as the Nico Malan, the first multi-venue complex for the performing arts, it was a "whites-only" building. The subsequent protests and boycotts—from both artists and the public—forced the apartheid government to revise this policy. But a stigma lingered for some time, nonetheless.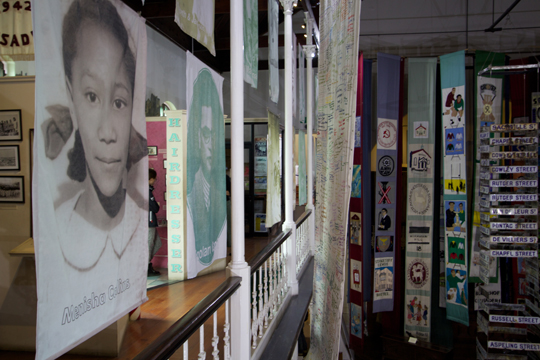 This was during a period of particular racial tension. On February 11 of 1966, District Six, a section of the city overlooking Table Bay, was declared "whites-only" under the Group Areas Act of 1950. And in 1968, the government began forcibly removing people of color from the area, the majority of whom were Malay, many of whom were Muslim. At the time there were also some black Africans, Indians, and a small population of white residents living in District Six. During the process of displacement, which lasted more than a decade, the non-white residents were eventually relocated to the townships of the Cape Flats some twenty miles away.
[Photos, from top]
Photo 1: The word Ubuntu in South African can be translated as "A person is a person through another person," an affirmation of each person's humanity through the recognition of others.
Photo 2: A Mural in the Bo-Kaap Area, formerly known as the Malay Quarter, a thriving, predominately Muslim neighborhood on the slopes of Signal Hill, above the city center.
Photo 3: City Hall in Downtown Cape Town, where Mandela made his first public speech after being released from prison on February 11, 1990.
Photo 4: Inside the District Six Museum: a display of the everyday lives of District Six residents.