See writers who attended this program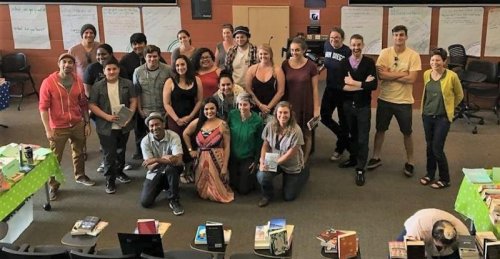 Core Faculty Includes:
Poetry: Sandra Alcosser, Blas Falconer
Fiction: Matt de la Peña, Corinne Goria, Harold Jaffe, Stephen-Paul Martin, April Wilder
Funding/Employment Opportunities:
The program offers partial funding, through positions for tutoring fellows, graduate assistants, graduate teaching associates, editorial assistants, as well as scholarships, fellowships, tuition waivers, and an over-sixty program that allows senior citizens to attend and receive an MFA for a nominal fee. Funding is awarded on a competitive basis.
Affiliated Publications/Publishers:
Other Features:
The program requires students to attend workshops and seminars offered in the late afternoon and evenings. The program hosts readings, salons, and the Living Writers Series, along with internships and professional development courses in pedagogy and literary editing and publishing.
Recent Distinguished Visiting Writers include Ellen Bass, Rick Bass, Marvin Bell, Sherwin Bitsui, Jericho Brown, Camille Dungy, Dana Gioia, Jane Hirshfield, Vievee Francis, Ishion Hutchinson, Tayari Jones, Shirley Geok-lin Lim, Christopher Merrill, Aimee Nezhukumatathil, and Lucy Tapahanso.
Our Program
Our three-year program is designed to allow students the space and support to immerse themselves in in-depth study of their chosen genre, Fiction or Poetry. Along the way, there is room for cross-genre study, community involvement, research, and an ever evolving dialogue with their thesis chair. Our goal for each of our students is that they produce a manuscript of fresh and imaginative writing that they can be proud to take into the world. Happily, students have gone on to publish their books, win national prizes for their writing, attract agents and receive book contracts while still in the program. 
We prepare students for a career in writing as well as teaching, if desired. With training from pedagogy courses, students serve as Graduate Teaching Associates (GTA) to teach Introduction to Creative Writing and lower-division Rhetoric and Writing classes; practice that has helped alumni land positions at top universities and community colleges.
At SDSU, we believe our Creative Writing program is uniquely situated to provide writers with an exciting, informative, personalized—and affordable—path to attaining their MFA.
Global Outreach
Our program is unique because of its geographic location and also because many of our faculty members are very interested in international literature and literary translation. Our faculty has published acclaimed anthologies of international literature and works in translation. Their own works have been translated into other languages as well. Many internationally acclaimed authors from around the world visit each year. Our students have many special opportunities to learn about international literature from writers from such countries as Macedonia, Belarus, Ukraine, Jamaica, Israel/Palestine, Norway, Sweden, Russia, and elsewhere.
Dozens of our students have received Fulbright Fellowships to places such as Brazil, Austria, Poland, Romania and numerous other countries. Our students have also received National Endowment for the Arts in Translation while still enrolled in SDSU MFA program. Students have published books of translation with respected literary presses and their works have won them such prestigious awards as the Lannan Residency Fellowship. Their translations appear in respected journals including the New Yorker, World Literature Review, Words Without Borders and elsewhere.
Graduates:
Diana Garcia, Susan Conley, Matt de la Pena, David Tomas Martinez, Piotr Florczyk, Erin Rodoni, Timothy Welch, Tana Jean Welch, Jamie Asaye Fitzgerald, Renee Swindle, Hari Alluri, Kimball Taylor, Chris Baron, Carlos Kelly.