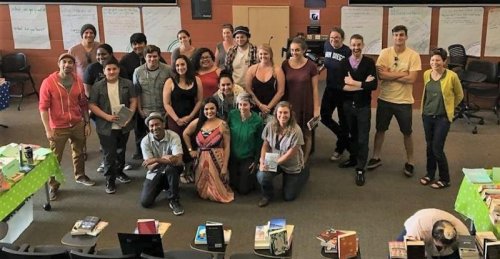 Core Faculty Includes:
Poetry: Sandra Alcosser, Blas Falconer, Ilya Kaminsky
Fiction: Katie Farris, Harold Jaffe, Stephen-Paul Martin, April Wilder
Funding/Employment Opportunities:
The program offers partial funding, through positions for tutoring fellows, graduate assistants, graduate teaching associates, editorial assistants, as well as scholarships, fellowships, tuition waivers, and an over-sixty program that allows senior citizens to attend and receive an MFA for a nominal fee. Funding is awarded on a competitive basis.
Affiliated Publications/Publishers:
Other Features:
The program requires students to attend workshops and seminars offered in the late afternoon and evenings. The program hosts readings, salons, and the Living Writers Series, along with internships and professional development courses in pedagogy and literary editing and publishing.
Recent Distinguished Visiting Writers include Ellen Bass, Rick Bass, Marvin Bell, Sherwin Bitsui, Jericho Brown, Camille Dungy, Dana Gioia, Jane Hirshfield, Vievee Francis, Ishion Hutchinson, Tayari Jones, Shirley Geok-lin Lim, Christopher Merrill, Aimee Nezhukumatathil, and Lucy Tapahanso.
Graduates:
Susan Conley, Matt de la Pena, David Tomas Martinez, Piotr Florczyk, Erin Rodoni, Timothy Welch, Tana Jean Welch, Jamie Asaye Fitzgerald, Renee Swindle