From June 2 to June 5, more than 25,000 editors, publishers, agents, and authors from around the world will fill the Jacob Javits Convention Center in New York City to promote their forthcoming books to a captive audience of booksellers. Sponsored by the American Booksellers Association and the Association of American Publishers, the annual BookExpo America (BEA) has been described as "an event of epic proportions" and "networking nirvana." Open only to trade professionals, including librarians, BEA is the place for players in the publishing industry to strike deals, buy and sell literary rights, and generate buzz about new books.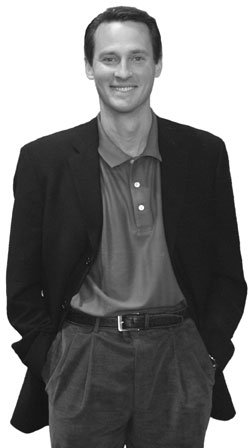 The centerpiece of BEA, which is hosted by a different city each year, is the exhibition hall, where representatives from more than two thousand companies set up booths in which they display their products and services. The list of distinguished authors giving high-profile readings and presentations at this year's BEA includes Michael Cunningham, Umberto Eco, Myla Goldberg, Nick Hornby, John Irving, Paul Theroux, and Simon Winchester. One of the well-attended events, "Editors Book Buzz," features editors discussing the two titles that inspired them the most during the past year. In 2003, an editor at Little, Brown talked up Alice Sebold's best-selling novel, The Lovely Bones. "It was at BEA where that book got its launch," says Tina Jordan, the special events and public relations director of Reed Exhibitions, the event's organizer. "It's where books are made."
For the typical poet, fiction writer, or creative nonfiction writer, BEA can seem like a secret meeting of the elite. But Christopher McCabe, the new manager of BEA, speaks directly about its purpose and sets the stage for the U.S. publishing industry's biggest event.
What is the point of a trade show like BEA?
BookExpo is a gathering point for the entire publishing industry, whether you are a writer, a publisher, or an agent. It's really an opportunity for people, on an annual basis, to get together and network and conduct whatever sort of business they're doing.
Is the main thrust of the event for publishers and authors to get some exposure to the booksellers?
That's really the foundation of the show, the history of it. All of the other elements, including the participation of librarians and so forth, have been a relatively recent development. But the bookseller is the core reason this event took hold way back when.
Can you explain why publishers need this time with booksellers?
First and foremost, booksellers help sell their books, so it's good business. But it's also about the grassroots aspect of what the bookseller brings to a publisher's various books. Booksellers are the people who are tied deeply to their community, they create the buzz for a particular book, and if a bookseller gets behind a publisher's book, it can positively impact the success of that book.
Besides just being there, how do publishers get the attention of booksellers?
There are a number of events that have been held over the past few years—everything from the "Editors Book Buzz" to author luncheons and breakfasts. These are opportunities for publishers to get some of their key authors and key books that they're hoping to promote face time with not only booksellers but the media as well. It's an opportunity for those authors to talk about their books and also about themselves, and our audience finds that really interesting. It creates a really nice communal feel.
Kevin Larimer is the senior editor of Poets & Writers Magazine.