In January the oldest literary magazine in the Pacific Northwest welcomed a new editor to the helm. Former senior editor Keetje Kuipers succeeds Aaron Barrell and Erin Malone as editor in chief of Poetry Northwest, which was established in 1959 and is based in Everett, Washington. Kuipers, who previously worked at Southern Humanities Review, has published three books of poems with BOA Editions, most recently All Its Charms (2019). In her three years as senior editor at Poetry Northwest, Kuipers has already brought compelling and sometimes playful innovation to the journal, including a series of essays on failure, the Native Poets Torchlight Series, and the Line Cook feature, which pairs a recipe with a literary podcast that lasts as long as it takes to make the dish. Kuipers discussed her ideas for the journal and the creative ethos she brings to her editorial stewardship.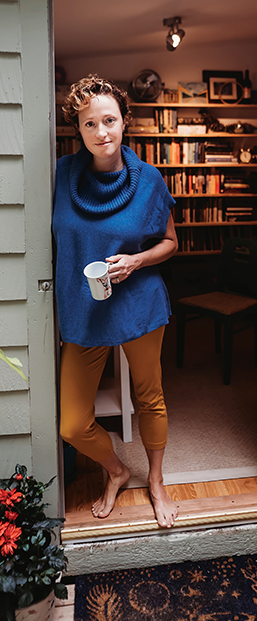 What plans do you have for the magazine?
In January I went to Under the Volcano, a writing retreat and conference in Tepoztlán, Mexico. It's a really special gathering of writers because it's bilingual. One of the things that's most important to them is that neither language is privileged, which made me think a lot about translation. I came back knowing that I wanted to begin to publish non-English work in Poetry Northwest, and without an English translation. There was a young poet at Under the Volcano who writes in Tzotzil, an Indigenous language in the Chiapas region of Mexico. We're going to publish her work in Spanish and Tzotzil, without an English translation. I see that as the first step toward doing more publishing of that kind. Poetry Northwest is an English-language magazine, but I don't think that every poem we publish has to privilege English or even give English a place in its publication. I'm interested in seeking out more work in translation where English is not one of the languages into which it's being translated. 

We're also going to be partnering with Circumference, which was a magazine for a long time and then became a book publisher. We will be spotlighting work from [some of their] forthcoming books of translation. They're translating new, fresh voices from all over the world. So we want to spotlight their work as well.
One of the things I feel is missing from poetry right now is more joy. A lot of times it's hardest to write poems that are joyful and celebratory, and that dwell in a moment of gratitude, and specifically gratitude that isn't bittersweet. So we're going to introduce a poem of joy on the inside back cover of every issue. I want to give that as a little gift to our readers. We're also going to start a humorous, tongue-in-cheek poetic advice column: how to pack for AWP, what to wear when you're giving a reading—sort of the silly parts of being a poet. And then the last thing I'm cooking up is a prize at the magazine. I'm looking forward to having it debut next year.
How does your new role as editor in chief allow you to innovate at the magazine?
As senior editor I had a ton of freedom to bring new ideas to the table, and I got lots of support for those ideas. I think the difference is that now, instead of injecting those ideas into the conversation, I get to really steer the conversation. 
Every editor has a place where they want to put the pressure. I want to take the conversation I'm facilitating to a riskier place. My new editor role allows me to take more chances. I want features that feel more like questions to which we're trying to figure out the answers together. I also want to publish more poems that I'm not sure about. I'm interested in accepting poems that I struggle with, that I don't understand, that I might even fundamentally disagree with in terms of either their craft or simply the argument that they're making about the state of the world. But I'm excited that, as editor, I am going to have the freedom to take those chances and to hopefully make myself uncomfortable and make readers a little uncomfortable.
Is there anything else you want readers to know about the magazine and its future?
One of the first things I asked myself when I joined the team was, What does it mean to have the word Northwest in our title? What does it mean to have that regional label right there up front as the first thing that a reader, or a poet who might submit, sees? The Northwest is an area of incredible migration. The West is this incredibly dynamic, shifting place. Being a magazine rooted in the Northwest means we are married to this land, but it also means being of many lands, many languages, and having to be open to change. Our landscape is shaped by fierce forces of weather, from wildfire to torrential rains. Our culture in the Northwest is also shaped every day by dramatic shifts. I want the magazine to reflect that, to reflect change and migration. 
Sarah Neilson is a freelance writer and book critic whose work appears in Literary Hub, the Believer, and Bookforum, among other outlets. Her website is sarahneilsonwriter.com.