With so many good books being published every month, some literary titles worth exploring can get lost in the stacks. Page One offers the first lines of a dozen recently released books, including Roxane Gay's Hunger and Julia Fierro's The Gypsy Moth Summer, for a glimpse into the worlds of these new and noteworthy titles.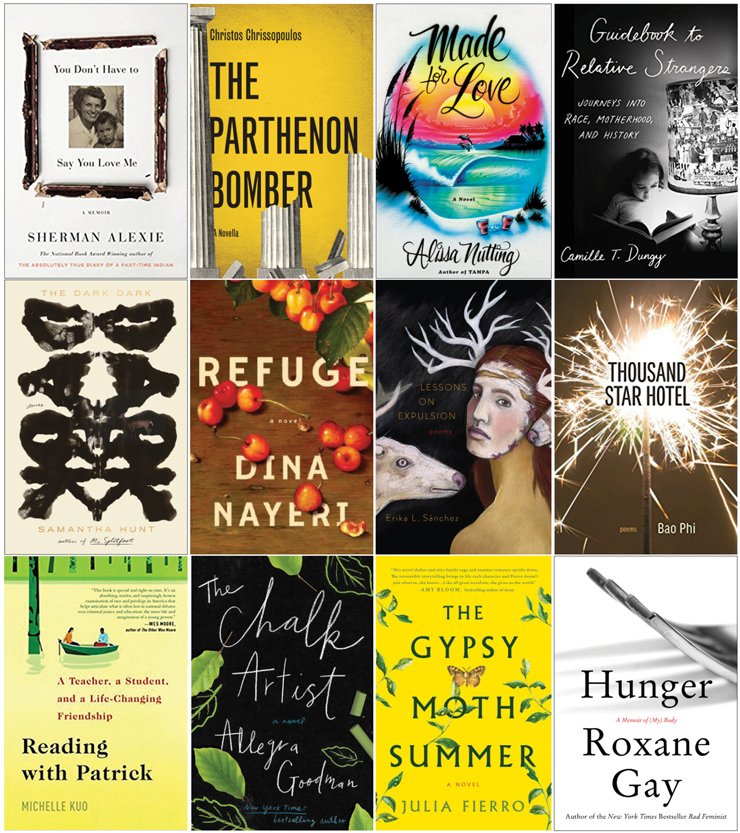 "Every body has a story and a history." Hunger: A Memoir of (My) Body (Harper, June 2017) by Roxane Gay. Fifth book, first memoir. Agent: Maria Massie. Editor: Emily Griffin. Publicists: Kate D'Esmond and Amanda Pelletier. 
"In a coffee shop on Dead Elm Street, Norma arranges chicken bones on her plate, making an arrow that points to her stomach, where the chicken now resides." The Dark Dark (Farrar, Straus and Giroux, July 2017) by Samantha Hunt. Fourth book, first story collection. Agent: PJ Mark. Editor: Jenna Johnson. Publicist: Brian Gittis.
"Summer boredom flutters its / sticky wings." Lessons on Expulsion (Graywolf Press, July 2017) by Erika L. Sánchez. First book, poetry collection. Agent: None. Editor: Jeff Shotts. Publicist: Caroline Nitz. 
"Before that summer of '92, when the gypsy moths swarmed Avalon Island and Leslie Day Marshall, golden-headed prodigal daughter, returned with her black husband and brown children to claim her seat as First Lady, the island's crimes were minor." The Gypsy Moth Summer (St. Martin's Press, June 2017) by Julia Fierro. Second book, novel. Agent: Maria Massie. Editor: Elizabeth Beier. Publicist: Brittani Hilles.
"The only sounds are those of furniture being moved." The Parthenon Bomber (Other Press, June 2017) by Christos Chrissopoulos, translated from the Greek by John Cullen. Tenth of thirteen books, first novella. Agent: Catherine Fragou. Editor: Judith Gurewich. Publicist: Jessica Greer.
"In order to finalize his own ugly business, as if the universe were demanding one last slice of flesh, Bahman was compelled to watch thirteen consecutive divorces, a full docket." Refuge (Riverhead Books, July 2017) by Dina Nayeri. Second book, novel. Agent: Kathleen Anderson. Editor: Sarah McGrath. Publicist: Jynne Dilling Martin.
"Ma—ghost—even with no tone to fetter, it lives" Thousand Star Hotel (Coffee House Press, July 2017) by Bao Phi. Second book, poetry collection. Agent: None. Editor: Erika Stevens. Publicist: Mandy Medley. 
"An artist goes to an artists' retreat, or colony as they are often called, to get away from the things that typically sideline her in life: insistent phone calls, cooking, dusting, running errands, preparing lectures for class." Guidebook to Relative Strangers: Journeys Into Race, Motherhood, and History (Norton, June 2017) by Camille T. Dungy. Fifth book, first essay collection. Agent: Samantha Shea. Editor: Alane Mason. Publicist: Elizabeth Riley. 
"I went to the Mississippi Delta with a specific project: to teach American history through black literature." Reading With Patrick: A Teacher, a Student, and a Life-Changing Friendship (Random House, July 2017) by Michelle Kuo. First book, memoir. Agent: Sam Stoloff. Editor: Hilary Redmon. Publicists: Catherine Mikula and Lucy Silag.  
"Hazel's seventy-six-year-old father had bought a doll." Made for Love (Ecco, July 2017) by Alissa Nutting. Third book, second novel. Agent: Jim Rutman. Editor: Megan Lynch. Publicist: Ashley Garland. 
"In 1972 or 1973, or maybe in 1974, my mother and father hosted a dangerous New Year's Eve party at our home in Wellpinit, Washington, on the Spokane Indian Reservation." You Don't Have to Say You Love Me (Little, Brown, June 2017) by Sherman Alexie. Twenty-sixth book, first memoir. Agent: Nancy Stauffer. Editor: Reagan Arthur. Publicists: Julie Ertl and Lena Little. 
"Her long hair curtained her face as she sat marking papers." The Chalk Artist (Dial Press, June 2017) by Allegra Goodman. Eighth book, sixth novel. Agent: Irene Skolnick. Editor: Susan Kamil. Publicist: Barbara Fillon.