With so many good books being published every month, some literary titles worth exploring can get lost in the stacks. Page One offers the first lines of a dozen recently released books, including Ante body by Marwa Helal and The Candy House by Jennifer Egan, for a glimpse into the worlds of these new and noteworthy titles.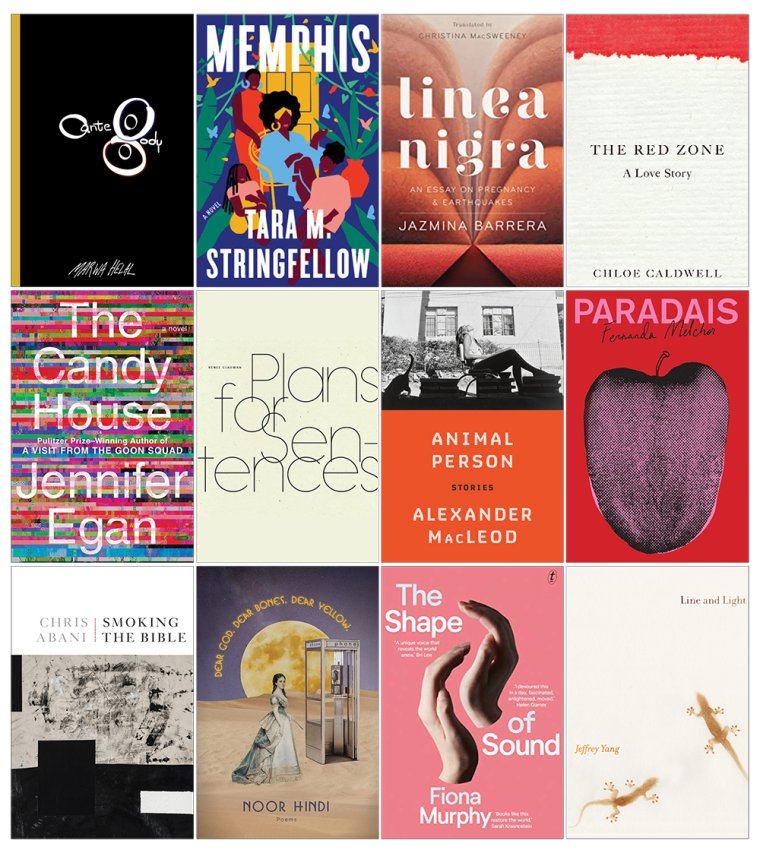 "I open my eyes to forget / I close my eyes to remember" Line and Light (Graywolf Press, May 2022) by Jeffrey Yang. Fourth book, poetry collection. Agent: None. Editor: Jeff Shotts. Publicist: Claudia Acevedo-Quiñones.  
"Some nights, when the rabbit and I are both down on the floor playing tug-of-war with his toy carrot, he will suddenly freeze in one position and stop everything, as if a great breakthrough has finally arrived." Animal Person (Farrar, Straus and Giroux, April 2022) by Alexander MacLeod. Second book, story collection. Agent: Susan Golomb. Editor: Jonathan Galassi. Publicist: Julia Judge.  
"The body is a disjointed poem of mixed metaphors and similes." The Shape of Sound (Text Publishing, June 2022) by Fiona Murphy. First book, memoir. Agent: None. Editor: Penny Hueston. Publicist: Nikki Boltz.  
"These sentences—they—will begin having already been sentences somewhere else, and this will mark their afterlife, and this will be their debut." Plans for Sentences (Wave Books, May 2022) by Renee Gladman. Fourteenth book, third interdisciplinary book. Agent: None. Editor: Heidi Broadhead. Publicist: Catherine Bresner.  
"The point of a pen opens a hole / into a soul's dereliction." Smoking the Bible (Copper Canyon Press, May 2022) by Chris Abani. Fifteenth book, eighth poetry collection. Agent: Ellen Levine. Editor: Michael Wiegers. Publicist: Ryo Yamaguchi.  
"The house looked living." Memphis (Dial Press, April 2022) by Tara M. Stringfellow. First book, novel. Agent: Soumeya Bendimerad Roberts. Editor: Katy Nishimoto. Publicist: Michelle Jasmine.  
"At the airport terminal, a woman is crying." Dear God. Dear Bones. Dear Yellow. (Haymarket Books, May 2022) by Noor Hindi. First book, poetry collection. Agent: None. Editor: Maya Marshall. Publicist: Aricka Foreman.  
"It was all fatboy's fault, that's what he would tell them." Paradais (New Directions, April 2022) by Fernanda Melchor, translated from the Spanish by Sophie Hughes. Fourth book, third novel. Agent: Michael Gaeb. Editor: Tynan Kogane. Publicist: Mieke Chew.  
"This morning we had a brief argument about my blood clots." The Red Zone: A Love Story (Soft Skull Press, April 2022) by Chloe Caldwell. Fourth book, first memoir. Agent: None. Editor: Mensah Demary. Publicist: Lena Moses-Schmitt.  
"'I have this craving,' Bix said as he stood beside the bed stretching out his shoulders and spine, a nightly ritual before lying down. 'Just to talk.'" The Candy House (Scribner, April 2022) by Jennifer Egan. Seventh book, sixth novel. Agent: Amanda Urban. Editor: Nan Graham. Publicist: Katie Monaghan.  
"This morning, in the waiting room, I came across a calendar of astronomical events." Linea Nigra: An Essay on Pregnancy and Earthquakes (Two Lines Press, May 2022) by Jazmina Barrera, translated from the Spanish by Christina MacSweeney. Third of four books, third book of nonfiction. Agents: Paula Canal and Andrea Montejo. Editor: CJ Evans. Publicist: Alyson Sinclair.  
"it wasnt so much a doubled consciousness, but more akin to a doubled gaze." Ante body (Nightboat Books, May 2022) by Marwa Helal. Second book, poetry collection. Agent: None. Editor: Gia Gonzales. Publicist: Caelan Ernest Nardone.