Every January thousands of cowboys, ranchers, musicians, and craftspeople journey to the high-desert town of Elko, Nevada, for the National Cowboy Poetry Gathering. The festival features six days of poetry, music, dancing, and folk art exhibits, as well as numerous workshops on everything from storytelling and rodeo swing dancing to rawhide braiding and spit cooking. This year the National Cowboy Poetry Gathering turns thirty-five, and for many of the performers and participants who return annually, it will be a time to celebrate, reflect, and honor the past—and, as usual, to share poems and tell stories.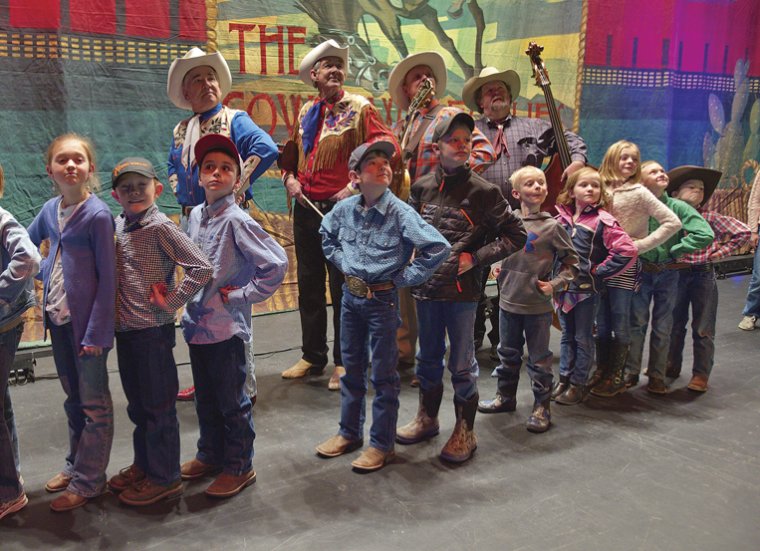 The first Gathering, coordinated by Elko's Western Folklife Center, was held in 1985—though many agree that cowboys were meeting and sharing poetry long before then. "Some journalists say it's the most honest and open-hearted festival in America. Ranchers say these few days contain the highest concentration of lies in any one place at any one time," jokes Hal Cannon, keynote speaker for the 2019 event and founding director of the Western Folklife Center, on the event website. "The fact is, what we think of as the first Cowboy Poetry Gathering in Elko was hardly the first. The old Pioneer Hotel still echoes from a hundred years of poems, lies, and lost dreams."
The 1985 Cowboy Poetry Gathering was originally planned as a one-time weekend event by folklorists interested in preserving the voice of the American West. "There was so much energy in the beginning that everyone wanted to get together again," says Meg Glaser, artistic director of the Western Folklife Center and a longtime organizer of the Gathering. "People realized there were poets out there, folk poets, people who didn't really identify themselves as poets or artists—cowboys, ranchers, horsemen, rodeo cowboys, and many others. They were just writing poetry for their own personal love of writing, as a form of entertainment, to commemorate important people in their lives, favorite horses, or a beautiful place in the West." By 2000 the U.S. Senate had given the annual festival a "National" designation, formally recognizing the event as a cultural tradition in a long history of oral storytelling.
To this day regular attendees, who sometimes refer to the festival as "Cowboy Christmas" or simply "Elko," speak of the continued excitement, camaraderie, and welcoming nature of the National Cowboy Poetry Gathering. Past Gatherings have hosted well-established poets, musicians, and folklorists such as Wally McRae, William Kittredge, Baxter Black, Bess Lomax Hawes, Ramblin' Jack Elliott, Don Edwards, and Ian Tyson. "Some of the performers who have been involved in the Gathering since the get-go are going to be in town and participating," says Glaser about this year's festival, which will be held January 28 through February 2. "We've also invited the photographer who has been doing portraits of the poets for thirty-four years to do an exhibition, and we've put a lot of effort into digitizing footage from the early years, footage people haven't seen in a long time, if ever."
Waddie Mitchell from Twin Bridges, Nevada, a returning poet and musician who will be performing at the 2019 festival, was inducted into the Nevada Writers Hall of Fame in 2011 and honored in 2012 with the Nevada Heritage Award from the Nevada Arts Council. He also helped organize the first Cowboy Poetry Gatherings in Elko. "It has the feeling of a great family reunion where everyone likes each other," Mitchell says, laughing. "In those first bunch of Gatherings, we were reciting old, passed-down poetry, traditional poetry, much more than we were reciting our own poetry. Those times were life-changing—not only for myself, but for hundreds of people who have told me over these thirty years that the Gathering actually changed their lives."
"It was magic; I learned what I loved," says Brigid Reedy, a poet and folk singer-songwriter from Whitehall, Montana, who has been yodeling at the Gathering since she was two years old. "It was such a thrill to see people get together and share their art, and there's still that overwhelming feeling of being able to meet people who feel just as passionate as you. There will be a night that, without warning, you're suddenly in a room playing music with everyone you've ever admired and hearing their stories and creating stories."
For poets, performers, and attendees alike, the Gathering is a celebration of the American West, a chance to connect to their Western heritage and past generations. "It's a real broad cross section of people," Cannon says. "By and large, it's women and men from ranching, people who live that life, who live in open spaces, and who have daily encounters with animals and work. It's a great perspective for poetry and stories." The festival also aims to represent the diversity of the rural West by featuring emerging and established poets and performers from varied cultural and geographical backgrounds. Among this year's dozens of participants, many who either organized the first Gatherings or have family ties to past performers, are Henry Real Bird, who grew up ranching on Montana's Crow reservation and was named the Cowboy Poet of the Year in 2012 by the Academy of Western Artists; Amy Hale Auker, who cowboys for a ranch in Yavapai County, Arizona, and is the author of two novels, two books of creative nonfiction, and a book of poetry, Livestock Man, released in 2018; Paul Zarzyski of Great Falls, Montana, the author of ten books of rodeo poetry and the recipent of the 2005 Montana Governor's Arts Award for Literature; and musician Tish Hinojosa of Austin, Texas, the daughter of Mexican immigrants whose Americana album Culture Swing was named the 1992 Indie Folk Album of the Year by the National Association of Independent Record Distributors. The Gathering also welcomes emerging artists, including Forrest VanTuyl, a songwriter who works at a pack station in Eastern Oregon; and Olivia Romo, a bilingual poet, farmer, and water-rights activist from Taos, New Mexico, who was named New Mexico's Slam Poetry Champion in 2011. 
"The Gathering is such a convergence of stories," Reedy says. "I don't know if anything is more influential to me and my artwork and the way I've grown up." For Glaser, that convergence lies at the very heart of the Gathering and is exactly what makes the annual event so special. "Just like the hopes of the ranching community in general, of wanting opportunities for the next generation," she says, "we want to accommodate new voices, inspire new voices, and help people express themselves in different ways."
Thea Prieto writes and edits for Portland Review, Propeller, the Gravity of the Thing, and Oregon Music News. Her website is theaprieto.com.