The National Book Foundation announced the finalists for its annual National Book Awards this week. The selection of finalists follows last month's longlist announcement, the first time in the foundation's sixty-four-year history that such a list has been published.

The finalists in fiction are Rachel Kushner, The Flamethrowers (Scribner); Jhumpa Lahiri, The Lowland (Knopf); James McBride, The Good Lord Bird (Riverhead); Thomas Pynchon, Bleeding Edge (Penguin); and George Saunders, Tenth of December (Random House).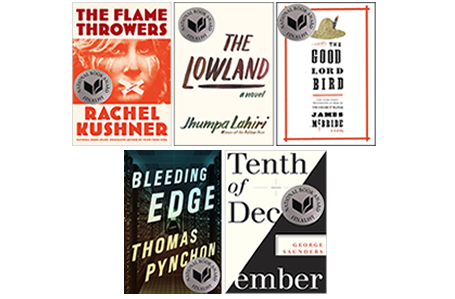 The finalists in poetry are Frank Bidart, Metaphysical Dog (Farrar, Straus and Giroux); Lucie Brock-Broido, Stay, Illusion (Knopf); Adrian Matejka, The Big Smoke (Penguin); Matt Rasmussen, Black Aperture (Louisiana State University Press); and Mary Szybist, Incarnadine (Graywolf Press).

The finalists in nonfiction are Jill Lepore, Book of Ages: The Life and Opinions of Jane Franklin (Knopf); Wendy Lower, Hitler's Furies: German Women in the Nazi Killing Fields (Houghton Mifflin Harcourt); George Packer, The Unwinding: An Inner History of the New America (Farrar, Straus and Giroux); Alan Taylor, The Internal Enemy: Slavery and War in Virginia, 1772-1832 (Norton); and Lawrence Wright, Going Clear: Scientology, Hollywood, & the Prison of Belief (Knopf).
Also new from the foundation is The Contenders: Excerpts from the 2013 National Book Award Finalists, a free National Book Award eBook series available for download from the foundation's website in a variety of formats.

Visit the website to read more about the finalists, and to see the selections in the category of young people's literature. Selections in each of the four categories were made by a panel of judges comprised of five writers and literary professionals.

The winners will be announced at the sixty-fourth annual National Book Awards Benefit Dinner and Ceremony in New York City on November 20, which will be streamed live on the Foundation's website. Winners will receive $10,000; all finalists will receive $1,000.