Jamaican writer Marlon James has won the 2015 Man Booker Prize for his novel A Brief History of Seven Killings (Riverhead Books). James, who was announced the winner this evening at a ceremony in London, will receive £50,000 (approximately $76,000), and becomes the first Jamaican writer to receive the prize.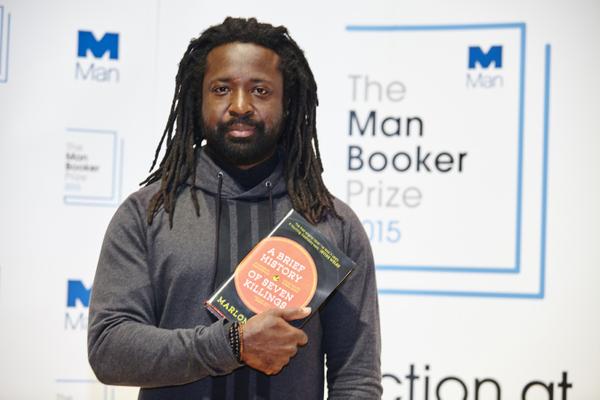 James, forty-four, is the author of two previous novels: John Crow's Devil (Akashic Books, 2005) and The Book of Night Women (Riverhead Books, 2009). A Brief History of Seven Killings tells the story of the 1976 assassination attempt on famed reggae singer Bob Marley. The novel, which follows over a dozen different narrators, portrays the cultural and political climate in Jamaica at the time.
"The book is startling in its ranges of voices and registers, running from the patois of the street posse to the Book of Revelation," said chair of judges Michael Wood. "It is a crime novel that moves beyond the world of crime and takes us deep into a recent history we know far too little about. It moves at a terrific pace and will come to be seen as a classic of our times."
Along with Wood, the panel of judges—Ellah Wakatama Allfrey, John Burnside, Sam Leith, and Frances Osborne—selected James from a shortlist of five other writers: Tom McCarthy of the United Kingdom for Satin Island (Knopf); Chigozie Obioma of Nigeria for The Fisherman (Little, Brown); Sunjeev Sahota of the United Kingdom for The Year of the Runaways (Knopf); Anne Tyler of the United States for A Spool of Blue Thread (Knopf); and Hanya Yanagihara of the United States for A Little Life (Doubleday). The shortlisted authors will each receive £2,500 (approximately $3,800).
In his acceptance speech at the London ceremony, James credited Bob Marley and reggae music as his inspiration, saying they were "the first to recognize that the voice coming out of our mouths was a legitimate voice for fiction and for poetry." James also said, "We talk about diversity, and sometimes I think we just use that to kowtow to political correctness, but one of the things it reinforces is that there are so many ways to tell the English-language novel…this wonderfully malleable, wonderfully flexible language can be used in so many different ways." James dedicated the prize to his late father.
First awarded in 1969, the Man Booker Prize is one of the literary world's most prestigious awards for fiction. The prize, which was previously given only to writers from the United Kingdom, Ireland, or Zimbabwe, was expanded last year to include writers of any nationality writing in English, whose books have been published in the United Kingdom during previous year. Australian writer Richard Flanagan won the 2014 prize for his novel The Narrow Road to the Deep North.