In preparation for an early Kundiman poetry retreat, cofounder Joseph Legaspi carried a snow-cone machine all the way from New York City to sweltering Charlottesville, Virginia, so that attendees could play "slushy haiku overdrive," a game in which a poet composed an impromptu haiku in exchange for a cone. This playful spirit characterizes the nonprofit organization, established in 2004 to support Asian American poets, whose annual retreat—which for the past decade has brought poets from across the country to New York City—will be open for the first time this year to fiction writers. To be held from June 24 to June 28 at Fordham University, the event will feature workshops, readings, writing circles, and informal social gatherings. Gina Apostol, Peter Ho Davies, and Sigrid Nunez will lead the fiction workshops.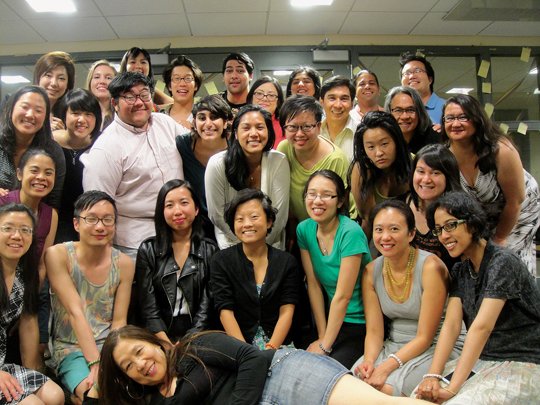 Kundiman's expansion into fiction, which was enabled in part by a successful fund-raising campaign in late 2014, is a big step for the organization. "For years, Asian American fiction writers would approach us, wanting to apply to attend our retreat, and we had to turn them away," says Cathy Linh Che, Kundiman's managing director. "There was a deep need for these writers to find community and to be able to discuss the ways that identity worked in their storytelling." Other collectives that support writers of color, such as Cave Canem, which supports African American writers, and CantoMundo, which supports Latina and Latino writers, have mostly kept their focus on poetry. But after hosting a fiction intensive last March, the Kundiman staff realized that expanding their reach to Asian American fiction writers was a priority. The retreat, which previously hosted twenty-four poetry fellows each year, will now host eighteen poetry fellows and eighteen fiction fellows.
Kundiman cofounders Legaspi and Sarah Gambito, both poets themselves, were first inspired to launch a socially engaged poetry retreat when they hosted a successful reading and fund-raiser for the humanitarian organizations Doctors Without Borders and Red Crescent in New York City after 9/11, and when they heard glowing anecdotes about Cave Canem's early retreats, which began in 1996. At the time, the Asian American Writers Workshop, also based in New York City and committed to building Asian literary culture, held events and writing workshops, but no retreats. Gambito and Legaspi saw the need to create a space that fostered a consistent community and encouraged a deep exploration of Asian American history and identity, which is marked, Legaspi says, by "invisibility or silence." He adds, "For immigrants from China, the Filipino migrant workers—there's no stability, there's a lot of hiding. There's a profound need to blend."
Equipped with flyers, Gambito and Legaspi attended the AWP Conference in 2004 to solicit fellows and faculty for the first Kundiman retreat, to be held at the University of Virginia in Charlottesville. On the spot, Rick Barot, Marilyn Chin, and Ishle Yi Park all volunteered to teach, and later that year the first eighteen fellows met for the inaugural event. Ten years later, more than one hundred forty writers have gone through the program, and have published thirty-six poetry collections, forty-two chapbooks, and three novels.
While the retreat is Kundiman's flagship program, the organization—which celebrated its tenth anniversary last year—also runs an event series, a storytelling program, and an annual poetry book prize. Tupelo Press recently signed on as the new partnering press for the Kundiman Poetry Prize (which was previously cosponsored by Alice James Books), given annually for a full-length collection by an Asian American poet. Tupelo is "an ideal partner for Kundiman," says Che, noting that the press "not only publishes aesthetically pleasing books, but also places high regard on excellent writing and diversity." Submissions for this year's prize are open until March 15; the winner will be announced in June.
In the coming year, the Kundiman team also plans to expand its New York City–based reading series into a national series curated by current and former fellows, with events in Chicago, San Francisco, and Minneapolis already slated for May. The 2016 retreat is also already in the works; applications will open on December 15 (the application deadline for this year's retreat closed in January).
Looking further ahead, Gambito and Legaspi hope to create more resources for first-time authors, hire a full-time staff, and establish an endowment. And though the organization is centered around supporting its fellows, it has also served as an inspiring space and community for Kundiman faculty and friends, and the founders themselves. As Gambito says, "Sometimes you have to become what you wish you had."
Ryan Lee Wong is a writer and curator based in New York. He has contributed writing to the Brooklyn Rail, Creative Time Reports, and Hyperallergic.