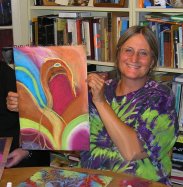 5223 Scotch Ridge Road
Spirit Wind Studio, LLC
Duanesburg,
NY
12056
Publications and Prizes
Anthologies:
A Slant of Light: Contemporary Women Writers of the Hudson Valley(anthology) Naming the Scar (my poem, page 79)
,
Beloved On The Earth: 150 Poems of Grief & Gratitude
,
Layers Of Possibility: Healing Poetry
,
Moments of the Soul (anthology) Altars (my poem, page 112), Stillness is like Water, my poem, page 90, Winner Third Place).
,
Peer Glass
,
The Heart of All That Is: Reflections on Home (Anthology title). Land (My poem, page 93)
Journals:
Bereavement: Living With Loss
,
Chronogram
,
Earth's Daughters
,
Mad Poets Review
,
Slightly West
,
The Akros Review
Prizes Won:
Judge's Choice Award, Mad Poets Contest, 2003Third Place, Spirit First Contest, 2010
work_excerpt:
Loss Suddenly life churns with brown silt like a river after a storm Dark currents cut channels rip new pathways obliterate the banks you knew Each step now takes you deeper no maps, no landmarks even the stars shrouded. On the river of loss we can only navigate by faith.
Last updated: Apr 02, 2018