Two buzzwords that continue to be redefined in today's connection-oriented culture are sharing and community, with social networking making the dissemination of literature, art, and ideas among friends and neighbors as simple as the click of an icon. But what happens when we want to share cultural objects outside the electronic box, in material form? Artist Colin McMullan, founder of the Kindness and Imagination Development Society (KIDS), has found one way to take this act of real-time exchange to the streets, literally, with his Corner Library project.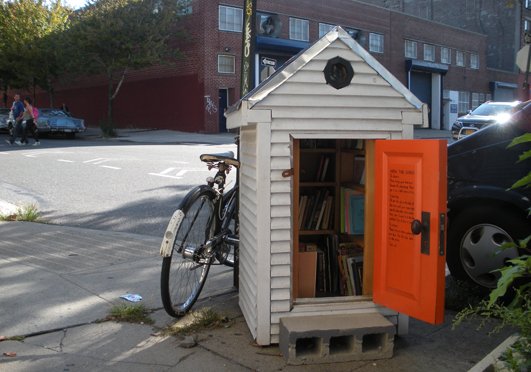 The original KIDS Corner Library, first installed in 2007 in downtown New Haven, Connecticut, is a miniature book depository about the size of a doghouse, complete with white clapboard siding and a bright orange door, and full of donated graphic novels, zines, pamphlets, and books published by small presses and artists, as well as CDs, DVDs, maps, and other curiosities—a small-scale collection of the literature and resources one might find at a local library. The structure, which served New Haven's readers for six months, found a new home last April on the corner of Leonard and Withers streets in the Williamsburg neighborhood of Brooklyn, New York. A message on its door reads, "Welcome! This library is meant to encourage us all to publish and share information about local resources, issues, events, the many personal matters we care about deeply." Potential patrons are encouraged to contact the two librarians, McMullan and Gabriela Alva, for a library card and the code to the door's lock.
The library operates on the honor system: Every object in the collection has a slip of paper attached, on which the borrower writes down her name and the date borrowed. The slip is then left in a box inside the library, and the item is due back two weeks later. To donate, anyone can bring an item to the library for processing, or prepare the book for borrowing herself and shelve it based on where she thinks it belongs. "These libraries are meant to encourage local exchange and to help neighbors meet, know, and help one another in physical space with issues and interests that matter to them daily, right here and now," says McMullan. "The Internet is an incredible information tool, but it doesn't satisfy a need we have for real-space interchange among people."
As of this writing, the Williamsburg branch of the Corner Library has about fifty members and is attracting a growing interest from the community. "One day I walked to the library and found a box full of donations, very carefully chosen," says Alva, who is working on a Tumblr blog featuring images of all the library's holdings. "It had books, photocopied articles, CDs, and an amazing horror book. The reaction has been great so far."
At a time when underfunded public libraries have been forced to cut staff and hours of operation, McMullan doesn't see his project as having the potential to provide a replacement for such institutions, but as offering a meaningful alternative experience. "The idea of microlibraries challenging the public-library system is pretty far fetched," says McMullan. "However, I can say that one mom I met at the Corner Library in Williamsburg was pleased that it was available to her and her kids 24/7, as opposed to the limited hours of the nearby Brooklyn Public Library location, because sometimes her family has a hard time getting there during open hours."
McMullan has a few other New York City microlibraries in development, partnering with volunteer librarians such as Christine Licata in Manhattan. Located outside Taller Boricua/Puerto Rican Workshop at the Julia de Burgos Latino Cultural Center, Licata's EAsT Harlem branch specializes in recipes and seeds. He also envisions building a microlibrary in Manhattan's Chelsea neighborhood, in cooperation with the Center for Book Arts, where he is a resident artist. And he has plans for a branch located between Brooklyn's Prospect Heights and Crown Heights neighborhoods.
Norman Stevens, head librarian emeritus of the University of Connecticut, also recruited McMullan to help erect a Corner Library as part of a new downtown development in Storrs, Connecticut. "I was intrigued by Colin's project as a means of extending some of the concepts of the original American public library into today's too-electronic age, and returning to a smaller, more personal, comfortable, and user-driven—not just user-friendly—approach," says Stevens.
The user-powered spirit of the Corner Library is the force behind a similar book-sharing initiative with roots in the Midwest. The Little Free Library project, founded in 2009 by social entrepreneurs Todd Bol and Rick Brooks, launched with a structure about half the size of McMullan's, built to resemble a one-room schoolhouse and installed near Bol's home in Hudson, Wisconsin. The project, which uses a "take a book, return a book" model, has since provided unique microlibraries to dozens of U.S. neighborhoods, and a handful of far-flung locales in Australia, Bulgaria, and India, among other countries. Anyone can participate in the project by ordering a prebuilt library or building a new one using blueprints provided on the website, www.littlefreelibrary.org.
McMullan is looking for community collaborators too. "If anyone is interested in being a librarian," he says, "I would say, Get in touch." 
For more information about the Corner Library and how to get involved, visit kidscornerlibrary.tumblr.com.
Alex Dimitrov is a writer in New York City. His first book of poems, Begging for It, is forthcoming from Four Way Books in 2013.