In the spring of 1994 Anselm Berrigan spent his days at Copy Central in San Francisco. He stood there for eight hours, in a storefront on Third and Market streets, making copies. He operated photocopiers, cutting machines, binders: the works. He even ran a shrink-wrap machine once or twice. The company's slogan is "Doing it right…on time."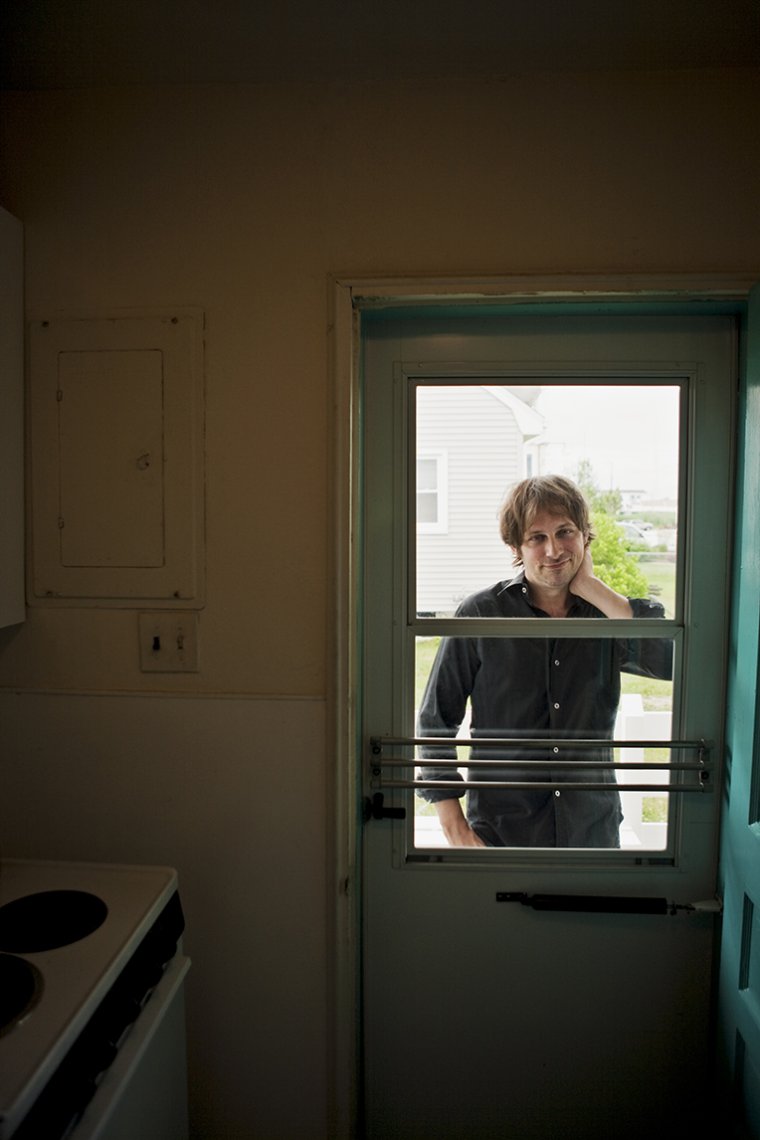 Photographs by Pieter Van Hattem. 
It was a job, and he hated it.
He had just moved to the Bay Area from Buffalo, having earned a degree in English from the state university there. He'd been a shy kid when he arrived on campus, a young seventeen, having skipped eighth grade at his public school in Manhattan, where he grew up. After an unsettling freshman year, during which he toyed around with political science, he tried to transfer to Vassar College in Poughkeepsie, New York, but didn't get in. So he soldiered on at Buffalo, eventually shifting his attention to the English department, and finally found something he enjoyed doing—writing poetry.
Which might be why his position at Copy Central, if one can call it that, was a particularly hard pill to swallow. He didn't know anyone in San Francisco except for his girlfriend, whom he had met back in Buffalo, and he didn't have any real money. So he'd done what anyone would do in that situation. He got a job, and he wasn't picky.
The obvious thing would have been to move back to New York City after school. He knew a lot of people there, mostly childhood friends and old acquaintances of his parents. But, having only started writing a couple of years after arriving in Buffalo, at age nineteen, he wasn't yet ready to return to the city and write poems there. Perhaps the hesitation was because Berrigan—whose fourth book of poems, Free Cell, is published by City Lights this month—has a relationship to poetry that's a little different from most.
He grew up literally surrounded by the stuff. His father, Ted Berrigan, was a major figure in the second generation of New York School poets who lived and wrote in and around
the East Village in the sixties and seventies. By the time Anselm was born, in 1972, his father had published several books with small presses, including his best known, The Sonnets, a collection Frank O'Hara once called "a fact of modern poetry." His mother, poet Alice Notley, the future Pulitzer Prize finalist, had just begun publishing her work; her first book, 165 Meeting House Lane, was released by "C" Press a year before he was born.
"It was like a whole small town," Berrigan says of the huge, amorphous group of poets and artists who regularly visited his family's apartment on St. Mark's Place, between First Avenue and Avenue A—some of them active in the city's vibrant poetry community and others just passing through on their travels. "Later on, growing up, I would realize that, oh, Lorenzo Thomas came over these times or Leslie Scalapino used to come around once a year when she was in town, or these British poets were over one day, or these Dutch poets were over another day. When Anne Waldman and Lewis Warsh lived in New York we'd see a lot of them. Sometimes Allen Ginsberg would come over, but he was often off traveling the world.… A whole social and communal life was taking place right in front of us and we just interacted with it."
When Anselm was ten, on July 4, 1983, his father died from complications from cirrhosis of the liver. His mother continued to write, having by then published a dozen books of poetry, including Alice Ordered Me to Be Made and When I Was Alive, with various small presses. Five years later, in 1988, she married the British poet Douglas Oliver, and Berrigan's familial associations with poetry—even his younger brother, Edmund, had started writing it—were extended further.
So, for Berrigan in 1994, newly graduated from SUNY, Buffalo, and trying to find his way, the idea of returning to New York City—as a poet—brought with it some psychic weight that he was not quite ready to carry.
He lasted eight months behind the photocopier before he got fed up and just walked out one day. His next job, as a foot messenger for a company called California Overnight, was a slightly better fit. At Copy Central, Berrigan had to work indoors and never had a chance to explore San Francisco. As a foot messenger, at least, he was forced to explore his new city, and maybe he could even meet some people. Plus, being a foot messenger was a little more his style. The guy who hired him said, "We'll need to do a drug test, is that going to be a problem?" and before Berrigan had a chance to answer, added, "If it's a problem, let me know when it isn't."
"I used to write between deliveries and pickups," Berrigan said years later, in an interview with poet Marcella Durand that was published in Gary Sullivan's journal Readme. "It was a great terrible job. I would smoke pot and go to work and write and read, all while wearing this uniform of navy blue, collared tee with California Overnight logo over heart, and tan khakis, plus beeper, walkie-talkie, and giant silver hand truck."
Over the next year or so, Berrigan wrote poems while continuing to work as a messenger. "I remember walking the streets of San Francisco with Anselm Berrigan," poet Dale Smith, who also worked for California Overnight, later wrote for John Tranter's online magazine Jacket. "We were learning to be poets, comparing survival notes and sharing the insights of neophytes who are unified in a struggle to comprehend the mysteries of their chosen paths."
Berrigan left San Francisco in the summer of 1996 to return, after all, to New York City and attend the MFA program at Brooklyn College. He had been writing poems for about five years. And while he probably didn't leave the West Coast with any better comprehension of the mysteries of his chosen path than when he'd arrived, he had in some small way come into his own. He wasn't returning to New York City as the eldest son of two well-known poets; he was returning as a poet in his own right.
"The one concession I made in my mind to my parents' being poets was that I only would give people work if they asked because they were interested," Berrigan says. "This is something I was thinking about when I was twenty-one, twenty-two, and concerned that I didn't want to get asked out of interest in who I was as opposed to what I was doing. I wasn't experienced enough within the poetry and literary circles to realize that it didn't really matter. Nobody necessarily gave a shit."

Anselm Berrigan is sitting on the back patio of Lunasa, an Irish bar on First Avenue in the East Village. Having opened its doors for business in 2003, the Celtic pub is just one of the countless establishments completing the wholesale gentrification of one of the oldest neighborhoods in New York City. Still, the place is cool and clean—refreshing on an early summer evening. The bar's slogan is "Enjoy the fruits of your labor."
The outdoor space is surrounded on three sides by the brick walls of apartment buildings. The low, cement-truck rumble of some kind of generator at the rear of the bar forces Berrigan to lean forward and raise his voice almost to a shout, which is not at all his typical style of communicating. Berrigan is the laid-back, low-voiced type. He rarely says more than necessary.
Which is not to say that Berrigan writes haiku. In four full-length collections and several chapbooks published in the last ten years, Berrigan has written intense, often humorous poems that hinge on idiomatic expression and swing between sociopolitical commentaries and tender meditations on death and loss. (Mortality is a theme that was planted in the poet at a young age with the death of his father when he was ten; a tragic accident on Houston Street that killed his half-sister when he was fourteen; and later, when he was twenty-seven, the death of his stepfather, after a long battle with cancer.) A frequent emphasis in his work is the tension between public and private consciousness and the ways in which words inform and influence both.
The title of his first full-length collection, Integrity and Dramatic Life, published in 1999 by Edge Books, pushed this public-private tension directly to the forefront. In the poem "Fortitude," Berrigan imagines a dialogue with a young Abraham Lincoln: "'Those who know who they are, all they're doing / is reacting,' he says. 'Let me sink into my own core / & cut out the part that keeps me calm,' I says." In nearly all of the poems he explores a state of mind that can best be described as not-knowing: identity as seen through a kaleidoscope.
"When I moved back to New York, I was much more aware of suddenly being back in a place where I had grown up, living in this intensely crowded city and being in a kind of classic situation of having to figure out how to assert yourself—not even in terms of a social sphere—just in terms of having any kind of identity at all," Berrigan says. "How do you assert your own existence when you're surrounded by so many people? How do you remain interesting to yourself? And how do you survive? And then there was the fact of going into this space where, when I was a kid, a lot of people had died. And I was walking around sensing their presence by their absence in different parts of the city.… The scale of the internal memory versus the external experience was very compelling. I wouldn't have been able to put it this way at that point, but these thoughts would appear and then I would write about them."
Berrigan's second collection, Zero Star Hotel, which was published by Edge in 2002, addresses many of the same concerns as the first, but there is a sharper edge to the work. The title poem, dedicated to his late stepfather, is composed of more than two hundred ten-line stanzas that are laid out, six to a page, in a grid that resembles the windows of a hotel. By the end of the poem, the reader can almost sense Berrigan peering through those windows as he again explores the concept of identity amid personal loss.
Gray Paris Good Friday
Land inside a reality
Pressed onto brain
By Doug's dying
Buyitbuyitbuyitbuyit
I trust this hotel's lack
Of quality, like a crazy
Old neighbor's daily
Arranging of trash cans
In front of the stoop