Today's GalleyCrush is Christopher Gonzalez's I'm Not Hungry but I Could Eat, forthcoming from Santa Fe Writers Project on December 1, 2021.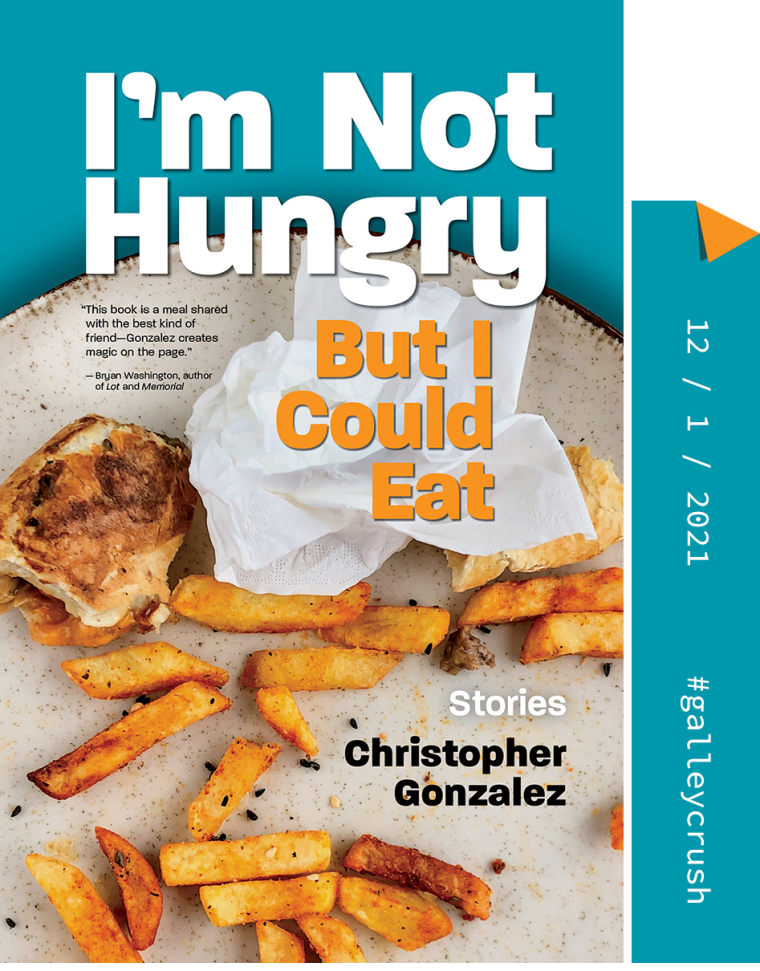 Perfect pitch: "Exploring the lives of bisexual and gay Puerto Rican men, these fifteen stories show a vulnerable, intimate world of yearning and desire. The stars of these narratives linger between living their truest selves and remaining in the wings, embarking on a journey of self-discovery to satisfy their hunger for companionship and belonging."
First lines: "I'm riding the elevator up to Corinne and Allen's tenth-floor apartment with a bottle of $3.99 wine from TJ's tucked into my armpit. They are hosting a party to commemorate the purchase of their new Washer-Dryer unit, which I assumed was a joke when I read the Facebook invite, but nah, this is exactly the kind of dumb shit they like to do. They are my capital-W White friends who wear Sperrys and say 'sketchy' to describe pre-gentrified neighborhoods, who live in one of the capital-N Nicest apartment units among our peers, because of Generational Wealth."
Book buzz: "Gonzalez writes with such care and vulnerability. You feel the hunger in the text, a deference to the carnal that refuses easy categorization or shame. After you finish, you will need to eat." —Raven Leilani
Cover credit: Gwen Grafft
Book notes: Paperback, fiction, 124 pages.
Author bio: Christopher Gonzalez is a fiction editor at Barrelhouse. His writing has appeared in numerous publications, including the Nation, Split Lip Magazine, and Cosmonauts Avenue. His work was also selected for the anthologies Best Small Fictions 2019 (Sonder Press, 2019) and Forward: 21st Century Flash Fiction (Aforementioned Productions, 2019). Raised in Cleveland, he lives in Brooklyn, New York, and spends his waking hours tweeting about Oscar Isaac, book publishing, trash television, and the Popeyes Spicy Chicken Sandwich.