Today's GalleyCrush is Eleanor Henderson's Everything I Have Is Yours, forthcoming from Flatiron Books on August 10, 2021.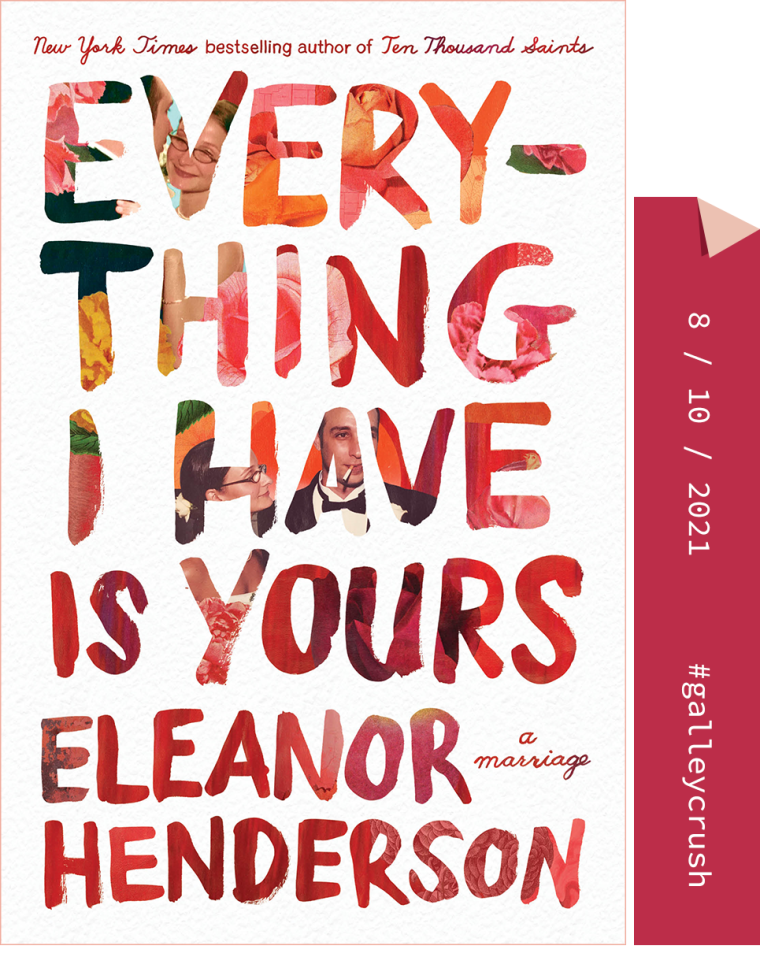 Perfect pitch: "From New York Times best-selling author Eleanor Henderson comes a turbulent love story meets harrowing medical mystery: the true story of the author's twenty-year marriage defined by her husband's chronic illness—and a testament to the endurance of love."
First lines: "I am trying to get Aaron to sleep. It's close to midnight on a Sunday, the bedroom dark but for one low lamp, the air purifier purring. He is struggling, crying out, his eyes squeezed shut in pain. I rub his back. I kiss his forehead. 'It's okay,' I whisper. 'You're okay.' Across the bridge of his nose are the freshly flecked scars on his swollen sinuses, like the scratches sleeping babies inflict on themselves with their tiny fingernails. How many nights have I spent rocking babies to sleep, how many hours waiting for the weight of their limbs to fall with the gravity of the dead, then laying them in the crib, sliding my hands out from under their diapered bottoms one knuckle at a time, praying please please please? But Aaron is not a baby. He is my husband."
Book buzz: "Everything I Have Is Yours is a gripping portrait of a marriage so full of love, chaos, and the heart-breaking, head-slapping contradictions and consolations that it will leave you wondering how any of us survives the institution. Eleanor Henderson is a writer of extraordinary talent, depth, and feeling, and this memoir might be the most candid book I've ever read." —Adrienne Brodeur
Book notes: Hardcover, memoir, 400 pages.
Author bio: Eleanor Henderson is the author of The Twelve-Mile Straight and the New York Times best-seller Ten Thousand Saints, which was also a finalist for the Los Angeles Times Award for First Fiction. Her writing has appeared in various publications, including the New York Times, the Wall Street Journal, Poets & Writers Magazine, and the Best American Short Stories. An associate professor at Ithaca College, she lives in Ithaca, New York, with her husband and two sons.