Today's GalleyCrush is Francesca Ekwuyasi's Butter Honey Pig Bread, forthcoming from Arsenal Pulp Press on November 30, 2020.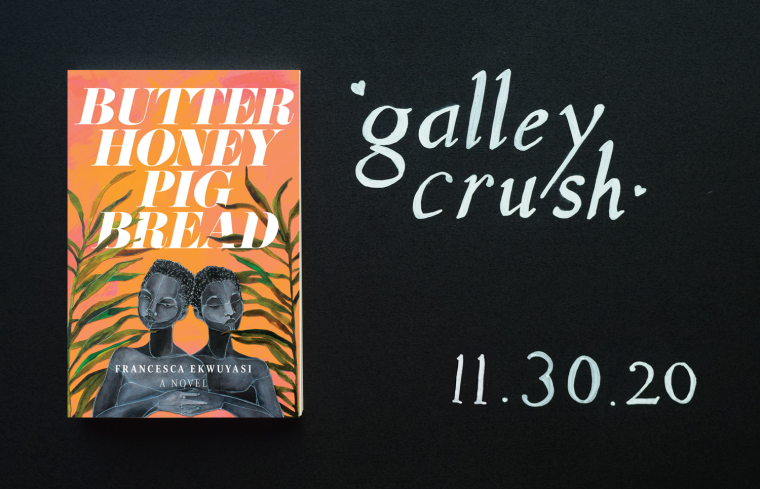 Perfect pitch: "An intergenerational saga about three Nigerian women: a novel about food, family, and forgiveness."
First lines: "We are Kin here, in the in-between place where we live. We are one being, eternal, moving in rotation to the flesh realm only because we must. As sure as the tides, as the sunrise, bound to the rhythm of its particular realm."
Big blurb: "This multi-continental tale is alight with the force of its characters' sway between history and the present, home and country, family—chosen and otherwise. Where expectations of genre leave their own delicious signatures across fabulism, the folkloric, the strange, and a mercurial realism, the queerness and sensuality of this debut novel excites. Butter Honey Pig Bread roves taste-first through the ingredients of things that mark the modern, if enduring, currents of familial and amorous bonds by a writer of ample talent." —Canisia Lubrin
Book notes: Paperback, fiction, 368 pages.
Author bio: Francesca Ekwuyasi is a writer, artist, and filmmaker born in Lagos, Nigeria. Her work explores themes of faith, family, queerness, consumption, loneliness, and belonging. Her writing has been published in Winter Tangerine Review, Brittle Paper, Transition, GUTS, Visual Art News, Vol. 1 Brooklyn, and the Malahat Review. Her story "Orun is Heaven" was longlisted for the 2019 Journey Prize. Butter Honey Pig Bread is her first novel.