POETS & WRITERS IS MORE than a magazine. We are a nonprofit organization that puts money directly into the hands of writers who give readings and lead workshops in museums, prisons, homeless shelters, libraries, and senior centers. Your subscription to Poets & Writers Magazine supports the all-important work of cultivating literary activity in urban and rural communities throughout the United States.
The Stages of Growing a Salon
JP Howard curates the Women Writers in Bloom Poetry Salon. Her debut poetry collection, SAY/MIRROR, was published by the independent press the Operating System in 2015. Howard is an alumnus of the VONA/Voices Workshop and is a Cave Canem graduate fellow as well as a Lambda Literary Foundation Emerging LGBT Voices fellow. Her poems have appeared or are forthcoming in the Feminist Wire, Split This Rock, Nepantla: A Journal for Queer Poets of Color, the Best American Poetry Blog, and other publications.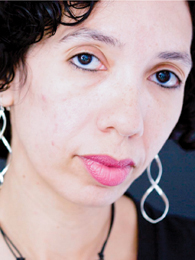 1. Decide to Plant a Garden. I learned about influential writers of the Harlem Renaissance and their traveling literary salons growing up in the Sugar Hill section of Harlem, in New York City, and wanted to create a vibrant space modeled after those salons. Women Writers in Bloom Poetry Salon (WWBPS) was envisioned as a safe and supportive space for all, a forum primarily for women writers of diverse backgrounds to network, build community, and share good food while also serving an educational purpose, with monthly writing workshops, readings, and open mics.

2. Enrich the Soil in the Garden. The salon started with a handful of poets in 2011, and news spread by word of mouth such that more than forty poets took part in the inaugural anniversary celebration. Next, I did the work necessary to enrich the soil by reaching out to the community for support, becoming savvy about social media, and collaborating with poets from around the country.

3. Maintain a Healthy Garden. This stage requires hard work and perseverance. Monthly salons are often filled to capacity, with as many as thirty-five poets attending and a waiting list of others who must sometimes wait until the next month. Annual anniversary celebrations host more than eighty supporters. While donations are encouraged, they are never required. I have become adept at social media, and the salon has more than six hundred e-newsletter subscribers, more than fourteen hundred followers on its Facebook page, and a growing Twitter following.
Funding is as essential as water, and when I learned that funding might be available from Poets & Writers' Readings & Workshops program, I applied and received a grant. Support from Poets & Writers helped pave the way for funding from the Brooklyn Arts Council (BAC), as well as raise the profile of WWBPS. With these grants, plus donations from supporters and my own contributions, WWBPS provides honoraria to featured poets. This has been crucial in maintaining the garden and attracting phenomenal writers each month.

4. Watch the Garden Bloom. Ongoing collaboration has contributed to a garden in full bloom. I cultivated the participation of members of writing communities of which I am a part, including Cave Canem, VONA, Lambda Literary, and the City College of New York MFA program. There is an intimacy that remains, even with growth, and that is a huge draw. Potluck salons are held in the homes of generous members or in donated community spaces, such as Brooklyn Workshop Gallery, a local art space. We honor marginalized voices: We are intergenerational and widely diverse, with established and emerging writers and many LGBTQ POC participants. Like the Harlem Renaissance salons it is modeled after, WWBPS has become synonymous with community, dialogue, and a safe place to perfect craft and receive supportive feedback. We are known for our open mics, which close each salon.

5. Celebrate This Gorgeous Garden. Salon poets are in full bloom and WWBPS is a thriving part of the poetry community! Many of our members have been published for the first time or have recently enrolled in MFA programs and residencies, while others, once shy, now perform publicly. As curator, I have been invited to sit on panels at national writing conferences to discuss the salon as a successful model of collaboration with the community. I am developing a traveling salon library, thanks to funding from the BAC. Annual Summer BBQ salons, held in a Sugar Hill garden, keep true to the legacy of the Harlem Renaissance. In July 2016, WWBPS poets will be featured at the renowned Word for Word Reading Series in New York's Bryant Park. Over time I've discovered that I do have a green thumb, just not for horticulture, but for cultivating a diverse community of writers.
Photo Credit: Rachel Eliza Griffiths