If you want to get a sense of where contemporary poetry is headed, there's no better place to start than with recently published debut collections. Each year sees a rich, diverse lineup of debut poets whose work offers fresh perspectives, exciting new ideas and experiences of language, and unexplored subject matter. Even tried-and-true poetic topics—history, the beloved, nature, family, identity—are explored, interrogated, and lit up in new ways. This past year is no exception: In 2015, debut poets took on everything from Chinese unicorns and Mesoamerican shape-shifters to jazz trumpeter Chet Baker and The Real Housewives television franchise. They wrote sonnet cycles, erasures, conceptual poems, and lyric poems that skip across the page and open their readers' eyes, illuminating ideas at turns thrilling, devastating, and always alive.           
For our eleventh annual look at debut poets, we selected ten of the most compelling debuts published in 2015. The work of these featured poets runs the gamut, though each book celebrates the ways in which language, as Hannah Sanghee Park says, "shifts, morphs, steals, and fractures through time." We asked all our poets to share the stories behind both the genesis of their poems and the publication of their collections—how they navigate publication and how to, as Alicia Jo Rabins puts it, "forge ahead despite setbacks and rejections and silence while also holding the whole endeavor lightly." Their answers prove that there is no single path from a manuscript to a published book, and that inspiration can be found in the most ordinary and unusual of places—from the former home of a much-admired poet or a yard full of weeds to a drive on the freeway along the U.S.­–Mexico border. But there is one common thread woven throughout: the invocation to submit to one's obsessions, to write past the machinations of the publishing industry and the expectations of others and into the refuge of language.
Robin Coste Lewis

Voyage of the Sable Venus and Other Poems
Knopf
"Once, I thought I was a person with a body,
               the body of something peering
                              out, enchanted
                                            and tossed."
–from "On the Road to Sri Bhuvaneshwari"
How it began: Actually, I began writing poetry because of a very serious accident that left me with permanent traumatic brain injury. At one point in my recovery (because reading, writing, and speaking made me very symptomatic), my doctors told me I could only read one sentence a day, only write one sentence a day. After that shock began to wear off, I decided to use their prognosis as a formal writing restraint. I spent many months not trying to write a poem, but trying to write only one very fine line. It sounds romantic, but it wasn't. At first, I was profoundly depressed. After years of teaching literature and writing, what was a life without books? Writing a line a day was an experience in tremendous discipline. It was thrilling to work again, yes, but to work silently in bed for hours, without writing or typing, working just inside my head, was also very macabre. Slowly, my illness became a sort of game. I'd find the milk in the oven and crack up laughing. It was pure poetry, brain damage. It was profoundly humbling.
In short, all those skills artists must acquire—stillness, concentration, discipline, compression, wrestling with the ego, all of it—walked in the door, hand in hand, with brain damage. That's the real story behind my book. Poetry was the means by which I learned to reenter the world after traumatic brain injury. What compelled me to write was the desire to continue living an engaged life. Poetry allowed me to reenter my work, but from a different door. 
Inspiration: Epic literature, especially Sanskrit epics and comparative mythology. I'm also quite nuts about Sanskrit court poetry. Another court I love to visit is the royal kingdom of jazz. What both Sanskrit poetry and jazz have in common, I think, is their mysterious and masterful use of silence, their ability to achieve their goal by laying it on thick while pulling way back simultaneously. Any art form that can balance sublime expression with tacit restraint has me from hello. I'm also inspired deeply by individual, quiet responses to history. I love the historical nerd-freak no one wants to research because they are too strange or eccentric or unconventional to make anyone proud. I am compelled by people who simply do their work, whatever that might be, quietly. Quiet devotion is a primary source of inspiration for me, however that manifests. I usually find much of that in the colored ancient world. And then, of course, I swing the other way toward that entire, ongoing waterfall of post-modern, post-colonial, often queer, cultural production, which makes me just swoon.
Writer's Block Remedy: Honestly, I have never reached an impasse with my writing. My impasse is that I can't stop writing. It's not cute. I'm completely hypergraphic. This is not to say, however, that any of the madness I write is any good. I merely mean to say that not being able to write isn't my issue. However, what occurs before writing—that's where my demons skip and play rope. I used to think the longest road I've ever traveled was from my bed to my desk. All of those voices inside my head that tell me, "No, you can't say…" or, "No, you better not…" or, "What would [fill in the blank] do or say or think?" I don't know how to describe this, but I know it had something to do with being born in the sixties, being a child in the sixties and witnessing just heinous experiences without any true developmental ability to articulate it. We all had a profound sense of injustice growing up. It was impossible not to feel that, watching profound degradation so common it felt like air. Our education was a travesty. So just holding a pencil when I was younger was very difficult for me. No one took our minds seriously. As a child, all I had heard was that, historically, I, as an African American, was not believed to possess a real mind; or I, like my ancestors, only had three-fifths of a brain. I mean, lest we forget, our bodies were once dissected, literally. So my struggle has never been within language. Language has always, always, been a refuge.
What has never felt natural, however, is this sickening history wherein bodies like mine were positioned to play the role of buffoon. It's a rare moment indeed that I pick up my pen and do not immediately remember that in America it was considered illegal for black bodies to read and write. Just holding a pencil for me is deliciously transgressive. So history is my impasse—nothing else. What keeps me going? The work of others. Others, definitely.
Writing Prompt: When I was at Harvard, Jamaica Kincaid once said in our workshop, "Write about that which most embarrasses you." I think that's profoundly good advice. It's so easy, isn't it, to climb atop a soapbox and recite a poem about the ways in which we believe the world is fucked up? When I write that way, I'm certain all I'm doing is insulting my reader. Who, for example, doesn't know the whole world is in cinders? And so I believe my work can be more effective, can reach deeper inside the reader if I say, "It is I who feel profoundly fucked up," and then explore why meticulously. I like to use tenderness as a weapon, a seduction, a door to leave ajar so that my reader will walk inside the poem and feel safe, even in the face of profound historical horror. Trust me, I'm not saying all poems should begin with shame or embarrassment as a motivation, not by any means. I like writing all kinds of poems in all kinds of forms. I'm simply saying that instead of using writing prompts, I sometimes ask myself, "Well, what are you most avoiding?" And for me that's a good place to begin. 
Advice: I'm not sure I'm the right person to give advice about first books. I am fifty-one after all. Don't get me wrong, I love my age, and I love that I'm just now publishing my first book, but it seems as if the "debut" has become a sort of genre, a particular ideal regarding what constitutes a first collection. I've known for a long while that my work has never fit into that schematic. My book, primarily, is about the history of race and Western art. It's an experiment in archive. It's not really what first-book publishers are looking for. Also, many debut prizes and grants have age limits or requirements. So by the time I settled into raising my son and finding my place in my work, my writing was already disqualified from even applying because I was older. Ultimately, it's worked out just fine. And anyways, I don't think I really had much to offer any reader when I was thirty-five. I was a mess. What could I have done with a page at thirty-five besides romanticize being a thirty-five-year-old mess? I am more of a tortoise than a hare. I like what taking my time reveals.
Also, I adamantly don't believe that because one writes it follows naturally that one must also publish. I've written books for one person, and shared it only with that sublime audience of one. I've burned others. Virginia Woolf said rather famously that writing is a far greater pleasure than being read. I'm from that camp, I think. I'm deeply suspicious of the market.
So, I guess this is a long way of saying that if I have any advice to poets trying to publish their first book it's this: Try not to look up too often at what others are doing. Your work is interesting because it's yours, not because of where it lands in the publishing world. Ignore literary fashions and stay close to your own hand. Try not to please anyone or any particular audience. Find out what the real work is inside of you, then find the courage to do it well. Resist the temptation to be clever. It's sexy, but it's a sure sign that your mask has control of you, and not the other way around. Just do your work.
What's next: I'm revising the other two manuscripts I finished while at New York University. The first, "To the Realization of Perfect Helplessness," is about the Arctic and its history of both colonialism and exploration. I use this history as an allegory for post-colonial desires for subjectivity. Besides the circumpolar diaspora and the history of expansionism, the book pivots primarily around African American Arctic explorer Matthew Henson. Henson codiscovered the North Pole, but was reluctantly given historical credit, due to race relations not only in the United States, but in the sciences specifically. I'm also revising another collection that I also began at NYU, a project titled "The Pickaninny Wins!," a double-erasure of a 1931 children's book originally titled The Pickaninny Twins.
Age: 51.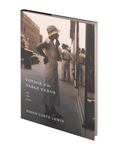 Hometown: Compton, California.
Residence: Los Angeles.
Job: I'm a PhD candidate in poetry at the University of Southern California. It's a hybrid PhD, so I do both creative and critical work. That is, I write poetry, and research-wise, I work on the historical relationship between African American photography and African American poetry.
Does your job allow time to write? Is this a serious question?
Time spent writing the book: All in all, the whole book probably took five or six years—with brain damage and a new child thrown in for good measure.
Time spent finding a home for it: Three years.
Three favorite words: pewter, black, pacific.
Robin Coste Lewis and Claudia Rankine: The Poet as Citizen from ALOUDla on Vimeo.
***
Alicia Jo Rabins

Divinity School
American Poetry Review (Honickman First Book Prize)
"Let me teach you about beauty:
a slanted shipwreck
draped in its own torn sails."
–from "The Magic"
How it began: I am obsessed with a few consistent themes: how weird it is to live in time; the magic of teaching and learning; the closeness and distance between people; and the mysteries of living in a body, like sex, love, travel, food, beauty, death.
Inspiration: Ancient Jewish texts are a huge influence and inspiration for me: the practical, the mystical, and especially the intersection of the two. I also draw on yoga, ritual, and spiritual practice in general. Music is a big part of my life too—both the experience of making music in many different genres and touring itself have defined and marked my life. Kenneth Koch taught me, in college, not to take myself too seriously in my poems. New York City inspired me tremendously for years, and since moving to Portland I've been inspired by the forests and plants, the weeds in my garden. Having children is immense and mind-blowing and inspiring, and I draw a lot of inspiration from my dreams as well.
Influences: Anne Carson, James Joyce (Ulysses in particular), Sylvia Plath, Christopher Smart, John Donne, J. S. Bach, Pablo Neruda, Laurie Anderson, Harryette Mullen, Brenda Shaughnessy, Julio Cortázar, Lucille Clifton, Yoko Ono. And so many of my contemporaries and friends, whom I won't name for fear of inevitably leaving some out.
Writer's Block Remedy: Because I usually write in a stream-of-consciousness mode and edit later, I don't really experience impasses. Something is always happening, even if it's only the breath. I did stop writing for three years in my early twenties, though. I had studied poetry intensely in college and felt like I had strained my reading and writing muscle, and that my relationship to writing was too ego-based and needed a dramatic reset. I completely let writing go and promised myself I would only start again if it returned naturally, without any pressure or ambition or intention. I was glad when it came back a few years later, and my relationship to poetry was transformed. I guess it's important to me to maintain some paradoxical mix of being stubbornly devoted to poetry, enough to forge ahead despite setbacks and rejections and silence, while also holding the whole endeavor lightly. 
Advice: The best advice I ever got was at an artist training from Creative Capital: If you aren't getting rejected from 90 percent of the things you apply to, you aren't aiming high enough. It flipped the script for me so that rejections meant I was doing my job, rather than failing at it. Along the same lines, I try to separate the work of being an artist into two parts: my writing self, who is sensitive and passionate and all that stuff, and my personal assistant self, who just sits down with a cup of coffee and submits poems without any emotional investment. Or, to put it briefly, play the long game.
What's next: I'm writing my second book of poetry, about motherhood and giving birth and gardening and midwifery goddesses and how psychedelic the whole experience of pregnancy, birth, and early parenthood is. I'm also touring with my songwriting project Girls in Trouble (we just released our third album), and with my solo chamber-rock opera A Kaddish for Bernie Madoff. And I'm slowly moving towards writing a nonfiction book I've been mulling over for a while now.
Age: 38.
Hometown: I was born in Portland, Oregon, and grew up in Towson, Maryland. I also lived in New York City and Northampton, Massachusetts, for years and they both feel like home.
Residence: Portland, Oregon.
Job: I patch together a living between my work as a writer, musician, composer, performer, and teacher of Torah. As Eileen Myles says, "There are so many different packages for the same energy to travel through." 
Does your job allow time to write? This isn't an easy question for me to answer. On the one hand, I'd love more focused time to write, but on the other hand, the line between "writing" and "job" is blurry in my life—songwriting is part of how I make my living, for example—and I have always written in the nooks and crannies of my day. Also, for the record, I find that being a parent of two young children demands more consistent presence of mind than any job I've ever had, and (alongside all the great stuff) is therefore more of a challenge for me in terms of writing time.
Time spent writing the book: The oldest poem in the book is eighteen years old and, amazingly, in exactly the same form it was in when I wrote it in college. It wasn't originally part of the book, but I added it back in somewhere during the editing process. The rest of them were written over the past twelve or so years, though almost all of them were continually revised while I submitted and resubmitted the manuscript. It almost feels like two different processes—eighteen years of writing the poems and seven of intentionally editing the manuscript. Wow, that's a long time.
Time spent finding a home for it: Five years, though I edited it throughout, so it was a very different book by the end.
Three favorite words: Amethyst. Sage. Antediluvian.
Alicia Jo Rabins reads "How To Travel" featuring the face of Alicia McDaid. Video by Zak Margolis on Vimeo. Check out another recent reading Rabins gave in Cambridge, Massachusetts, as part of the Poetry in America series.
***
Jay Deshpande

Love the Stranger
YesYes Books
"But we will never have enough
of being wrong about the other, not once."
–from "Amor Fati"
How it began: The earliest pieces of the book came together during my MFA, but it had a very different form and was wrapped around a couple series of poems that ultimately didn't belong. I've always been drawn towards the love poem and lyric descriptions of beauty, but in that period I began to experiment more with the unfamiliar and the disturbing. I found my poems coming alive at the moments when the erotic and the alien braided together. At some point I started to see how the loss of the beloved is not just an occasion for utterance, but also an opportunity for greater reckoning with what it means to be human, and alone, and therefore deeply connected. Following these themes, I wrote a chapbook called "Love the Stranger" shortly after grad school; it was another year before I realized that it held the keys to this book.
Inspiration: Visually, René Magritte's work was an essential influence on the book. Also middle-period Federico Fellini. Denis Johnson's poems have always been a major touchstone for me, and they helped to shape parts of Love the Stranger. Environmentally, I took great inspiration from a residency at the Saltonstall Arts Colony in upstate New York. A lot of unseen and necessary work happened there in the woods and on the trails.
Influences: Denis Johnson, Marie Howe, Timothy Donnelly, Ben Lerner, Lyn Hejinian, Rainer Maria Rilke, John Ashbery, Bianca Stone, Richard Siken, Lucie Brock-Broido, E. M. Forster, Marilynne Robinson. Among visual artists, Dorothea Tanning's work in the 1940s, 1950s and 1960s, and Diana Al-Hadid's sculptures. 
Writer's Block Remedy: I have long conversations with my brother, who is a musician and writer, about why we do what we do. I reread Michael Ondaatje. I think about Frank Ocean's songwriting. I play old standards on the piano and explore chords until I remember that some parts of experience stay blissfully outside of words. And then I go spend time with the people I love and try to learn from them. I've also found that I have trouble writing when my work has moved away from the physicality of pencil and paper for too long. Then I'll print out a number of pages of poetry (mine and others') and mark them up excessively.
Writing Prompt: Just to get the lede out and free things up, I like to take an old poem of mine and perform a phonetic English-to-English mistranslation on it. "I, too, dislike it" becomes "Why'd you ignite this?"; "A certain slant of light" becomes "The skirt and pants of night," etc. The goal is to keep the music and change everything else.
Advice: Read widely and make it your job to really consider the character of different presses: what's the range of authors they publish, what qualities and ideas do their books seem to value, how do their books feel in your hands.
What's next: In addition to writing individual poems to push my voice in new directions, I'm at work on an essay collection and a book of translations of the Egyptian poet Georges Henein.
Age: 31.
Hometown: Boston.
Residence: New York City.
Job: I write for Slate and other magazines.
Does your job allow time to write? It's a constant navigation, but at the moment it works pretty well.
Time spent writing the book: About five years.
Time spent finding a home for it: It took one year; I sent it to six places. It was a finalist for the 2014 Kundiman Poetry Prize, and then was accepted by YesYes Books during its open reading period.
Three favorite words: These kinds of lists always make me squirmy! But if it's absolutely necessary: sandwiches; flensing; and, if it can count as one word, chocolate milk.
***
Hannah Sanghee Park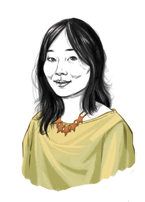 The Same-Different
Louisiana State University Press (Walt Whitman Award)
"Just what they said about the river:
rift and ever.
And nothing was left for the ether
there either."
–from "Bang"
How it began: I had a lengthy first manuscript I was editing and sending out, and wanted a change of pace and page. I was aiming for concision. At the book's inception, I was researching myth and folklore in Korea, in the hopes that I would write a manuscript about stories. I found that a lot of Korean stories had counterparts elsewhere (with its own cultural DNA), and that mix of universality and specificity was compelling. But at its simplest, the book is a paean to what comprises storytelling—language, in its words, sounds, imagery, and meanings. It was at the end of my research that I found H. D.'s Trilogy. I kept these H. D. lines on a Post-It above me as I wrote: "her book is our book; written / or unwritten, its pages will reveal // a tale of a Fisherman, / a tale of a jar or jars, // the same—different—the same attributes, / different yet the same as before."
Inspiration: International folklore, fairy tales, and mythology—shape-shifters, hybrids, dualities, and metamorphoses. The same could be said about language as well—how it shifts, morphs, steals, and fractures through time. I've always loved form, prosody, and wordplay. When I started writing: H. D., James Baldwin, and Marina Tsvetaeva. The letters of Philip Larkin, John Keats, and Sylvia Plath. The bulk of it: everyone mentioned, Gerard Manley Hopkins, James Merrill, Samuel Beckett, a physical dictionary and thesaurus. Poetry by my friends and mentors. The editing and the end—Don Mee Choi and Amiri Baraka's Dutchman. And in full circle, I turned back to H. D., Baldwin, and Tsvetaeva in different forms—short stories, plays, and nonfiction. When I was finishing the book, I was also learning how to write screenplays, which was helpful in economy and setting. But the running fount has always been the communities I've been lucky to be a part of. Wherever I go, I have met brilliant people who make me a better writer: professors, colleagues, peers. The book was written in Korea, Washington, New Hampshire, and California, and the natural landscapes influenced the book's backdrop.
Influences: This is an ongoing, disparate anthology, so to keep it short—other than the poets I've mentioned above, my immediate community is always influential. Since moving to Los Angeles, I've been stunned by these local powerhouses: Kima Jones, Blas Falconer, Ashaki Jackson, Marci Vogel, and others. And the many poets I've met and hope to meet who are keeping poetry alive. Recently, the students in the 2015 Poetry Out Loud Competition inspired me—I experienced familiar poems in new ways.
Writer's Block Remedy: I read, or watch films or TV. I used to be a night writer, and my excuse was that there were no distractions—I'm off work, everyone around me has gone to sleep. But sometimes I need to clean, cook, decide now's the time to take up a new activity, and then write. As if expending all this other energy, or resting my mind allows the mind to reset. Writing doesn't happen in a vacuum, and open dialogue is necessary. I call people—usually my writing partner, Jane Shim—to discuss ideas. What keeps me going is the belief that even if writing is frustrating or maddening, it's ultimately worth it. Petrarch: "And so desire carries me along." And caffeine, too. Getting the ball rolling in the right direction sometimes feels Sisyphean, but when it starts, the speed and the growth is euphoric. No distraction is great enough. Writing is like a labyrinth. Sometimes there's a reward at the end of it; sometimes you're pursued by Sallie Mae and her Echidna spawn Navient. But nothing feels better than actually moving through it.
Writing Prompt: How much a word can be dissected, rearranged, and reimagined—imagined etymologies, defamiliarization, constraint-based writing. In short, the intersection of structure and play.
Advice: Keep reading, writing, rewriting, and sending, even when it seems like there's a void. Dream big (a bromide that's useful), and go there. That's what I needed to hear in the publication process. Every time my writing boomerangs back to me, there's a chance to reassess my work and my thoughts. I know form rejection boilerplate, but I also know the generous people in my life who have cheered me on. Having both rejection and support provides a kind of ballast. Knowing why you write despite x is invaluable—the pure joy of creating is as powerful as the final creation.
What's next: Writing scripts, rewriting scripts, treatments, short stories, and starting a new poetry book.
Age: 29.
Hometown: Federal Way, Washington.
Residence: Los Angeles.
Job: Freelance writer.
Does your job allow time to write? Yes, but personal writing requires juggling. It's a constant turning of a lazy Susan—a little here, a pass there, but all that matters is movement.
Time spent writing the book: For this book specifically, about one and a half to two years. It was fast because I had the luxury of a fellowship and a residency. I did a two-month residency at the MacDowell Colony (paradise) where I kept to a tight schedule. I woke up early, ate breakfast, and went back to my Internet-less studio and wrote. As I ate lunch, I read. Then I wrote until dinner. When I came back from unwinding, I'd write until I needed to sleep. Rinse and repeat. I'm naturally lazy, so I need this kind of structure. The bulk of the book was written then, because most of the day could be devoted to writing. However, a poem I wrote about five years ago made it in as well—a long-lost relative finding her family. 
Time spent finding a home for it: Before this book, I sent my first manuscript out for about four to five years. When I was satisfied with The Same-Different, the plan was to send to a few places each cycle, as I was on a tight budget. But I lucked out, and The Same-Different was accepted in its first submission round.
Three favorite words: Cleave, move, empathy.
Hannah Sanghee Park reads from The Same-Different at the Academy of American Poets's 2014 Poets Forum Awards Ceremony.