See writers who attended this program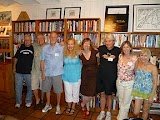 Genre:
Poetry, Fiction, Creative Nonfiction
Core Faculty Includes:
Poetry: Richard Blanco, Denise Duhamel, Campbell McGrath
Fiction: Lynne Barrett, Debra Dean, John Dufresne, Les Standiford
Nonfiction: Julie Marie Wade
Funding/Employment Opportunities:
The program offers partial funding. The program offers teaching assistantships, fellowships, and adjunct teaching positions.
Affiliated Publications/Publishers:
Other Features:
The program hosts the monthly Writers on the Bay Reading Series and the annual Lawrence Sanders Award in Fiction ceremony. Students have the opportunity to contribute to and participate in multiple literary festivals, including the Miami Book Fair International and the O, Miami Poetry Festival.
Graduates:
Richard Blanco, Patricia Engel, Dennis Lehane